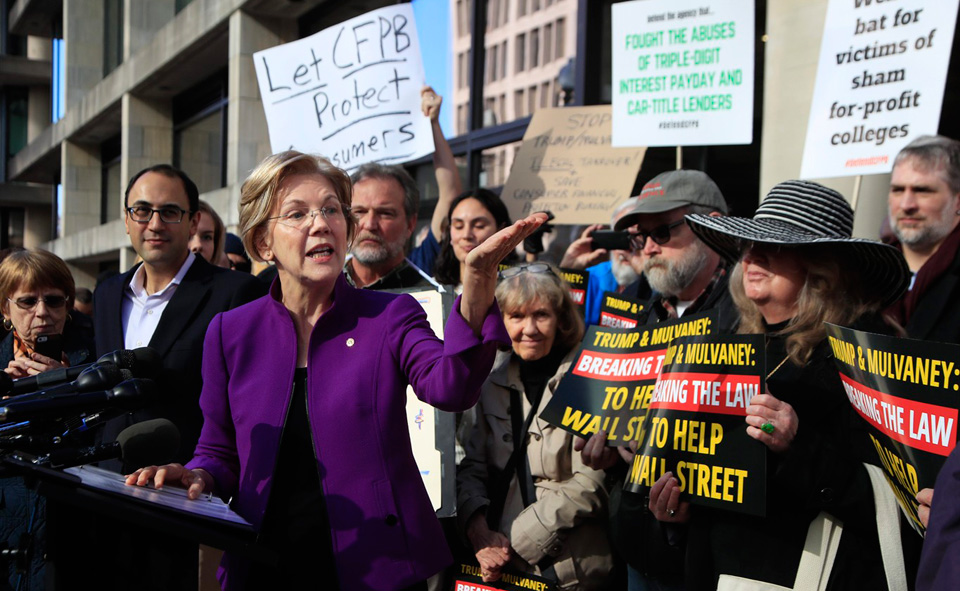 WASHINGTON—The battle over the future of the Consumer Financial Protection Bureau (CFPB), probably the leading pro-consumer government agency, has hit the streets and the courts.
In one D.C. venue Tuesday, a federal judgeweighed competing claims over who should be the acting head of the CFPB: Leandra English, the agency's deputy director appointed by departed director Richard Cordray, according to the law establishing the agency, or Mick Mulvaney, GOP President Donald Trump's budget chief and appointed by him. Trump cited a competing presidential appointments law.
In the other, Sens. Elizabeth Warren, D-Mass., and Jeff Merkley, D-Ore., led almost 100 CFPB backers in a pro-agency demonstration outside its building on Nov. 28. They back English, too.
Their point: To "stop the coup" Trump is trying to pull at the CFPB, as one speaker put it.
Congress created the CFPB as part of the Dodd-Frank financial reform law in the wake of the Great Recession. The CFPB has the mission of protecting consumers from financial fraud, which led to the crash. It also has broad regulatory powers over their practices.
Since its creation in 2010, CFPB has recovered some $12 billion in financial overcharges and phony assessments and returned the money to consumers. It's also cracked down on payday lenders, so-called "automobile title" financiers, and fly-by-night financiers of student loans, as well as the big banks and brokerages.
As a result, congressional Republicans and their big business and especially financial backers hate the independent agency. The financiers alone have spent tens of millions of dollars in lobbying, and tried virtually everything, to emasculate or eliminate the CFPB. The GOP has willingly obeyed their orders.
First, Senate Republicans made it clear they would block Warren, the agency's creator when she was a Harvard professor, as its director. She wound up running for and winning a Senate seat, instead.
Afterward, the GOP tried to hamstring or abolish the CFPB legislatively, by subjecting it to Congress, repealing its rules that curbed payday lenders, and replacing its single chief with a five-person board. Business and bankers contested CFPB rules in court. Its foes have now launched a fight over its leader.
That latest war prompted Warren, Merkley, and the agency defenders—marshalled by MoveOn.org, Indivisible, Public Citizen, the Progressive Change Campaign Committee, and other groups—to demonstrate at the agency's building, just west of the White House in downtown D.C.
"Wall Street owns a lot of agencies in this city," Robert Wiseman of Public Citizen told the crowd, which alternated between listening to speeches chanting pro-CFPB and anti-Mulvaney lines. "The whole idea of the CFPB was to work not for the big banks, not for the payday lenders, not for the for-profit colleges, but for us.
"That's why the fight over who runs it is so central to its independence."
"When we wrote [Dodd-Frank] we did everything possible to insulate this agency from political pressure," Merkley added.
Warren engaged the crowd in a call-and-response chant: "Do you believe anyone should get cheated on their credit cards?" "No!" "Do you believe anyone should get cheated on their mortgages?" "No!" "Do you believe anyone should get cheated on their student loans?" "No!"
"Do you believe everyone should follow the law, including the big banks?" "Yes!"
The chants led her to point out congressional Republicans and their backers don't want those goals, while the agency—and the crowd—do. "Fair is fair, and that's what this agency fights for," she said.
Other speakers urged the crowd, both in D.C. and nationwide, to keep up the battle for the CFPB, its independence, and for English, a career employee who is now its deputy director, as acting director until the Senate confirms a regular presidential nominee to replace Cordray.
"One important victory is that people are paying attention," and not letting Trump get away with emasculating the CFPB by installing Mulvaney at its helm, said Lisa Graves, executive director of the Americans for Financial Reform. She urged people, both in D.C. and watching nationwide on cable channels—there was a forest of cameras at the rally—to keep the pressure on.
Another speaker warned CFPB backers, and voters in general, would remember the GOP's efforts to kill the agency and/or truncate its powers, come election time next year.
The situation in court was another story. U.S. District Judge Timothy Berry, a Republican appointee, held a hearing on which law governs who should run CFPB, at least temporarily.
Congressional Democrats, including Warren and Merkley—who sits on the Senate Financial Services Committee that writes CFPB legislation—told him the Dodd-Frank law specifically said the deputy director would become acting director if there was a vacancy.
But Trump, invoking another, more general law about presidential appointments, said he had the right to put Mulvaney in the chair until he found a permanent head. English's attorney sought a prompt ruling from Berry, to end uncertainty at the agency. She got it. It was for Mulvaney, not English.