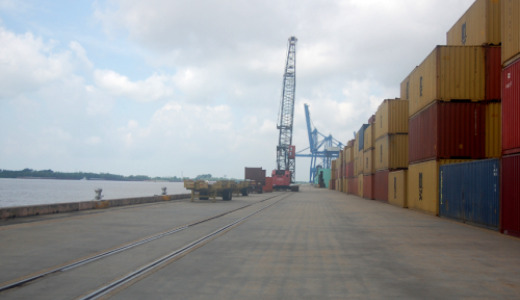 Unions and international aid reform activists have mobilized on a rumored change in U.S. food aid policy, on opposite sides.
The president's 2014 budget proposal, expected this week, modifies the Food for Peace program (Public Law 480) by eliminating purchases of food from U.S. producers and moving to local and regional purchasing.
According to some activists and relief agencies the system of shipping U.S.-grown food as aid can do serious harm to local economies in the beneficiary nations and perpetuate reliance on food imports.
Considering the scale of the program, this reform could cost tens of thousands of transportation jobs. Unions in the maritime sector are particularly shocked that anyone would consider ending a method of delivering aid that has lasted six decades and sustains good jobs at sea.
The U.S. is both the world's largest food donor and the only major donor still shipping physical food products to crisis areas. A majority of the food is not given away directly but monetized, meaning that it is given to aid agencies to sell at a market rate in a developing country with the proceeds going to fund their programs in that same country. This practice of distribution takes up one third of the resources that could be spent on actual humanitarian assistance, or $219 million out of $722 million in 2010, according to the Government Accountability Office.
A 2005 report by Oxfam International titled Food Aid or Hidden Dumping? makes the case that this monetized aid system is simply an export subsidy labeled as aid to avoid discipline by the World Trade Organization and efforts to make world trade fairer.
There is no question that PL 480 is designed to assist big agriculture: government websites even brag that countries that receive aid later become importers. The report also notes that the largest aid gifts have come after bumper crops in the U.S. and have no relation to when the aid was most needed, and that growers successfully lobby for their produce to be purchased for aid whenever prices are low. The cycle of lower aid volumes as prices rise and higher volumes when prices fall make aid an unreliable food source for needy countries.
Unions representing crews of ships carrying the aid have a good reason for outrage. While U.S. flagged and crewed vessels (known as the U.S. Merchant Marine) carry only a small percentage of total U.S. exports, they are guaranteed 75 percent (the GOP House recently voted to reduce this to 50 percent) of food aid shipments by law.
The majority of ships calling at U.S. ports are considered Flag of Convenience (FOC), meaning that they are not effectively regulated by any national laws with regards to safety and labor conditions, and unions are much less common.
U.S. Merchant Mariners take pride in their role national security: shipping strategic cargo in times of war and ensuring ships are always available to carry U.S. exports. Other nations, like China, have a much larger Merchant Marine for this reason. Sea-going unions are constantly vigilant for attempts to scrap laws requiring or encouraging use of U.S. flagged ships that would almost certainly result in their replacement with non-union FOC vessels.
Maritime unions oppose the use of FOCs universally, and the International Transport Workers Federation (a global trade union federation) has led a campaign against the practice since 1948. While the considered aid reform would end food shipments altogether rather than transfer them to FOC ships it would still result in immediate job losses for hundreds to thousands of American mariners.
Maritime unions, shipping companies, growers and NGOs who use the monetized food aid system signed a letter in February calling for the continuation of Food for Peace as it is now. Aid groups critical of monetized aid wrote their own letter asking food be sourced locally or regionally and be given in the form of grants.
With painful budget cuts expected in foreign aid, only some view this reform as a silver lining.
Photo: Food aid is transported on container ships from U.S. ports, like the one pictured here in New Orleans, L.A. Blake Deppe/PW