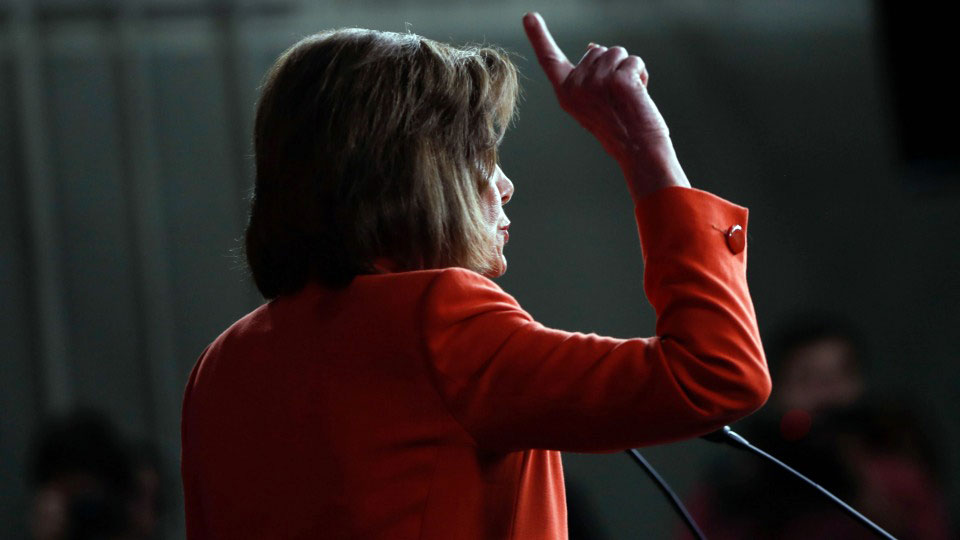 WASHINGTON—Lawmakers wrangled over President Joe Biden's wide-reaching, pro-worker, and pro-people agenda Tuesday as pressure mounted from formal letters from the AFL-CIO to rallies in downtown D.C. to TV ads against so-called "moderate" Democrats who could throw a wrench in the works.
At issue was the fate, in the narrowly Democratic U.S. House, of three key pieces of legislation. If passed, the most controversial one, "reconciliation," would clear the way for wide-ranging social change, including comprehensive pro-worker labor law reform.
With votes scheduled for Tuesday, Aug. 24, the House Rules Committee, whose Democratic members are all named by Speaker Nancy Pelosi, D-Calif., produced a way to get reconciliation through while planning to force all Democrats, even the nine reluctant "moderate" ones, to back it.
The panel voted 8-4 on party lines Monday, Aug. 23, for a rule to govern debate on reconciliation and the other two bills up for grabs—the $978 billion five-year "hard" infrastructure bill and the John Lewis Voting Rights Advancement Act. But apparently, the committee kept squabbling. It scheduled another session on the rule for the morning of Aug. 24, before the whole House came in at noon.
Avoiding threatened and planned GOP Senate filibusters is why the rule is important. If the "moderates" voted for the rule, reconciliation passed automatically, and none of the legislation it covers could be filibustered. That includes the Protect the Right to Organize (PRO) Act.
If they voted "no," joining all 212 House Republicans, against the other 211 House Democrats, their infrastructure bill sinks, too. Chaos breaks out.
The rule allowed an hour of debate, with no amendments, on the Lewis Act, an hour, plus amendments, on the "hard" infrastructure bill, and then stated the reconciliation bill was "deemed approved."
No time set for debate, no vote on it. Pelosi's plan was for reconciliation to go straight through without a vote at all. The rule put the nine "moderates," who wanted to sabotage Biden's whole transformative social program, over a barrel.
The program, which the Communist Party, among a broad coalition of groups ranging from the center to the left of the political spectrum, strongly supports, includes paid family and medical leave, measures to combat global warming, increased money for child care, better pay for child care workers, and comprehensive immigration reform.
And since reconciliation is supposed to cover taxes and spending, it also includes tax increases on corporations and the rich, reversing much of the 2017 Trump-GOP tax cut, as well as higher fines for labor law-breaking—to punish wrongdoers while raising revenue.
Reconciliation also clears the way for the PRO Act, the most comprehensive pro-worker labor law reform bill since the original 1935 National Labor Relations Act.
Led to increased pressure
All this led to increasing public pressure on lawmakers to approve all three measures. "Any delay in passing the budget resolution will jeopardize the transformative goals of the Build Back Better reconciliation legislation," AFL-CIO Legislative Director Bill Samuel wrote lawmakers.
Samuel too urged a vote for the rule, which guarantees reconciliation passes.
The federation also strongly backs the "hard" infrastructure bill. "But there is no reason to threaten or delay passage of the much larger and more ambitious budget resolution, which needs to pass now if Congress is to complete the reconciliation process before the end of the year," Samuel's letter said.
The reconciliation bill "makes the largest investment in America's working families since the New Deal, with critical boosts for families, education, paid leave, clean energy jobs, and housing. It also strengthens enforcement of our labor laws, provides a long overdue path to citizenship, and expands access to affordable health care and prescription drugs.
"The budget resolution…(would make) large corporations and the rich pay their fair share in taxes. It would also help reverse decades of underinvestment in our communities, will grow our economy, and create good union jobs."
Nine progressive groups took another tack: Ginning up constituent pressure on the "moderates" with a TV ad blitz, urging voters to call those lawmakers and push them to vote for reconciliation.
The Working Families Party, MoveOn, Indivisible, and Organize for Justice were among the groups on the ad buy. The Justice Democrats, formed by supporters of Rep. Alexandria Ocasio-Cortez, D-N.Y., and other "Squad" members, assembled the coalition and arranged for the ad. And People for The American Way staged a noon rally in front of the White House.
"Tell U.S. Congressman Henry Cuellar to stop obstructing President Biden and start working for the American people," the ad declared, targeting the most conservative of them, from far southwestern Texas. The names of the other eight were inserted for Cuellar's in identical ads running in their districts.
"We're putting Reps. Josh Gottheimer, Carolyn Bourdeaux, Filemon Vela, Jared Golden, Henry Cuellar, Vicente Gonzalez, Ed Case, Jim Costa, and Kurt Schrader on notice through a six-figure digital and television ad buy with a simple message: Stop obstructing President Biden's proposal on jobs, climate, and care!" the Working Families Party stated.
"What these Democrats are doing isn't just a blow to our progressive priorities and working people. It's also a blow to President Biden's entire agenda."
Balk at being bold
"Because they know conservative Democrats often balk at taking bold action, progressives in the House coalesced around a strategy to move the inclusive recovery package alongside the narrow bipartisan 'roads and bridges' package," Indivisible explained.
"This approach allows Democrats to deliver on a broad range of campaign promises like a pathway to citizenship, lowering prescription drug prices, expanding Medicare, and massive investments in climate, the care economy, and affordable housing. But right now, nine conservative Democrats are obstructing this plan and threatening to vote no.
"We have a few hours left to make an impact on this vote. Call your representative and demand that they vote yes on the rules package and immediately pass the budget resolution."
The rule apparently met the moderates' price for their votes: That lawmakers vote first on the "hard" infrastructure bill, HR3684, worked out by Biden and a bipartisan group of senators.
That legislation would authorize funds to rebuild or replace the nation's aging subways, crumbling roads, deficient bridges, overburdened airports, vulnerable power grid, and lead-lined water pipes, among other plans. It also would wire the whole nation for broadband, at an affordable price. And it would produce millions of middle-class, union jobs, Biden declares.
But a larger group of lawmakers, the 96-member House Progressive Caucus, threatened to sink the hard infrastructure bill unless the reconciliation bill came up first. They feared the moderates would get their vote beforehand, win, and then walk.
Pelosi and the Rules Committee finessed that threat, too—they hoped. Hard infrastructure first, then reconciliation guaranteed.
The John Lewis Voting Rights Advancement Act, HR4, came before all that. It would restore the power of the Justice Department and/or federal judges, to "preclear" any election changes—from moving polling places to imposing voter ID laws to banning mail-in voting—in states, cities, and other governments with histories of voter repression.
In his letter to lawmakers, the AFL-CIO's Samuel strongly argued for the Lewis Act, too.
"Discriminatory policies have not only resurfaced in areas formerly covered by the Voting Rights Act's preclearance requirement but also have proliferated nationwide. State and local officials brazenly imposed restrictive voting requirements, altered district boundaries, and shifted polling locations in ways that make voting more difficult and less accessible for many voters. HR4 would address these disenfranchisement strategies, as well as others certain to develop.
"The integrity of our democracy depends on ensuring every eligible voter can participate in the electoral process, and thus, voting discrimination demands strong bipartisan legislative action. Every member of Congress should go on record today in support of this historic legislation."
Samuel predicted Congress could pass the hard infrastructure bill by the end of 2021. "This legislation will make the U.S. more globally competitive and spur long-term growth, supporting jobs across myriad industries," he added.