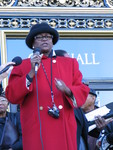 SAN FRANCISCO — When residents of one of the city's last largely African American neighborhoods think about the future being planned for Bayview Hunters Point, they are haunted by echoes of an earlier "redevelopment" that devastated a vibrant area called the "Harlem of the West."
As the Redevelopment Agency prepared to consider final approval of a proposal to place more than half the Bayview — over 1,300 acres — into the city's largest-ever redevelopment zone, hundreds of residents and their supporters gathered on the steps of City Hall March 7 to demand the plan's defeat.
Patricia Wright, who said she was "swept into" Bayview Hunters Point as a child when her family's home in the Fillmore District was destroyed in the 1960s, has lived in the Bayview for 46 years. No amount of assurances that homes cannot be seized through eminent domain and that a main goal is to keep current residents and cultural diversity can convince Wright or her neighbors that this time the outcome will be different.
Wright said one of the community's key demands is "real affordable housing" so current residents will be able to stay. "If we're forced out of the last part of San Francisco that's majority Black, where will we go?" she asked.
Wright told the crowd that when she first came to the Bayview, it was a "bustling community, we had stores, delicatessens, a theater. We have none of that now. It's by design."
"When I heard about this, I thought about the time when we moved here in 1959," said Edith Smith, who said she and her neighbors had worked "day and night, after our jobs," to make their new homes livable.
"We raised our kids here, we put up the buildings here," Smith said. "They've been wanting this land ever since 1960. Now I'm 84 years old, and I'm singing the song, 'We shall not be moved.'"
"We're here today as a community that is launching a campaign of resistance against racist displacement, police harassment, redevelopment that is not and has never been designed for anybody who lives in the district," said Alicia Schwartz of People Organized to Win Employment Rights, a main organizer of the protest.
Residents of other San Francisco neighborhoods, including the largely Latino Mission District, expressed solidarity with the demonstrators and told of gentrification and "poor removal" taking place in their areas as well.
At a meeting following the protest, the Redevelopment Agency voted to proceed with its proposal. The issue now passes to the Board of Supervisors, where residents vowed to continue the struggle.
Among their demands: development directly benefiting current residents, community control over property tax revenues slated to come back into the area, no harassment or displacement of communities of color, use of eminent domain only to clean up toxic sites, housing affordable for low-income people, and hiring of neighborhood residents for higher wage "career" jobs, not just low-wage, temporary positions.
Bayview Hunters Point is also the site of powerful environmental justice struggles, one of which — the long-sought closure of Pacific Gas & Electric's old and highly polluting Hunters Point power plant — is about to come to a head, with residents vowing civil disobedience if the plant is not shut down April 10 as promised.
The Hunters Point Naval Shipyard, closed by the Navy in 1991, is designated a federal superfund site, and residents continue to express concern over adequacy of testing and cleanup there.