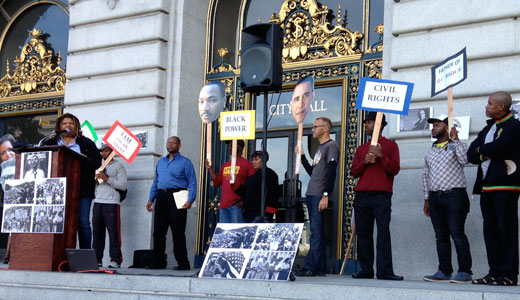 SAN FRANCISCO – The San Francisco chapter of the Bayard Rustin LGBT Coalition rallied in front of City Hall here on Saturday to highlight the contributions of Rustin, an often-overlooked figure of the civil rights movement.
The coalition was established in 2006 to fight racism, sexism, homophobia, and transphobia, with chapters in Oakland and San Francisco. Their mission also extends to creating awareness of LGBT civil rights history, with an especial focus on the history of Bayard Rustin.
Rustin, recently awarded a posthumous Presidential Medal of Freedom, was an architect of the historic 1963 March on Washington. Rustin had been a protégé of African American labor leader A. Philip Randolph, and later studied Gandhi's principles of nonviolence. Rustin lived life as an openly gay man, which led some activists close to Dr. Martin Luther King Jr. to press King to cut ties with him. However, Dr. King considered Rustin an invaluable friend and mentor, working with him from 1956 up until the time of King's assassination in 1968.
The Aug. 24 rally here opened with songs of the civil rights era led by Oakland singer Terrie Odabi. Transgender activist Veronika Fimbres, wearing a hoodie to honor Trayvon Martin, spoke on the first experience she had with racism as a child and the impact this would have on the rest of her life. Fimbres stressed that trans people of color are often subject to deadly violence on a daily basis, most recently the murders of Islan Nettles and actress Domonique Newburn, both killed within days of the rally.
Speaker Dr. Perry Lang, executive director of the Black Coalition of AIDS and former staff writer for the San Francisco Chronicle, followed Fimbres, quoting Dr. Howard Thurman, "Keep fresh before us the moments of our high resolve" in working to further economic, racial and social justice.
Renata Moreira, policy and communications director of Our Family Coalition, spoke of Bayard Rustin's role in the 1963 March on Washington and the importance of keeping this history alive in education. Moreira recently organized support for the successful passage of the California Fair Education Act, which brings the history of LGBT people into classroom history lessons instead of being kept institutionally invisible. The Bayard Rustin LGBT Coalition is working to make sure the law is implemented.
Continuing in the theme of education, Dr. Kenneth Monteiro recalled the civil rights movement that led to the creation of the Ethnic Studies program at San Francisco State University, of which he is the dean.
"You have to worry about what your institutions are doing," Dr. Monteiro said, warning of the need to demand that these instutions take responsibility for providing what people really need. Monteiro paraphrased Dr. King's famous statement, saying, "The arc of history bends toward justice," and adding "It bends because we bend it."
Event emcee Andrea Shorter took a moment to acknowledge Harvey Milk, the San Francisco supervisor and activist who was assassinated in 1978 at San Francisco City Hall, as a person who should also be considered a civil rights leader. Milk was the first openly gay person elected to office in the United States.
Coalition members stood in front of the doors of City Hall, holding up portraits of trailblazing figures in African American civil rights history such as Rustin, President Barack Obama and First Lady Michelle Obama, Malcolm X, and Barbara Jordan. Also included was a portrait of actress Nichelle Nichols, of "Star Trek" fame in her role as Lt. Uhura. Dr. King was a tremendous fan of the show and was instrumental in convincing Nichols to stay in the role at a time when she was thinking of leaving "Star Trek" for Broadway.
Rev. Daniel Bates gave a rousing address on the subject of Dr. King's words "Free at last!" When he first heard these words, Bates said, he "took it to heart to mean everybody 'free at last'"- he didn't hear Dr. King say "except LGBT" or 'except the undocumented," or low-wage workers, or any other oppressed groups.
Bill Doggett, son of the Rev. John Nelson Doggett, Jr., also a leading civil rights figure close to Dr. King, rounded out the rally, invoking the spirit of the 1963 March on Washington and the issues we still fight for today like access to health care and housing.
Photo: Bayard Rustin LGBT Coalition members rally at San Francisco City Hall, Aug. 24, 2013. Michelle Kern/PW