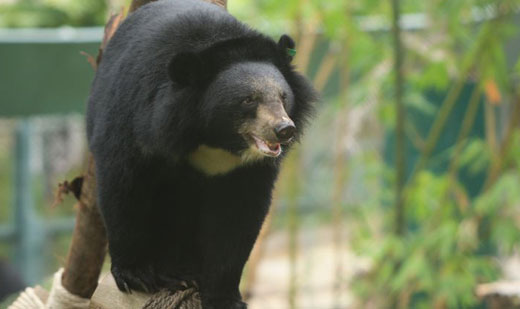 A bear rescue center run by Asian-focused (with a headquarters in Hong Kong) charity group Animals Asia faces an eviction from Tam Dao National Park in Vietnam. The center saves and offers shelter to bears abused in "farms" that painfully extract their bile for medicinal use. But all 104 animals will be left without a home when the sanctuary is shut down.
According to an Animals Asia press release, the organization was informed October 5 that the Ministry of Defense had issued an eviction order, after aggressive campaigning and lobbying for such by park director Do Dinh Tien. Animals Asia believes Tien intends to then hand the land over to the Truong Giang Tam Dao Joint Stock Company (his daughter has an investment in it) – a corporation that wants to build an "eco-tourism park" and hotels on the site.
Plans for private development are, in fact, already underway: The Truong Giang Tam Dao Joint Stock Company has been lobbying the Vietnam Administration of Forestry to get approval for real estate development.
The bears – having previously been rescued from torturous bear farms or illegal smuggling operations – would not be the only ones at risk from the eviction. Closure of the center would also leave the 77 Vietnamese workers there jobless, and essentially throw away about $2 million in donations that went toward the building and development of the sanctuary.
This news is a particularly discouraging blow, because it came weeks after a historic vote by the International Union for the Conservation of Nature to gradually phase out bear farming in Asia, putting an end to a practice in which bears can be tortured for decades as they are pumped for bile. Even in the wake of such a victory, it will take a long time to completely defeat the bear bile industry, as well as many illegal operations taking place. That simple fact highlights the importance of places like Animal Asia's bear rescue center.
A shutdown of the center will also produce negative ripple effects: The $2 million loss will shake the local economy, which depends on the sanctuary. And Vietnam's commitment to ending bear farming, in accordance with the IUCN, will come under scrutiny.
Furthermore, the eviction is seen as a violation of an agreement between Animals Asia and the government in 2005, when funding was first provided to develop and maintain the facility, which was meant to permanently house rescued bears.
"We are desperate to ensure that the rescue center is not closed down and relocated," said Dr. Jill Robinson, founder and CEO of Animals Asia. "The welfare of 104 bears, who have already suffered enough, would be seriously compromised, and the rescue center and $2 million in donations would be lost. We're calling on the public, and the media, both in Vietnam and overseas, to urgently appeal to the Prime Minister of Vietnam for justice, and let him know their feelings on this terrible threat to the bears' welfare."
The bear bile industry alone is an ill-spirited, profit-driven business, and in no way takes animal welfare into consideration. After being kept in 'crush cages' and pumped for up to 30 years for bile through a hole in their body, the bears are often killed, and their parts are distributed to restaurants for consumption by the wealthy.
Unfortunately, and predictably, as Animals Asia observes, the bottom line behind this heartless attempt to close down the center is money.
"This is not a [Ministry of] Defense issue," said Tuan Bendixsen, Animals Asia's Vietnam director. "It's an issue of profit. We believe Mr. Tien seeks to benefit from land that the Prime Minister promised for bears that have suffered in Vietnam's bile trade for too long."
"This one man," Bendixsen concluded, "whose daughter stands to directly profit from the relocation of the center, should not be allowed this much power."
Photo: A rescued moon bear has found peace at the Vietnam bear rescue center, but now faces eviction from its own sanctuary. Image courtesy of Animals Asia