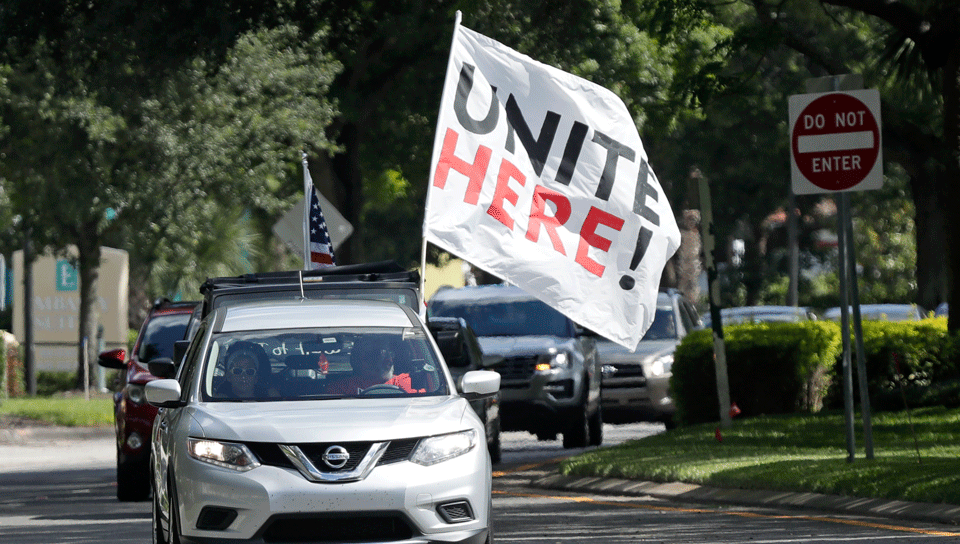 LAS VEGAS (PAI)—Beep! Beep!
That will be the sound of dozens of horns honking from union members' cars to be driven down the Las Vegas Strip at 5 p.m. on Thursday, May 14, demanding the city's hotels and casinos reopen safely as they start up again from coronavirus-caused shutdowns.
So far, the hotels and casinos have refused to discuss their plans, except for MGM Grand, which released a skeleton of its plan to the Las Vegas Review-Journal earlier in the week. The key requirements: Everybody gets screened and everybody wears anti-viral masks.
Culinary Workers Local 226, the biggest union in Las Vegas, and the biggest in Unite Here, with 50,000 members, organized the caravan.
Caravans are an increasingly popular protest tactic among unionists nationwide who have either been thrown out of jobs due to lockdowns because of the coronavirus pandemic or who are protesting their employers' lack of personal protective equipment (PPE).
National Nurses United, among others, raised the profile of the car caravans, with a long cavalcade of honking vehicles around the Minnesota state capital the week before.
As of the morning of May 13, the pandemic has sickened 1.4 million people in the U.S. and killed nearly 84,000. That includes 4,869 sufferers and 267 deaths in Clark County, Nev., which Las Vegas dominates.
The coronavirus-caused closures, ordered by governors and mayors to stop community spread of the disease, have tossed at least 22 million people out of work and drove the official U.S. unemployment rate in April to 14.7%, with the real rate far above that.
It's far, far above that figure in the nation's casino capital, where Local 226 estimates 90-95% of its members are out of work. Now the casinos and hotels are starting to reopen and the union wants to ensure they do it right.
"Load your immediate family into your car (pets welcome!), wear a mask, stay in your vehicle, keep your windows rolled up, and do not get out during caravan," the union e-mailed members. "Make a sign, decorate it, and hang it on the inside or outside of your car."
Suggested signage includes: "Vegas open up safely—Workers' lives depend on it!", "Up up with safety for workers. Down down with COVID19! ", "Reopen Vegas, the SAFE way!", and "Don't roll the dice with workers' lives."
In a Zoom-televised press conference the week before, Unite Here listed its requirements for casinos nationwide, not just in Las Vegas, to meet before their workers—bartenders, cashiers, servers, cleaners, and more—would return to their jobs.
They include screening, temperature checks, and the like before workers or customers can enter hotels and casinos; wide distancing; and universal availability of PPE for workers and customers; and enhanced cleaning and safety teams with workers on them to enforce the rules.
"Hundreds of thousands of workers are employed in the gaming industry in the United States, and it is imperative that any plan made to reopen these facilities involves input from both workers and their union," union President D. Taylor said then.
"The health and safety of both workers and casino guests is our union's top priority, which is why Unite Here consulted with public health professionals and industrial hygiene experts to develop a set of public health guidelines for gaming facilities.
"The casino companies need to work with us to ensure a healthy and safe environment when casinos re-open, and if they won't, the gaming regulators of the states in which they operate must take action."
"Nevada has a chance to be a leader in the hospitality industry," Geoconda Argüello-Kline, Local 226's Secretary-Treasurer, said. "If companies will not release their plans and be transparent before reopening, how can customers and workers know they will be safe?"