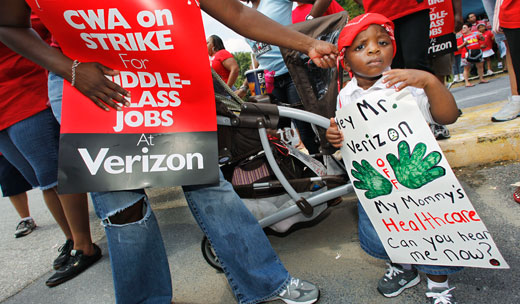 SYRACUSE, NY – "Beep-beep!," "Honk!," "Baruga!" The sounds of support from passing drivers reached us before we got to the picket line in an industrial area of Syracuse on Thursday.
We joined a 50-person, black and white line of strikers. Picketing on a 24-hour basis had been organized by the two Communications Workers of America locals and the International Brotherhood of Electrical Workers local representing workers at this facility.
Workers were joined on the picket line by several retired workers and by children. In one family that walked together both parents worked for Verizon, and they had their two children with them.
This Verizon facility houses an "FIOS" call center and the garage which sends out crews to do installations or repairs for cable customers. The only crews going out Thursday were made up of managers, including those drawn from other parts of the country, and recalled retirees. One picketer complained that most of these managers were people she didn't recognize from inside the facility.
A few miles away near a mall, picketers were at a Verizon store that mostly sells wireless phones. Although CWA represents only a few of Verizon's wireless workers, the picket captain said the response was good.
Inside the store, the first worker we spoke with gave us the "company line" that Verizon wireless had nothing to do with Verizon landline operations, but added that he was a contract worker who would be laid off in a couple of weeks.
A spokesperson for the manager, who was conveniently at lunch, gave us the same line and added that they understood the strikers and were sympathetic to them.
Back at the picket line we inform the captain about what we had been told.
Spirits are good on both lines. "Beep-beep! Honk! Baruga!" go the horns of supporters driving by.
Photo: Toddler joins his mother at a Verizon workers rally at the Chesapeake Complex in Silver Spring , Md., Aug. 8. (Manuel Balce Ceneta/AP)