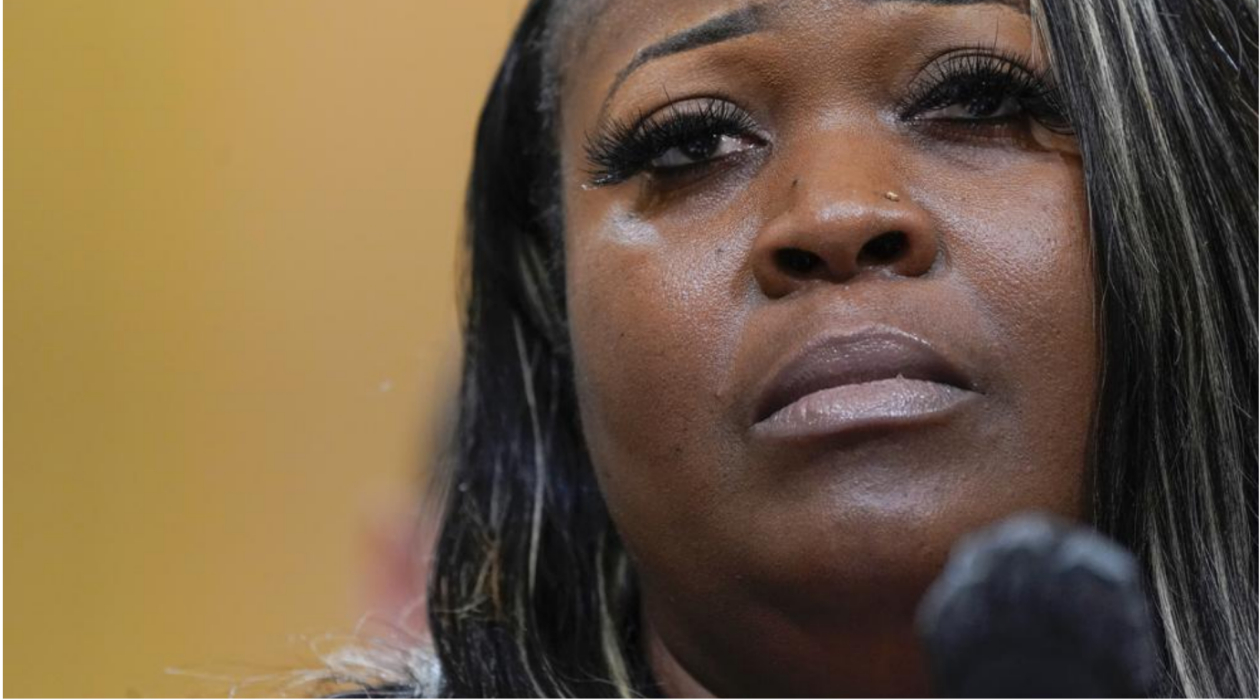 WASHINGTON—At a December 2020 press conference on the steps of the Georgia state capitol building in Atlanta, the state's #2 elections official, Gabe Sterling, had a stark warning for Donald Trump:
"Stop inciting people to potential acts of violence," Sterling declared that sunlit day, after three recounts of Georgia's 4.998 million ballots—including one totally by hand—confirmed Democratic presidential nominee Joe Biden beat Republican incumbent Trump in Georgia by 11,379 votes. "Someone is going to get hurt. Someone is going to get killed."
Just over a month later, as a direct outcome of Trump's long-term and frenzied efforts to overturn his 2020 election loss to Biden, someone did: Five police officers, who either died or committed suicide in succeeding days over their failure to keep at least 1,000 Trumpite invaders and insurrectionists from ransacking the U.S. Capitol.
The invaders sent Vice President Mike Pence, lawmakers, staffers, and reporters who were inside running for their lives. The insurrectionists' goal: To keep the Republican Oval Office occupant in power through a series of unconstitutional and illegal plots. The last: Stop the electoral vote count on Jan. 6, 2021, thus staging a coup d'etat.
And it was all based on what even Trump attorney Rudy Giuliani admitted to one key official was a lie about a stolen election via fraud. "We've got lots of theories, we just don't have the evidence," Giuliani told Republican Arizona House Speaker Russell "Rusty" Bowers in one of their strained telephone talks.
Trump's schemes to stay in power in violation of the Constitution failed, but, as the congressional committee examining both the insurrection and events before and since is busy proving, barely.
"The danger hasn't gone away. It's corrupting our democratic institutions," warned Rep. Bennie Thompson, D-Miss., chair of the House Select Committee investigating the Jan. 6, 2021, insurrection and invasion, what moves led to it, by whom, and its current aftermath.
"I had to keep faithful to the (U.S.) Constitution and that is what I swore an oath to do," said Georgia Secretary of State Brad Raffensperger—a key official whom Trump repeatedly and infamously pressured to "find enough votes" to reverse Biden's 11,379-vote victory there.
"We just followed the law and followed the Constitution. The numbers don't lie. At the end of the day, President Trump came up short," he added. It was a theme other witnesses, from top to bottom, repeated to the panel.
There and in Arizona, state officials told the lawmakers, that Trump alleged illegal migrants cast hundreds of thousands of ballots and 4,000-5,000 ballots were cast in each state by people who were dead. The totals in Georgia, Raffensperger testified: Zero and four.
Trump's plots culminated in the Trumpite coup attempt. The threats to individuals and to democracy weren't confined to Georgia and Arizona. They began beforehand in key swing states, continued then, and continue now, the House Select Committee revealed.
Trump "was and is a dangerous cancer on the body politic," said Rep. Adam Schiff, D-Calif., who handled the questioning at the panel's June 21 hearing.
The threats to individuals and democracy included:
"What can we do to state legislators, besides kill 'em?" if they don't certify Trump won, "conservative activist" Nick Fuentes asked in a video clip the panel played of one broadcast.
"May God have mercy on your soul," one Trumpite tweeted to a 20-year-old Georgia elections worker, tasked with voting machine certification, who wouldn't kowtow to conspiracy theories that the machines were rigged for Biden. The tweet was decorated with a picture of a noose. When Sterling learned of the death threat, "I just lost it," he told the lawmakers—and called his press conference.
"Did he (Trump) ever urge avoiding violence?" Schiff asked Sterling. "Not to my knowledge."
Bowers had his own series of testy telephone conversations with Trump and his team. Arizona was the first swing state to fall to Biden, just after 11 p.m. on Election Day. Its turn from "red" to "purple" enraged the Oval Office occupant.
Trump repeatedly claimed there were "200,000 illegal immigrants" and "5,000-6,000 dead people" voting in Arizona, which Biden won by 10,457 votes out of 3.33 million ballots cast.
"Do you have names?" Bowers asked about both when Trump phoned. "Yes," said Trump attorney Giuliani. "Will you give them to me?" "Yes." "Give the man what he wants," said Trump. "Did you ever get them?" asked Schiff. "No," said Bowers. "It's hearsay," he later added.
Trump tried another gambit, telling Bowers "an official high up in the Republican legislature" told him that Bowers, as state House Speaker, had unilateral power to convene a special session of lawmakers "to remove the (Biden) electors and replace them" with Trump's slate. Bowers said he lacked unilateral power. He'd need a two-thirds vote to call a special session, in a barely Republican House.
Trump's lies continue, Schiff noted. He read a Trump tweet the morning of the June 21 hearing, claiming that in their first telephone talk Bowers "told me the election was rigged and I won Arizona." Replied Bowers, who like the other witnesses testified under oath and penalties of perjury if they lied: "Anyone, anywhere, any time that has said I said the election was rigged, that is not true."
Pennsylvania House Speaker Bryan Cutler, a Republican, "got daily voice mails" from Trump's top team, led by Giuliani. They demanded he find ways to recount votes—and claimed, without proof, there was massive vote fraud in Philadelphia, which is heavily people of color, and among mailed-in ballots.
"I told him it was inappropriate and asked him to stop," Cutler said in a videotaped interview with panel probers. The result: "There were protests at both my office and my home" by irate Trumpites, and his home phone rang so constantly, including in the wee hours, "that I had to disconnect it for three days."
Michigan's top elections official, tending her small daughter, was scared by angry Trumpites outside her front door.
Trump's backers concocted alternate sets of "electors," armed with fake certifications that he, not Biden, won key swing states. The Wisconsin set was sent to ultra-Trumpite Republican Sen. Ron Johnson, to deliver to Vice President Pence before the electoral vote count began. Pence's role was just to open the ballot envelopes and announce the results. Pence's aides prevented Johnson's delivery.
Trump and his team, including Giuliani and other attorneys and advisers "targeted every tier of federal and state officials" in his quest to retain power, said Schiff. And "anyone who got in the way" of his goal "was the subject of a dangerous and escalating pressure campaign."
It's continuing. Only recently, Bowers said, have Trumpites stopped driving around his neighborhood, arguing with neighbors, and calling him corrupt and a pedophile. At one point, a pistol-wielding man had been taunting his family and neighbors. In Michigan, Pennsylvania, and other states, election officials have had their personal phone numbers and home addresses spread publicly—an invitation to violence—for their refusal to go along with Trump's attempted election theft.
Also continuing: The committee's investigation. That may take them into Trump's White House.
Politico reported on June 21 that filmmaker Alex Holder gained exclusive access, starting in September 2020, to Trump, Pence, top presidential aides—including Trump's son-in-law and daughter plus interviews with Trump—for a documentary about the campaign. The committee subpoenaed Holder and his film, and he's now submitted the video footage.
Trump's direct pressure and threats extended all the way down to excoriating Ruby Freeman, a 70s-plus dignified African-American grandmother because she helped hand-count all those Georgia ballots. The FBI visited her house on Jan. 4 and advised her to flee, because of the threats of violence from Trumpites. Agents told Freeman she might have to stay away for two weeks until Biden's inauguration. She was forced out for two months.
"Do you know how it feels to have the president of the United States target you?" Freeman testified at the hearing. "The president of the United States is supposed to represent every American, not to target one. But he targeted me."
The threats to Freeman and her daughter, Atlanta elections worker Shaye Moss, were just one telling feature of Trump's campaign to stay in power and his legions' fanaticism for that war.
They also took a personal toll: Moss, voice breaking, testified she had enjoyed her job, helping people register and vote. Now she's scared to go grocery shopping, for fear fanatics will recognize her. The danger escalated after Giuliani played surveillance footage of Moss and her mother counting ballots in a Georgia Senate committee hearing on Dec. 10, 2021. His words dripping with racist implications, Giuliani said the footage showed the women "surreptitiously passing around USB ports as if they are vials of heroin or cocaine." What they were actually passing, Moss told the committee, was a ginger mint.
"There were a lot of threats wishing death upon me," Moss testified. "Telling me that I'll be in jail with my mother. And saying things like, 'Be glad it's 2020 and not 1920,'" a clear reference to white supremacist lynch mob violence.
"A lot of them were racist," Moss said. "A lot of them were just hateful."
"Donald Trump didn't care about the threats of violence. He did not condemn them, he made no effort to stop them," said committee vice-chair Rep. Liz Cheney, R-Wyom. "This is serious. We cannot let America become a nation of conspiracy theories and thug violence."
The next hearing is on June 23 and will focus on Trump's attempted manipulation of the Justice Department.