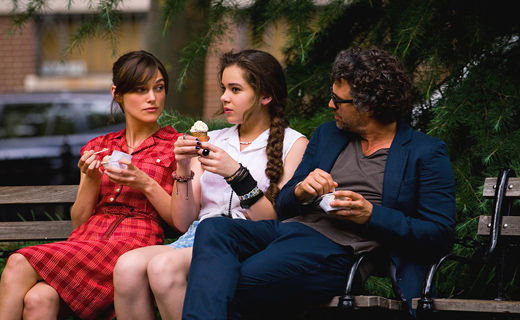 "Begin Again" stars Keira Knightley, Mark Ruffalo, and several products of Apple, Inc. It's about producing and distributing music without the overhead costs or help of the traditional industry. How anybody gets paid for their work isn't clear, except for Apple.
People who are taken with Keira Knightley, and feel that she doesn't get enough face time in most of her films, are going to like this movie. She's in almost every close-up and remains watchable all the way through. She plays a singer/songwriter who wants to remain true to the original feelings that created the songs. She wants everybody else to remain true, too, even if the money, the fame, and the booze make it a challenge.
Ruffalo is a time-worn record producer who is dragging tons of problems that have long ago disfigured his original intentions. He hits bottom at the start of the film, then "begins again" when he first hears Knightley perform. Other characters are a disillusioned wife, a disaffected teenage daughter, and the roaring two-timing rock and roll star that used to be Knightley's true blue boyfriend. A number of smaller roles, mostly musicians with their own interesting relationship to music, populate the rest of the film. All of them sum up to a view of an industry under siege from technological change, and a view of people still striving to be true. Some of the pop songs are pretty good.
At the end of the credits, there are two union logos: SAG-AFTRA and Teamsters.
Movie information:
"Begin Again"
Directed by John Carney
Starring Mark Ruffalo, Keira Knightley, Adam Levine, Hailee Steinfeld, Yasiin Bey, Catherine Keener, James Corden
2014, rated R, 104 min.
Photo: A scene from "Begin Again."