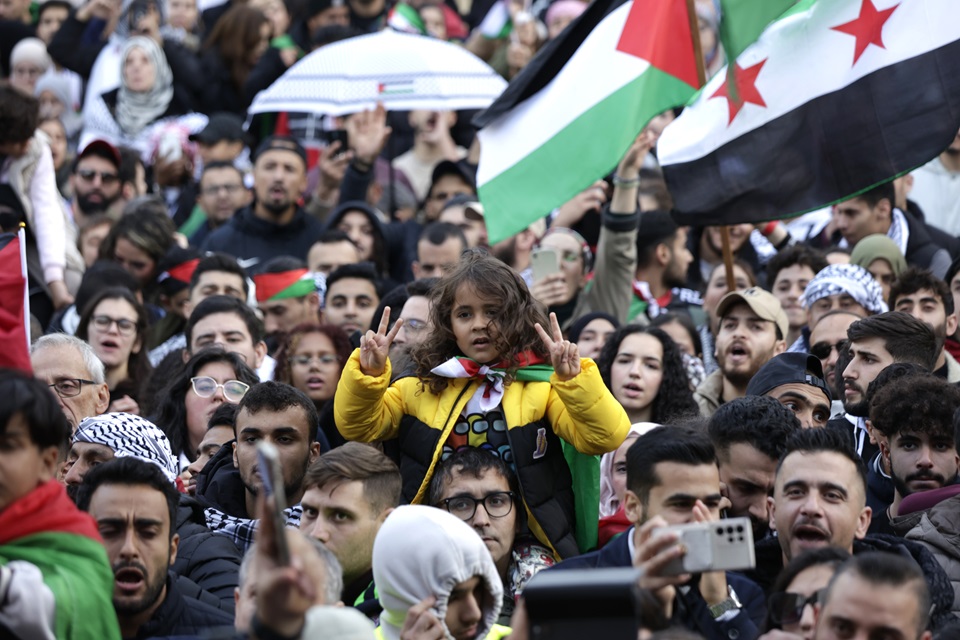 Belgian transport workers have refused to load and unload weapons going to Israel. The boycott that began on Tuesday accompanied growing international pressure for a ceasefire.
Five Belgian transport unions—ACV Puls, BTB, BGTK, and ACV–Transcom—said in a joint statement that they were demanding an immediate ceasefire in Gaza to put an end to the "genocide" underway in Palestine.
The unions said they were refusing to load or unload weapons at ports because the weapons "provide organizations with the ability to kill innocent people."
They said: "While a genocide is underway in Palestine, workers at various airports in Belgium are seeing arms shipments [headed] in the direction of the war zone," and that loading or offloading these weapons would mean contributing to killing innocent people.
"As unions, we stand with those who campaign for peace," they said.
Peace campaigners welcomed the move, with Campaign for Nuclear Disarmament general secretary Kate Hudson saying that workers around the world at other ports and factories should follow suit.
She said: "It's time for the workers in factories that make weapons, or parts of weapons, used in Palestine, and for the trade unions that organize in those factories, to lay down their tools. To refuse to make the weapons that kill our brothers and sisters in Palestine."
The action by the Belgian transport workers comes amid a global wave of protests calling for a ceasefire to put an end to Israel's war crimes against Palestinians in Gaza—with many led by labor organizations.
Thousands of workers gathered in the Indian city of Kozhikode in Kerala Wednesday for a mass rally organized by the Centre for Indian Trade Unions, the All-India Kisan Sabha, the All-India Agricultural Workers Union, the All-India Democratic Women's Association, the Democratic Youth Federation of India, and the Students Federation of India.
It follows a wave of protests in the United States, with Jewish activists bringing New York City's Grand Central Station to a standstill as they demanded an end to the Israeli assault.
Dozens of activists with the women-led anti-war organization Code Pink interrupted U.S. Secretary of State Antony Blinken to call for an immediate ceasefire as he gave evidence to a Senate hearing in Washington on Tuesday. Protesters standing behind Blinken held up hands stained red, accusing him of having blood on his hands.
Washington is gearing up for what organizers expect to be one of the biggest demonstrations in support of the Palestinians ever seen in the U.S. this Saturday, Nov. 4.
Layan Fuleihan, director of Education at the People's Forum and one of the team organizing the protest, said: "In the U.S., we have seen hundreds of thousands demand an immediate end to the genocidal war against the Palestinian people.
"We are going to take to the streets on Saturday to make sure Joe Biden and the U.S. administration, the primary funders of the Israeli operation, can no longer ignore our voices."
Israel has continued to pound Gaza in what an increasing number of observers have labeled as "collective punishment."
The Israelis say that over 1,400 people have died on their side since the surprise Hamas attack on Oct. 7th.
The Gaza Health Ministry says more than 9,000 Palestinians have been killed, mostly women and children, although thousands more are believed to be trapped or dead beneath the rubble of targeted buildings.
Morning Star
We hope you appreciated this article. At 

People's World

, we believe news and information should be free and accessible to all, but we need your help. Our journalism is free of corporate influence and paywalls because we are totally reader-supported. Only you, our readers and supporters, make this possible. If you enjoy reading 

People's World

 and the stories we bring you, please 

support our work by donating or becoming a monthly sustainer today

. Thank you!