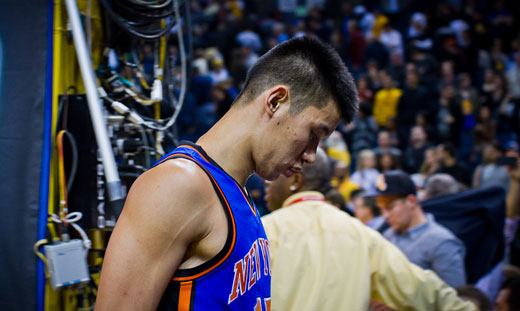 First it was ESPN apologizing for use of an ugly ethnic slur in a headline about basketball's hottest new star Jeremy Lin. Now it's Ben & Jerry's. It seems too many "clever" media and advertisers think the way to respond to Asian Americans is with a joke, an ethnic stereotype or a plain old slur.
As ColorLines reports, Boston Ben & Jerry's Scoop Shop has apologized for its "Taste the Lin-sanity" frozen yogurt flavor featuring lychee honey swirls and crumbled fortune cookies.
"There seemed to be a bit of an initial backlash about it," Ryan Midden, Ben & Jerry's general manager for Boston and Cambridge, told Boston.com, "but we obviously weren't looking to offend anybody and the majority of the feedback about it has been positive."
The company issued an apology, saying:
"On behalf of Ben & Jerry's Boston Scoop Shops we offer a heartfelt apology if anyone was offended by our handmade Linsanity flavor that we offered at our Harvard Square location. We are proud and honored to have Jeremy Lin hail from one of our fine, local universities and we are huge sports fans," Ben & Jerry's officials posted on the company's local Twitter and Facebook pages. "We were swept up in the nationwide Linsanity momentum. Our intention was to create a flavor to honor Jeremy Lin's accomplishments and his meteoric rise in the NBA, and recognize that he was a local Harvard graduate. We try demonstrate our commitment as a Boston-based, valued-led business and if we failed in this instance we offer our sincere apologies."
After the outcry, the company replaced the lychee and fortune cookies with a waffle cookie.
Lin is the New York Knicks guard who burst into prominence this month by leading a winning streak for the Knicks. He is a Harvard graduate who is the first American-born NBA player of Chinese or Taiwanese descent. He was born in Los Angeles to parents who emigrated from Taiwan in the 1970s. His maternal grandmother moved to Taiwan from mainland China in the 1940s.
Earlier this month, ESPN apologized for using an ethnic slur in a headline on a story about Lin. According to the Washington Post, however, the sports network used the offensive term at other times. "And the same headline appeared on the site during the Beijing Olympics," the Post reported. "It's a slur that Lin said he heard during his playing days at Harvard."
Fox reporter Jason Whitlock and the New York Post also drew criticism for ethnically insulting comments and headlines about Lin.
Are apologies enough? You decide.
Photo: Jeremy Lin, by nikk_la. CC by 2.0.