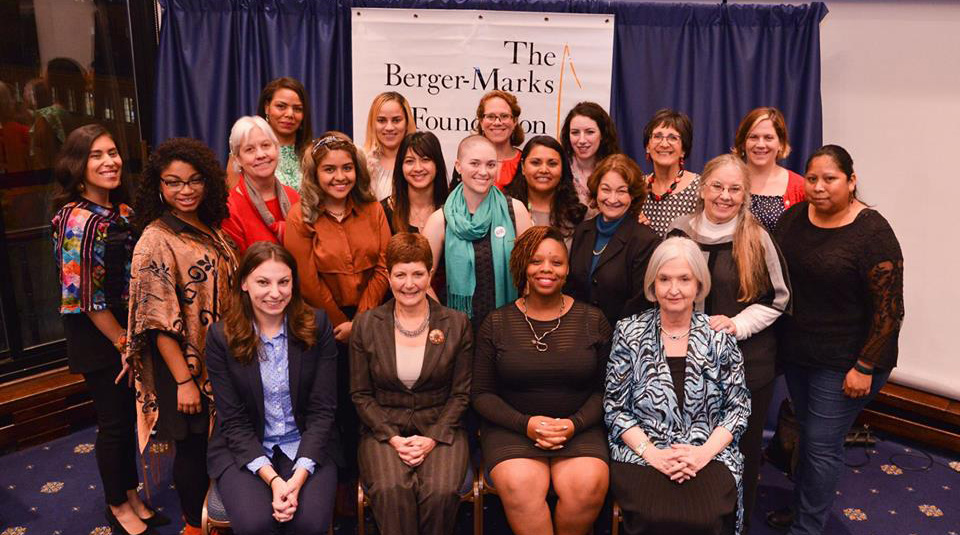 WASHINGTON (PAI)—What happened to Jessica Ellul, unit coordinator – and, more importantly, union organizer – at the oncology ward of Danbury Hospital, is typical.
Ellul spent three years organizing colleagues at the western Connecticut institution, on behalf of the American Federation of Teachers. She's got key issues to work with, including patient care ratios, erratic hours, lack of respect on the job and the hospital's longtime failure to deal with violent patients.
But when the nurses there brought the issues to hospital management, they got the cold shoulder. So they turned to the union, and the retaliation began.
Ellul was "written up, threatened and bullied," said Berger-Marks Foundation trustee Yvette Herrera, before handing one of the foundation's Mullany Awards for young female union organizers to Ellul. "She was even physically removed from her workplace for protesting anti-union meetings" called by hospital management.
Eventually, the National Labor Relations Board found the hospital guilty of 14 counts of labor law-breaking, formally called unfair labor practices. And Ellul won one of three Kate Mullany Courageous Young Worker awards at the Berger-Marks ceremony on Feb. 9 in D.C.
Those awards to young female union organizers honor Mullany, a 19-year-old woman who organized fellow workers at 14 laundries in the Albany, N.Y., area, just after the Civil War.
"These are the stories about women who are changing the world, which is just what we need these days," Herrera said.  "If you are looking for leadership in this country, don't look too far from here," added NOW President Terry O'Neill, a past honoree.
The awards, which carry cash prizes, went to Ellul and other young female activists, in and out of unions.
The top honor, the Edna Award For Social Justice – named for foundation founder Edna Berger, a longtime Newspaper Guild activist – went to Angelica Clarke, executive director of the Albany (N.Y.) Social Justice Center. There were two runners-up and seven other finalists. All were also honored at the ceremony.
Clarke stitched together a coalition of community groups, unions, state university teaching assistants who had joined Communications Workers Local 1104 and racial justice groups, said Berger-Marks President Linda Foley, the former Newspaper Guild president.
The results were wins for criminal justice reform, housing reform and fair working conditions, among others, Clarke said. "The work we're doing in Albany is going to help us through these trying times with this political regime," she added.
Other Kate award winners were Allyshia Shin, a former nurse at Huntington Hospital in California, who led National Nurses United's organizing drive there, and Angela Melvin, leader of the Communications Workers' drive at the T-Mobile call center in Wichita, Kansas.
The Edna and Kate awards will continue, even if Berger-Marks won't. The foundation is closing and transferring its assets to labor studies centers at Georgetown and Rutgers Universities, leaders said. The two institutions will continue the awards, they add.
PAI CORRECTION: "We are told by the staff that the announcement of the future of the awards was unclear. It should read that the foundation is in the process of choosing an organization to carry on the awards."