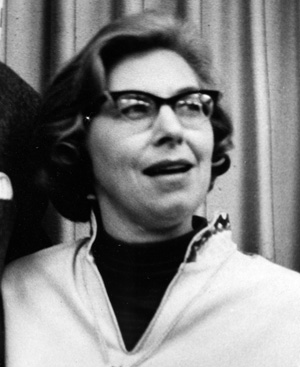 One of the last Communist Party USA members from the "Greatest Generation" of World War II, Bernice Blohm Diskin, passed away June 25 at age 91. Bernice always said she was born a communist, as both parents became charter members of the Communist Party in 1919.
She grew up in a German working class home in the single tax colony of Free Acres, New Jersey. Most of the families were communists, socialists or left-wing single tax advocates. Bernice became a member of the Young Pioneers, the children's organization related to the Communist Party, and then of the Young Communist League.
The most outstanding thing about Bernice was, perhaps, her love of working people and her hatred of the bosses and big capitalists. She was a fierce but persuasive opponent of racism.
She was a warm, outgoing person, with a big smile, a big voice and a hearty laugh. Wherever she went she struck up conversations with working people – at work, on the subway, in the grocery store, in her apartment building, walking along the street. She always wore a big political button or two – for peace and against some imperialist aggression, for jobs, against racism, for democratic rights, or whatever the issue of the day was. These buttons often led to conversations.
When the People's World had a print edition, Bernice would wait until a subway pulled into the station and she would talk to the motorman and the conductor. Then the paper would come out. She built a paper route among these transit workers and riders.
Bernice became a respected tenant leader in Chicago and in Weehawken, N.J. She knew everyone in her building and became especially close to the Latino families who shared her building in Weehawken. Bernice taught English to the Spanish-speaking children there, on her own time with her own materials, free. The Weehawken newspaper carried a front-page story headlined, "Weehawken senior fights for tenants' rights, helps kids read."
In her early years, Bernice hoped to become an actress. She loved to dance and loved music of all kinds but particularly protest and folk songs. This led her to write her own songs about issues of the day.
She wrote the words, set to familiar melodies, in the style of Woodie Guthrie, whom she much admired. The subjects ranged from her mother's political activities, to the fight for public education, and the "Reds." At one of the annual people's folk song conferences which she attended regularly, Pete Seeger singled out Bernice Diskin as the most outstanding writer of political songs at that time. She made two tapes and one CD: "Coming On Strong" and "Paint The Town Red," (1987 Brass Tacks Music) and "Hurry Home" (CD, 1994, Brass Tacks Music).
In the late 1930s Bernice met Lou Diskin at a YCL dance in Ridgewood, Queens, where Bernice had become part of the anti-fascist German community movement. They soon became lifelong partners in the struggle for social progress and socialism.
Lou and Bernice were married just a few days before Lou was drafted as a private in early 1942. He went to Europe and became a military hero, receiving two bronze stars for bravery under fire and a battlefield commission as a lieutenant, and fought his way to the meeting at the Elbe with the Red Army.
During those four years, Bernice went to work in a factory that made metal parts for the war effort. For many years after that, Bernice worked in offices in semi-skilled jobs until she retired.
Bernice and Lou moved first to Chicago, then 20 years later to Los Angeles and then back to New Jersey to take up activities for the Communist Party. In each place, Bernice was active in housing and community work and served on leading committees. About 1986, Bernice undertook to chair a CPUSA national commission concerned with cultural workers and their activity. She served as a member of the party's National Council.
Bernice and Lou celebrated their 60th wedding anniversary shortly before Lou passed away in 2003. Since Bernice's only close living relative lived in upstate New York she moved there, and continued to be a champion of working people and fervent opponent of exploitation and oppression.
I kept in touch with her by phone these final years. In every phone call, Bernice would ask me, "Danny, is the party growing?" I usually answered that it was growing slowly. She would then say, "It needs to grow faster. The people need it."
All those who knew her in the different parts of the country in which she and Lou lived know they have lost a good friend, a loving person, and a skilled warrior for social progress and justice.
Photo: Bernice Diskin, 1960s. Tamiment Library.