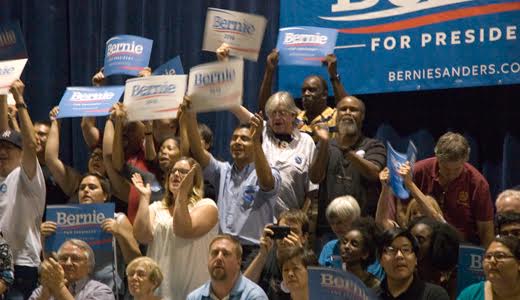 PHOENIX, Ariz. – The crowd that entered north hall E at the Phoenix convention center Saturday did so in a steady stream for two hours before showtime.
Among the mostly-white, mostly-young crowd were many millennial families; 20-somethings with newborns and toddlers.
Attendees of Netroots Nation, easy to spot wearing their conference credentials, boosted the number in attendance but were not the majority. By official count the 11,000 people on hand formed the largest crowd for any Presidential candidate yet this election cycle.
Aurora Nickens, a middle-aged voter, counter-weighs her excitement with the popular realism that embraces Sanders as "saying more of what regular people like me want to hear" while maintaining the need to vote for Hillary should Sanders fail to clinch the nomination.
She likes that he is speaking about "bringing the money down to the middle class and the people who are doing without." She, like many others, wanted to hear specifics.
Julian Acosta, a Green Party voter from Phoenix, remarked that what Sanders has been talking about is what he's been feeling for the longest time. "If he gets the nomination, I'll definitely vote for him instead of going with my party."
A lot of the sentiment with regard to the Green Party and third-party politics on the floor of the event pointed to its ultimate impracticality in a two-party system.
Soon, the visible stream into the room had stopped and the mass of would-be voters solidified to wait patiently for the Vermont senator. At the front, people in Robin Hood hats held three-foot tall cardboard signs of Sanders' head wearing one too. These supporters were there touting the "Robin Hood" financial transaction tax that supporters say could raise billions per year for social services. Sen. Sanders had introduced the tax in a bill on May 19.
Introducing Sanders was Yolanda Bejarano, organizer with the Communications Workers of America. "Bernie speaks for all of us", she said. Senator Sanders has recently gained the support of Bejarano's former union president, Larry Cohen who has committed to stumping for Sanders on the campaign trail.
The crowd erupted and hung on Sanders' every word while blue and white Sanders 2016 signs fluttered at every applause line.
"When we were coming to Arizona, someone said Arizona is a conservative state," declared Sanders upon arriving at his microphone, "… not what I see here tonight."
Sanders spoke with more of an edge to his tone, perhaps feeling more comfortable on the national stage. His issues remain consistent, paramount of which is income inequality.
He laid out his plan to "transform America" which included a $15 minimum wage, 12 weeks paid maternity leave, paid sick time, an end to discrimination, and free college education. The implementation of any of those policies would begin to bring the United States into step with the European social democracies of the 21st century.
In one of his biggest applause lines Sanders declared his support for a comprehensive immigration reform bill. "We need a path to citizenship. We don't need to be dividing families. We need to keep them together," said Sanders implicitly siding with progressives in his party who have been demanding an end to deportations.
Saying that Sanders believes that the United States has become an oligarchy of billionaires can sum up the thrust of his campaign. He did not hesitate to give the names of the more high profile dynasties, the Kochs and the Waltons. "Their greed has got to end and we are going to end it for them," he declared.
The response of members of the audience afterwards was unanimously positive. As this reporter poked and prodded for a different perspective he couldn't help but notice a few missing pieces.
Sander's only reference to foreign policy throughout the night was a reference to World War II during which he pointed out that the United States, when properly motivated, can perform seemingly impossible feats like mobilizing to defeat the Nazis (not that we didn't have any help there). He only referenced the importance of taking care of returning soldiers, but not what to do about the wars that send them from their home in the first place.
Additionally, the words "black lives matter" were not heard save for shouts from the crowd. Earlier that day Sanders encountered protestors who commandeered control of a presidential forum that he and candidate Martin O'Malley were participating in.
In his speech he tackled the issues of 51 percent black youth unemployment and the mass incarceration of people of color by pushing for a one trillion dollar jobs program and community policing, but given that the protestors were not satisfied with those reforms earlier in the day it seemed that their intervention did not cause Sanders to re-open his speech notes.
According to Patrick Morales, elected official on the Tempe Elementary School District Governing Board and Arizona field director for Sanders' campaign, Sanders fully plans on seeing the early primary states through due to strong fundraising numbers. Arizona, a traditionally deep red state, has not seen the last of Bernie Sanders.
Photo: Bernie Sanders speaking at the Phoenix Convention Center to a crowd of over 11,000 people. | Earchiel Johnson/PW flickr