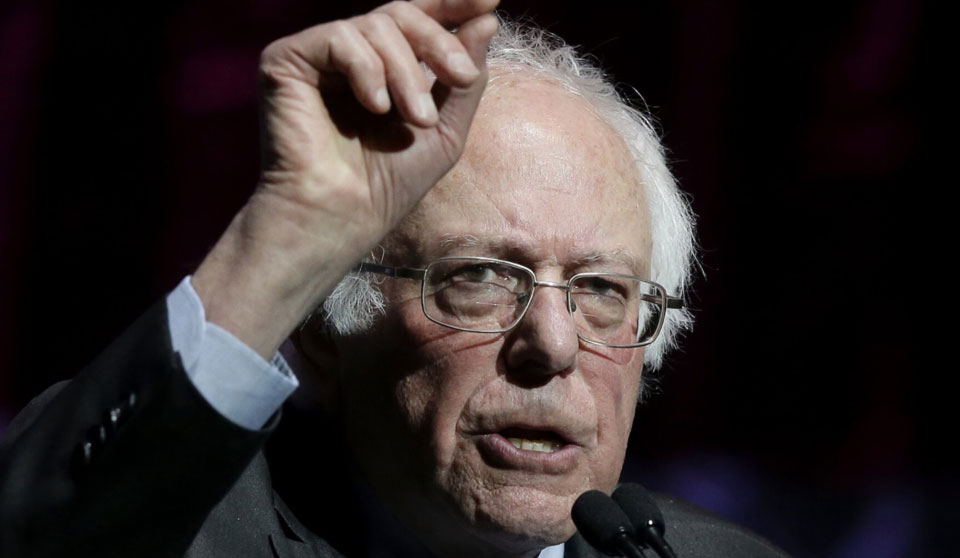 WASHINGTON—Sen. Bernie Sanders, Ind-Vt., has finally had it up to here with Trumpite Postmaster General Louis DeJoy. The senator, a longtime supporter of the U.S. Postal Service and its workers, wants Democratic President Joe Biden to dump DeJoy before the exec's destruction at the USPS endangers the nation's fight against the coronavirus.
In a December 23 letter to the president, Sanders warned DeJoy's slowdowns of first-class mail, and especially of medicines, could spread to slowed delivery of the 500 million government-paid coronavirus testing kits Biden plans to distribute nationwide.
"Given the deterioration of the Postal Service under DeJoy, how can anyone have confidence these life-saving tests will be delivered to the American people in a timely and efficient manner? I think the obvious answer to that question is they cannot," the senator wrote.
DeJoy's "reorganization" plan for the USPS, which he is already implementing, lengthens delivery service times, closes sorting and distribution centers, and raises the price of first-class postage while ensuring mail—including medicines—takes longer to reach customers. He also envisions cutting the USPS's red ink by not replacing retiring workers.
DeJoy also downplays the fact a GOP-run Congress passed a postal reorganization law in 2006 which has since forced the agency to prepay $5 billion yearly for future retirees' health care costs. The PMG has suggested reducing that annual payment. He's been silent about other moves to help the USPS financially, other than his own cost-cutting.
That one big debt has thrown the USPS into the red "on paper" every year since, even as it continued to make money on first-class mail—despite the Internet—and on package shipping. Postal unions, led by Letter Carriers President Fredric Rolando, campaign for eliminating the health care pre-payment. So does Sanders, who also favors reviving postal banking, plus other money-making measures for the USPS, such as providing notary services.
DeJoy's depredations are so bad that Sanders has joined Marc Dimondstein, president of the other big USPS union, the Postal Workers, in saying DeJoy has got to go. So do other lawmakers, notably Rep. Brenda Lawrence, D-Mich., a former longtime Postal Worker. DeJoy snidely retorted at a USPS oversight hearing earlier in 2021 that she was out of touch.
"Given the serious crisis and total failure of leadership at the United States Postal Service, I am urging President Biden to demand the immediate resignation of Louis DeJoy as Postmaster General," Sanders wrote to the president.
"By any objective measure, DeJoy, a top campaign contributor of Donald Trump, has been, by far and away, the worst Postmaster General in the modern history of America."
But getting rid of DeJoy, and his top management toadies, won't be easy. Only the USPS board, now with a Biden-named majority, can dump DeJoy and his corporate crew.
Former Oval Office occupant Trump forced the board—then dominated by his GOP appointees—to seat DeJoy in May 2020. Ever since then, Postal Service quality "has been severely undermined. Tragically, the situation has only gotten worse since DeJoy began implementing his disastrous 10-year plan to substantially slow down mail delivery, cut back on post office hours, shut down mail processing plants, and dismantle mail sorting machines," Sanders said.
"During the busy holiday season, this could not come at a worse time. Not only are millions of people…throughout the country not getting their Christmas presents delivered on time, senior citizens have experienced massive delays in receiving the lifesaving prescription drugs they desperately need and working families have been forced to pay late fees because it is taking much longer than normal for the Postal Service to mail their bills."
And if senior citizens can't get their medicines on time due to DeJoy's destruction, how can Biden be sure the coronavirus testing kits will get to everyone when needed, and get shipped back for timely evaluation, Sanders asked.
Sanders, postal unions and their members, and the general public have crossed swords with DeJoy over his destruction ever since the magnate's first moves. Those included yanking ubiquitous blue USPS mailboxes from central cities before the 2020 election. Foes called that part of Trump's campaign against mail-in voting, especially by voters of color. The PMG claims his "reforms" are needed to end the yearly flood of USPS red ink.
Sanders also cited DeJoy's conflicts of interest, documented by government watchdog groups. DeJoy, a GOP big giver—including to Trump–and investor who used to run XPO Logistics, has favored private express companies over USPS workers and refuses to divest himself of XPO stock.
Dimondstein has contended for years that DeJoy's real plan, like those of White House right-wing staffers for Trump, is to wreck the USPS, then "privatize" it by selling off profitable sections to the highest Wall Street bidder, leaving the rest of the nation hung out to dry.
"DeJoy has over a dozen major conflicts of interest due to his financial interests in several companies that have ties to the Postal Service," Sanders wrote Biden. "This includes a $120 million contract the Postal Service awarded to XPO Logistics in April to operate two sorting and distribution facilities in Atlanta and Washington, D.C. DeJoy was the CEO of XPO's supply chain business and still holds an investment of at least $30 million in this company.
"The United States Postal Service is a vital part of our economy and our way of life. We need a Postmaster General who will strengthen and expand the Postal Service, not someone who continues to undermine and sabotage it.
"It is long past time for Mr. DeJoy to go."