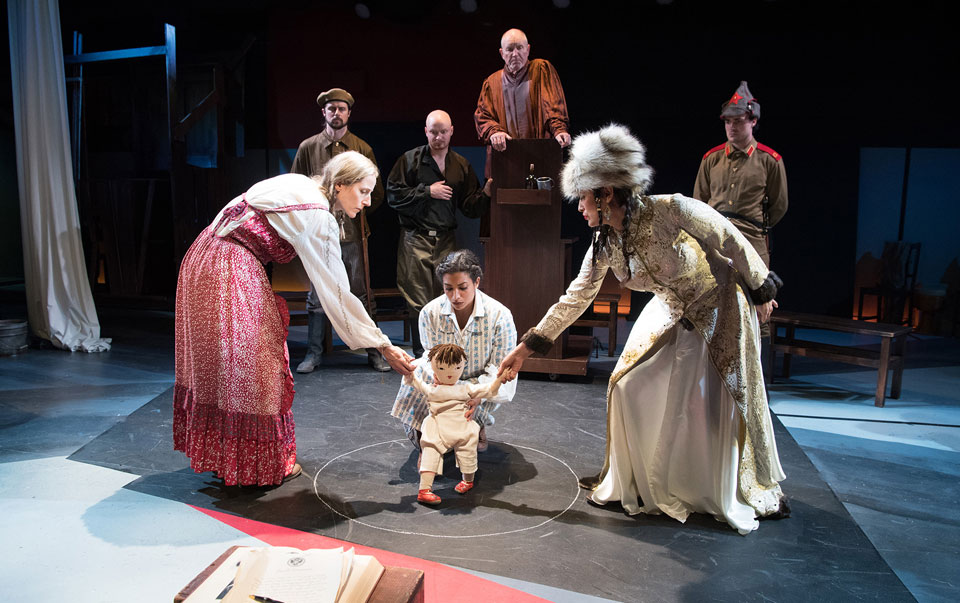 GLENDALE, Calif.—German poet and playwright Bertolt Brecht (1898-1956) changed 20th-century drama with his notion of "epic theater"—plays that, while providing entertainment, are strongly didactic and capable of provoking social change. The playwright's statements about property, privilege, class and injustice are cloaked in the innocence of a folk fable populated by colorful characters ranging from lowly servants and farmers to haughty nobles and courtiers.
His 1944 masterpiece The Caucasian Chalk Circle, written while he was still in exile in America, is one of the best examples of this genre. It is now receiving a wondrous, eye-popping production by the Antaeus Theatre Company that would make a fine introduction to Brecht's style and thinking for those who are not familiar with his work; and for those who are already acquainted, I can't imagine a livelier, more creative staging than this.
Most readers will be acquainted with the Biblical story of the wise judge Solomon and the two women appearing before him claiming to be the mother. He proposes to slice the child in half and give each woman her share. When one of the women protests the decision, saying she'd rather give the child to the other, Solomon rules that the generous woman who would give up the child so that the child may live, is the true mother.
The Caucasian Chalk Circle is a Marxist variation on that tale. In essence, a city ruled by a noble family served by ranks of maids, farmers and hangers-on is being ransacked and burned in the heat of war. In the scramble to leave town, the Governor's Wife (Claudia Elmore) is so preoccupied ordering her staff to pack up her elegant garments that her infant child Mikhail is left behind. This infant is rescued by the servant girl Grusha (Liza Seneca), who sacrifices everything to protect him over a precarious war-torn period of two years until things settle down again.
The dilemma of the drama is, in the end, To whom does this child truly belong?
Set deep in the Caucasus Mountains of Georgia against a backdrop of violence and injustice, The Caucasian Chalk Circle is a play within a play. In the first, framing scene that sets the play into motion, amidst the rubble of a bombed-out village in the aftermath of World War II, farmers debating the best use of their land have to decide whether or not to return to the system of private small plots, or to consider larger collective forms of agriculture and industry that will earn greater dividend, create products for export, and raise the general community standard of living.
I suppose such a play could have been written at almost any time—and in fact the play has precedents in centuries-old Chinese theatre and in a number of 20th-century European adaptations. But the fact that Brecht should have set his mind to this subject in 1944 is most telling. World War II was coming to an end, and the Soviets by then had started driving the Nazi forces back west. Already, in the Soviet republic of Georgia, we see farmers debating how to rebuild, how to maximize the land to benefit the most people. There is, of course, an Expert (read: a party official, played by John Apicella) guiding this difficult discussion toward a more collectivist approach.
With eventual peace in Europe and the world well within reach in 1944, Brecht and other intellectuals and leaders were starting to re-imagine the world that would emerge out of the war. In the United States, the New Bill of Rights promulgated by President Franklin Delano Roosevelt envisioned a kind of social democracy, with guaranteed social and economic rights, that unfortunately, owing to his death in April 1945, would not get off the ground under the more conservative Harry Truman.
In the East, the Soviets envisioned a buffer zone of friendly socialist states from the Baltic Sea down to the Black Sea and the Mediterranean that would protect the vast flat steppes of Russia from further invasion from the West. Those new socialist nations—Poland, Hungary, Romania, Bulgaria and others—would do away with the privileged nobility and the capitalist classes that had kept those countries in conditions of poverty and backwardness for centuries. In deference to the disproportional suffering of the Soviets during the war, the West—at least for the time being—agreed to this principle, while committing to rebuilding Western Europe again on a capitalist foundation.
So the question in 1944 was much broader than the fate of one child, or even the fate of some privately owned farm land. It was, Now that we have defeated fascism—the most extreme form of capitalism—what kind of world do we want to build out of its ashes?
Brecht's own country, Germany, became the "child" torn apart between two systems claiming to be the true inheritor of German genius and humanity. Was it the land of Beethoven, Goethe and Schiller, or the property of Krupp, Thyssen and Bayer? Which system would be the truest successor state to fascism—capitalism or socialism?
Possibly Brecht's most famous quote is "Art is not a mirror held up to reality, but a hammer with which to shape it." He soon had the opportunity to put that into practice.
At the invitation of the newly formed German Democratic Republic (East Germany), Brecht returned to found the Berliner Ensemble in 1949 with his wife, Helene Weigel, as leading actress. It was only at this point, through his own productions of his plays, that Brecht earned his reputation as one of the most important figures of modern theater. Whatever flaws and drabness one imagines as the principal features of East Germany, the Berliner Ensemble was a very bright light showing what was possible under socialism. It attracted visitors and admirers from both East and West.
The parable of the child, significantly introduced by a modern problem in search of a suitable folk interpretation, is no less relevant today, 75 years after Brecht wrote the play. At any given moment, citizens of the world are asking, What kind of world do we want to live in? Every struggle and debate, whether over labor conditions, the way we treat women, children and gender nonconformists, climate change, issues of war and peace, in the end comes down to that question in all its dimensions. Nothing less than the entire social order of a corrupt and violent world is put on trial.
Director Stephanie Shroyer gets it, as she shows in her program note: "[J]ustice, fairness, and moral responsibility reside in the imperfect container that is humankind. The timeless questions of what's best for whom, who decides, and do circumstances make for what was fair or just yesterday, make it so today?"
Playwright Alistair Beaton's eloquent translation serves the play well. "Written by the grand master of storytelling and peopled with vivid and amusing characters," Beaton says, "this is one of the greatest plays of the last century." He captures Brecht's piquant aphorisms studded throughout the play, such as "Stop eating like a pig—people will think you're upper-class," or "You people want justice—but can you pay?" or "Long is not forever. This is the people's hope: Things change" (thank you, BB, for that one, we need it!).
The text also refers several times to war with Iran, which I assume is either an interpolation for today's audience, or perhaps just an updating of "Persia" into "Iran." Another translation for these times has the crowd calling for justice, yelling: "String him up!"
Brecht has a reputation for being terribly earnest and serious (and to some, boring), but there is lots of humor here, as well as pointed working-class satire and a love story, and the peripatetic staging is utterly entrancing. The cast members, working together, created their own musical score, with short situational songs and much lively accompaniment from the actor/musicians. I've seen "musicals" with less, and less interesting music.
The acting ensemble, all of them playing multiple roles, and some of them playing musical instruments as well, includes John Apicella, Noel Arthur, Paul Baird, Gabriela Bonet, Claudia Elmore, Turner Frankosky, Troy Guthrie, Steve Hofvendahl, Connor Kelly-Eiding, Michael Khachanov, Alex Knox, Mehrnaz Mohammadi, Madalina Nastase, Liza Seneca, Janellen Steininger and George Villas.
It's almost rude to single out any individuals in this preeminently ensemble project, but I have to cite Steve Hofvendahl for his matter-of-fact, unpretentious performance as Azdak the Judge. He's a little bit of a drunk, a standard-issue exemplar of corruption, and crude of language, but he is a Mel Brooks-like man of the people and however he arrives at it, he aims for as fair a judgment as conditions allow. Was Brecht thinking perhaps of the Soviets, a little rough around the edges, but in the larger global scheme of things at least on the right track? "Everything belongs by right to those who care for it" is the summary judgment of the play.
The creative team for The Caucasian Chalk Circle includes scenic designer Frederica Nascimento, who has created a moveable visual feast out of a couple of jerry-built structures and a few props and fabrics. Costume designer Angela Calin mixes up the eras delightfully with several outfits for each actor in their different roles, some with Soviet Army indications. I imagine a very busy backstage changing room! Lighting designer Ken Booth, sound designer Jeff Gardner, and props designer Erin Walley coordinated their work perfectly with the overall look and style of the play. All hail Ms. Shroyer for reining this multi-headed beast of a play into submission with memorable stagecraft and invention.
Brecht fans of Southern California, unite! Go see The Caucasian Chalk Circle! You just might walk away convinced that a new order of the world can begin now—with you.
Performances of The Caucasian Chalk Circle take place on Fri. and Sat. at 8 pm, Sun. at 2 pm, and Mon. at 8 pm through Aug. 26. The Kiki & David Gindler Performing Arts Center is located at 110 E. Broadway, Glendale 91205. For reservations and information, call (818) 506-1983 or go to www.antaeus.org.