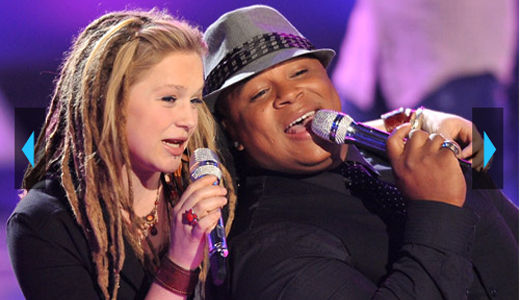 For what it's worth the talent and wow factor on American Idol this season is way off the mark. Week after week the remaining Idol contestants just seem unimpressive except for a solid performance here and there.
On Tuesday the final seven chose inspirational songs and were coached by the lovely Alicia Keys, who says she's a big fan of the popular television show.
Here's a recap:
Aaron Kelly sang "I Believe I Can Fly" by R. Kelly. The judges said they appreciated his big vocals yet something special was lacking in his performance. They also said the arrangement was a bit off.
Kelly, perhaps the youngest on the show, I think gave a solid performance overall. His vocals come off kind of country with a hint of rhythm and blues flavor. His performance was good but short of great.
Casey James sang Fleetwood Mac's "Don't Stop." I have to admit James knows how to rock out on the electric guitar but the performance was weak and even boring. His raspy and bluesy voice can be pleasing but it's also getting old. The judges said he lacked any connection to his song choice. I agree. At this point in the show he has to nail every song or he could be out.
My favorite on the show is Crystal Bowersox who sang Curtis Mayfield's "People Get Ready." She reminds me of friends I had in high school, children of parents who were hippies that probably protested during the 1960s and 70s. I really like her unique look and the originality in her voice. She really stands out on the show that is known for producing pop-artists year after year.
For the first time Bowersox sang without a musical instrument and began the song a cappella. The judges called her singing the most inspirational performance of the night. She truly is a winner and made an emotional connection to the song leaving her teary-eyed at its end. She has been consistently great all season. She sings from the heart and if she keeps it up she could win the whole thing.
Lee DeWyze sang Simon and Garfunkel's "The Boxer." He too is becoming quite the contender on the show. He really connected and told a story through the song. He has a very soulful and raspy-rock voice. I thought his performance was good but he needs to step up his game if he hopes to compete better with Bowersox.
Big man Michael Lynche sang "Hero" by Chad Kroeger featuring Josey Scott. I actually like the song especially because it was the soundtrack hit of the Spider-Man movie, which was disappointing. And so was Lynche. It was arguably not his best performance. I'm a fan of the big guy but the song choice was not a smart one. I can't see him necessarily making rock albums in the future. Hopefully he'll last another week, but he really needs to step it up next time.
My not so favs of those remaining are Sioban Magnus and Tim Urban.
Magnus sang "When You Believe," originally sang by powerhouse vocals Whitney Houston and Mariah Carey. I just think Magnus' vocals were way too controlled and mechanical. It just didn't flow and she seemed to lack confidence in herself. The performance was pitchy and I don't think her range is anywhere near that of Mariah or Whitney's.
Urban sang "Better Days" by Goo Goo Dolls. What can I say about this guy? His grungy look is very hip and appealing in a popular and youthful kind of way. But his vocals week after week are well, just weak. He might have had one or two good performances this season mostly for choosing smart song choices, which is part of the game. But he is simply no match for the likes of Bowersox, DeWyze or Lynche. Poor kid. But the voters have surprisingly voted for him week after week. Why? Not sure.
I can see Urban, Magnus, James or even Lynche ending up in the bottom three on Wednesday due to their performances this week.
If you ask me I think it's time for Urban to go, but like I said he has given worse performances and continues to be saved by Idol voters at home.
Lynche was saved a couple of weeks ago by the judges after being voted off. I could see him, Magnus or James singing their last song.
At the end of the day though there is not anything special about Idol this year besides Bowersox's much anticipated performances. However there are rumors that she wants to leave the show. I can see why. Idol's pop-star character just doesn't seem to personify Bowersox's unique talents and artistic originality. It would be a shame though if she left, she's really the only great talent on Idol this year. As a fan it would be nice to see her succeed.
Photo: http://www.americanidol.com/photos