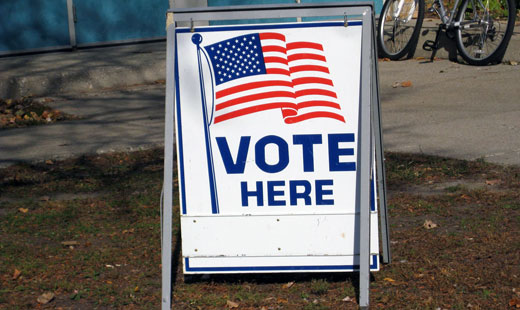 DETROIT – Voter fraud is so rare "you're more likely to get hit by lightning than find a case of prosecutorial voter fraud," said Judith Browne Dianis, co-director of the Advancement Project during a panel discussion at the recent AFL-CIO Dr. Martin Luther King Jr. Holiday Observance here.
If that's the case, why the rash of voter suppression bills occurring in Michigan, Florida, Texas and throughout the country?
Browne-Dianis had the answer: "They are not preventing voting fraud, they are preventing voting." She said Republicans are out to undermine democracy by targeting key segments of the coalition that elected president Obama in 2008, including first-time voters, poor people, and people of color.
The numbers tell the story: 600,000 people in Texas, the majority of them poor and people of color, do not have a photo ID. In Wisconsin, 78 percent of Black males between the ages of 18 and 24 do not have a photo ID.
Testifying against photo ID restrictions in the Michigan bill, Susan Smith, president of the state's League of Women Voters, said, "Photo ID laws address impersonation of another registered voter at the polls, an exceedingly rare form of voter fraud."
Making voting accessible for everyone and low voter turnout, not voter fraud, are the real problems in Michigan. In the 2010 midterm election, for example, only 44 percent of the state's 7.3 million registered voters cast a ballot.
Another attack on voting rights has been mounted via a second bill, SB 754. It makes it more difficult to conduct voter registration campaigns by requiring organizations and individuals to be registered, trained and certified by the state. Left open in the bill is how often training will be offered, potentially thwarting the quick organization of a voter registration drive.
People describe as "chilling" a situation where the Michigan League of Women Voters, a non-partisan organization that for 90 years has set the "gold standard" for expanding participation in the electoral process, now faces a law that would restrict its ability to register voters.
As the League's president said in a recent opinion piece, "Registering people to vote is not a complicated process. You hand people a short form, they fill it out and you return it to the clerk. This work does not require specialized training."
The bill also requires that during the final week of the voter registration period registration forms procured from the election board be returned within 24 hours. Fines and penalties await those who fail to comply. The result, of course, is that many who once saw voter registration as a form of public service are now intimidated into considering refraining from doing it altogether.
Civil and voting rights groups are particularly angry, however, that GOP efforts to limit participation in elections do not include anything that would curtail participation of powerful groups that favor Republicans.
In contrast to voting laws restricting voting access to millions, the Citizens United Supreme Court ruling, they note, has opened the door for a few wealthy corporations, the top tier of the one percent, to dominate the electoral process by spending unlimited and unregulated sums of money in political campaigns.
Photo: John Rummel/PW