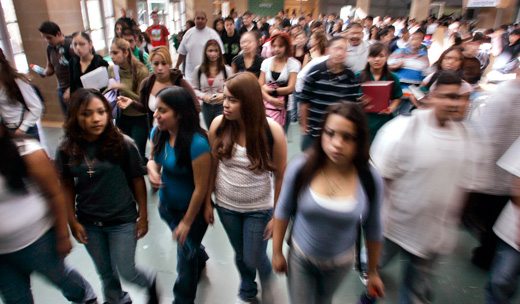 The Change.org petition site recently dropped the misleadingly named "StudentsFirst" and "Stand for Children" as paying clients.
This came after public pressure including a counter-petition by a Chicago teacher on MoveOn's SignOn.org petition site.
Things came to a head when Stand for Children – Illinois posted a petition on Change.org attacking the Chicago Federation of Teachers for their recent vote to authorize a strike. The petition, titled "Tell Chicago Board of Education and Teachers' Union: Get Back to the Bargaining Table," seemed even-handed. But it contained key, loaded words: the teachers' "premature strike-authorization vote."
Chicago public school history teacher Jennifer Johnson was outraged and posted a petition of her own, "Change.org: Stop Supporting Union–Busters" at SignOn.org.
"These teachers are negotiating for libraries, art classes, school playgrounds, and support staff including counselors and nurses," she said. "These are important for schools and more importantly, children. To promote an anti-labor group's anti-labor petition in the middle of a contract negotiation is unacceptable and dangerously close to crossing a picket line."
Johnson's petition went "viral" on the Internet.
The AFL-CIO blog posted a compelling appeal from Nicole Aro, the federation's digital strategies deputy director, who is a former Teach for America volunteer.
Urging her readers to sign Johnson's petition, Aro wrote: "Stand for Children, StudentsFirst and the gaggle of groups promoting similar agendas have crafted their messaging in such a way that many progressive activists are fooled."
What could be wrong with these self-proclaimed pro-student, pro-child groups? Plenty.
StudentsFirst is headed by Michelle Rhee, former head of the Washington, D.C., public schools. Aro notes that "Rhee's time as the chancellor of the District of Columbia Public Schools was rife with anti-teacher policies, including illegally firing teachers." Rhee has also been implicated in test–score tampering at D.C. schools during her chancellorship. Read more about her here.
Amidst a fog of "pro-student" rhetoric, here is just a sampling of "meat" contained in the StudentsFirst policy list:
shifting control of public schools away from elected school boards to one-person "mayoral control." Why? Because, the group says, "Public employee unions invest in friendly school board candidates and expect handsome returns."
support for "turnaround" models that involve mass firing of teachers and principals and turning schools over to charter operators and other private managers – the vast majority of which are non-union.
end all job security and professional protection for teachers. Put them at the mercy of individual supervisors' whims, prejudices or favoritism. The organization states flatly: "State law should not grant, implicitly or directly, tenure or permanent contracts for PK-12 education professionals."
shifting teacher "defined benefit" pensions to individual 401(k) type plans, which put all the risk on the individual. StudentsFirst claims that "today's district pensions and other benefits are not sustainable" and criticizes them for "excessively rewarding longevity."
Rhee has refused to discuss funding for her organization, but Reuters reports that StudentsFirst has received big donations from hedge fund managers.
On the spending side, Reuters reports "a previously undisclosed donation of $100,000 to Partnership for Ohio's Future, a campaign run by the state's Chamber of Commerce to push for passage of Republican Governor John Kasich's 2011 budget. That budget, which passed and was implemented, included deep cuts to public education funding."
Stand for Children started out as a liberal group pressing for progressive change. It is headed by Jonah Edelman, son of well-known liberal policy advocates Marian Wright Edelman and Peter Edelman. However, it has morphed into an openly anti-union group that is lavishly funded by billionaires and investment firm managers, among them Chicago's Henry Crown family and the Pritzkers, big Obama donors, whose Hyatt hotels have been battling the Unite Here union. Stand for Children has spent millions in Illinois pushing legislation that would outlaw teacher strikes and destroy seniority rights. Its website provides no hint of this activity.
Major funders nationally also include Bill Gates and the Walton Family Foundation (Walmart!), according to a report by Ken Libby and Adam Sanchez at Rethinking Schools. Other big funders are tied to Bain Capital, the job-killing venture capital firm founded by Mitt Romney.
As with StudentsFirst, their budget evidently includes paying to post petitions on sites like Change.org. Change.org spokesperson Benjamin Joffe-Walt acknowledged that paid contracts with his for-profit group are "essentially advertising."
Libby and Sanchez attribute Stand for Children's rightward shift to "an enormous influx of corporate cash" and corporate-minded board members. Stand for Children's board is filled with people from venture capital and "entrepreneurship" organizations – including Bain Capital. Emma Bloomberg, daughter of billionaire New York Mayor Michael Bloomberg, became a board member in 2010 and now chairs the board. She is with the Robin Hood Foundation, a "venture philanthropy organization, whose board of directors is dominated by corporate titans like General Electric CEO Jeffrey Immelt and JPMorgan CEO Jes Staley."
"It's clear that conservative foundations and corporate-backed operatives recognize that organizing parents is a promising way to further their agendas," Libby and Sanchez write.
Parents, teachers, students and communities: beware.
Photo: Students head to classes after lunch at a school designed for 2,700 students that already has 3,333 students and is using 22 portable classrooms. Steve Marcus//The Las Vegas Sun/AP