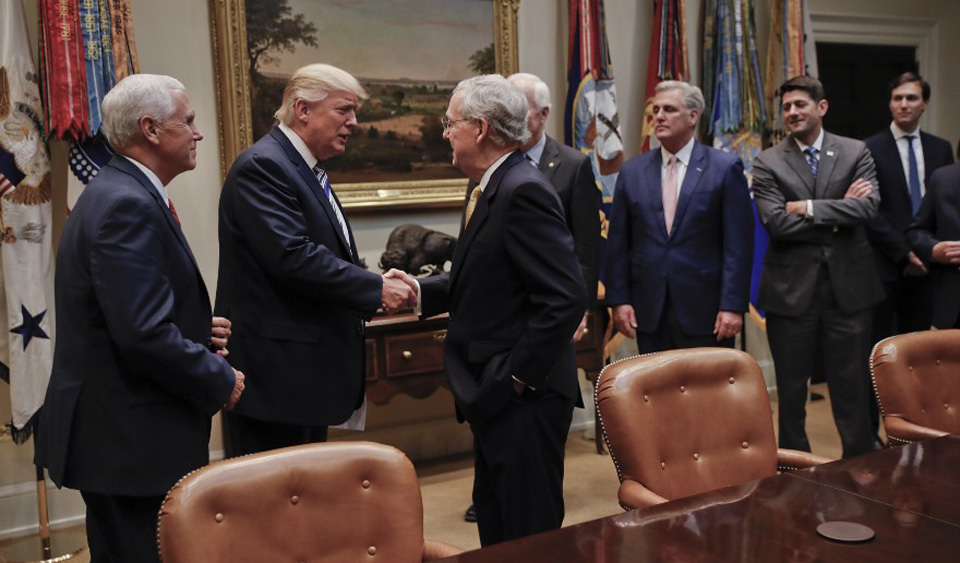 Workers across the country are watching an astonishing national dialogue emerge about Russian meddling in the 2016 U.S. presidential election. A truly free and democratic election is a cornerstone to the United States' foundation — something the labor movement has been unwavering in protecting.
But as this important discussion about our democracy continues to engulf top national leaders, including the president, the media frenzy and social media tenor has only become increasingly more high-pitched. This is a trying time for many Americans. Confusion about the direction of our country abounds.
But one thing is clear: We must not let the continually growing number of crisis points distract us from the damage being done to the core functions of our government and economy.
Republicans with their corporate agenda in Washington, D.C., are not wasting any time in attacking working families. Almost everything that we have gained over the last 80 years to improve health and retirement security for working families is at risk — from the Affordable Care Act to Medicare and Medicaid to Social Security to workers' rights.
If the Republicans in Congress successfully repeal the Affordable Care Act, they will strip 30 million Americans of their health insurance coverage and raise its cost for millions more, making it potentially unaffordable. While the Affordable Care Act is not perfect, it has brought affordable healthcare coverage to more working families than ever before.
That's not all they want to do. Medicare is at risk of being privatized, replacing guaranteed health coverage for seniors. And Medicaid, which provides healthcare for more than one-third of American children, faces drastic cuts.
While many, but not all, union members have access to healthcare coverage through their employers or unions, many of our friends, families and neighbors do not. And as these drastic cuts threaten to further collapse the health insurance market, our own costs for employer-based or union-based healthcare benefits will only increase dramatically.
These harmful attacks on working people are hiding behind the constant barrage of Twitter, scandals and deep, deep unrest.
In this critical moment, we need to resist the corporate agenda at all costs. In this critical moment, we need to pay more attention than ever before to the attacks on working families coming from Washington, D.C., policy-makers.
While we spend most of our time at the Minneapolis Regional Labor Federation working directly with our local campaigns and elected leaders, we can't lose sight of our elected officials in Washington.
Nor can any other worker in any other labor federation or state or congressional district in the country.
So contact your representative. Call your senators – especially now with health care being revised in the dark.
Tell them you are watching. Tell them you will remember who took health care away from millions of working people.