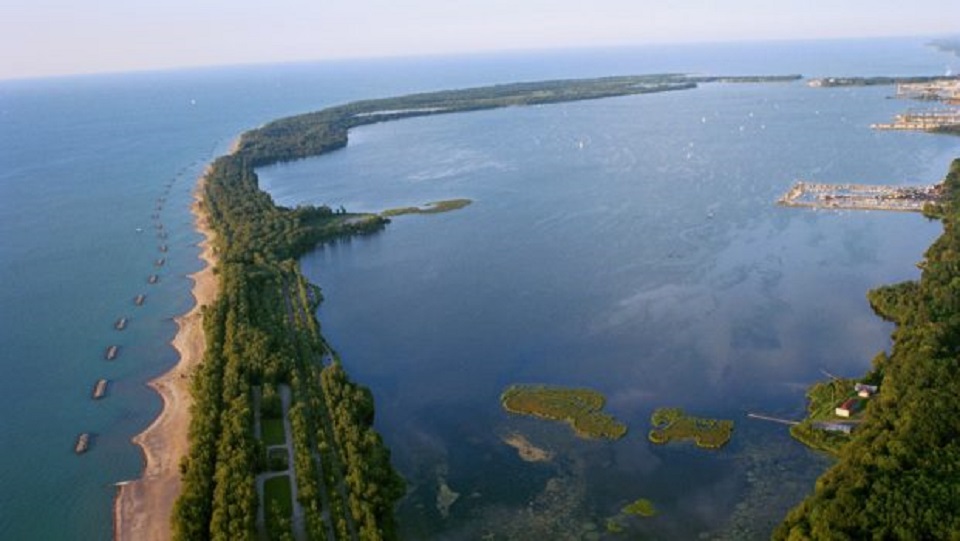 Today the Biden-Harris Administration announced that the Department of Commerce's National Oceanic and Atmospheric Administration (NOAA) is considering designating a new national marine sanctuary in Lake Erie, adjacent to Pennsylvania, and the public is invited to participate in the first step of the process. A sanctuary designation would recognize the national significance of the area's maritime history and cultural resources, as well as expand upon existing local and state efforts to create educational, scientific, and recreational opportunities for visitors, residents, teachers, and students.
The potential new marine sanctuary would conserve and interpret archaeological and maritime resources in an approximately 740-square-mile area adjacent to the 75-mile-long shoreline of Erie County, Pennsylvania. The 35 known shipwrecks in the area span every type of ship construction — from the 1838 steamboat Chesapeake to speedboats, tugs, barges, and workboats lost before 1940. Based on historical records, an additional 161 shipwrecks may lie within the potential sanctuary's boundaries.
The shores of Lake Erie were also home to numerous Indigenous Peoples before the arrival of Europeans. Some of that history is now submerged in the waters of the lake. Lake Erie also played an integral role in the War of 1812, and Pennsylvania's waters are rich with history from that war. Prior to the Civil War, Pennsylvania's Lake Erie waters were home to the nation's largest fleet of steamboats. This area was also a hub of the Underground Railroad.
"The Biden-Harris Administration looks forward to working with local communities to conserve the cultural significance of this special place," said U.S. Secretary of Commerce Gina Raimondo. "The potential designation of a national marine sanctuary in the waters of Lake Erie would help conserve and restore our lands and waters, and increase equitable access to nature for Pennsylvanians and all Americans."
"Lake Erie is a critical resource to the people of Pennsylvania, with a rich and storied history," said Deputy Secretary of Commerce Don Graves. "Designating a national marine sanctuary in this area would not only advance conservation and restoration efforts, but it would also be a meaningful demonstration of Lake Erie's significance to communities throughout the Great Lakes region."
"If designated, a national marine sanctuary in Lake Erie would complement the Commonwealth of Pennsylvania's efforts to preserve and interpret the area's maritime legacy, including its historic shipwrecks, lighthouses, and underwater cultural resources," said NOAA Administrator Rick Spinrad, Ph.D. "NOAA is committed to providing the critical tools and information necessary to advance science and stewardship in Lake Erie and around the Great Lakes basin."
The National Marine Sanctuaries Act authorizes NOAA to designate and protect areas of the marine environment and Great Lakes with special national significance. This designation effort is part of the action that NOAA is taking to support President Biden's America the Beautiful initiative by expanding the National Marine Sanctuary System, addressing inequitable access to the outdoors, and supporting locally-led conservation.
President Biden is delivering on the most ambitious land and water conservation agenda in American history. Through the Investing in America agenda, $1 billion is helping to clean up and restore the Great Lakes' most environmentally degraded sites and secure clean water for millions of Americans in the Great Lakes region. In his first year in office, President Biden protected more lands and waters than any president since John F. Kennedy.
"History lies in the waters of Lake Erie. Those waters serve as a reminder of our past and an opportunity to educate us today," Senator Bob Casey said. "Designating the Lake Erie Quadrangle as the region's first national marine sanctuary would draw in visitors from around the nation, bringing their curiosity and their dollars to Erie, and would protect the health of the ecosystem."
"It's great to see the NOAA take this step towards designating a part of Lake Erie as a national marine sanctuary. Lake Erie is not only one of Pennsylvania's greatest natural treasures, but it's also one of my family's favorite places to visit. It is imperative that we protect and preserve its natural beauty for generations to come, and this move is a great step in the right direction," said Senator John Fetterman.
"The Lake Erie Quadrangle has significant historical, ecological, and recreational value, making it a great candidate for a national marine sanctuary," said Congressman Matt Cartwright, Ranking Member of the Commerce, Justice, Science Appropriations Subcommittee. "I applaud NOAA for proceeding with the designation process."
"Lake Erie and its beautiful shoreline are truly national treasures worthy of protecting — and on behalf of 13 million Pennsylvanians, I strongly support NOAA moving forward with its effort to designate a national marine sanctuary in Lake Erie," said Governor Josh Shapiro. "Lake Erie is a critical part of Pennsylvania's history, culture, and economy, generating millions of dollars in tourism and economic activity for northwestern Pennsylvania. This designation would ensure we protect that heritage and safeguard those benefits for generations to come, and my Administration looks forward to working with NOAA to make this designation a reality."
"The Great Lakes are a breathtaking natural and cultural wonder and hold important environmental, cultural, historic and economic value for both the region and the nation," said Nicole LeBoeuf, director of NOAA's National Ocean Service. "The potential designation of a national marine sanctuary in this important area would bring to bear NOAA's capacity and expertise in conservation, research, and education for the collective benefit of local coastal communities that rely on Lake Erie for a variety of services."
The Biden-Harris Administration has also begun the national marine sanctuary designation process for the proposed Chumash Heritage National Marine Sanctuary in California, the proposed Hudson Canyon National Marine Sanctuary in the Atlantic Ocean off the coast of New York and New Jersey, proposed Papahānaumokuākea National Marine Sanctuary in the Northwestern Hawaiian Islands, and the proposed Pacific Remote Islands National Marine Sanctuary.
This article was reposted from NOAA.gov.
We hope you appreciated this article. At 

People's World

, we believe news and information should be free and accessible to all, but we need your help. Our journalism is free of corporate influence and paywalls because we are totally reader-supported. Only you, our readers and supporters, make this possible. If you enjoy reading 

People's World

 and the stories we bring you, please 

support our work by donating or becoming a monthly sustainer today

. Thank you!