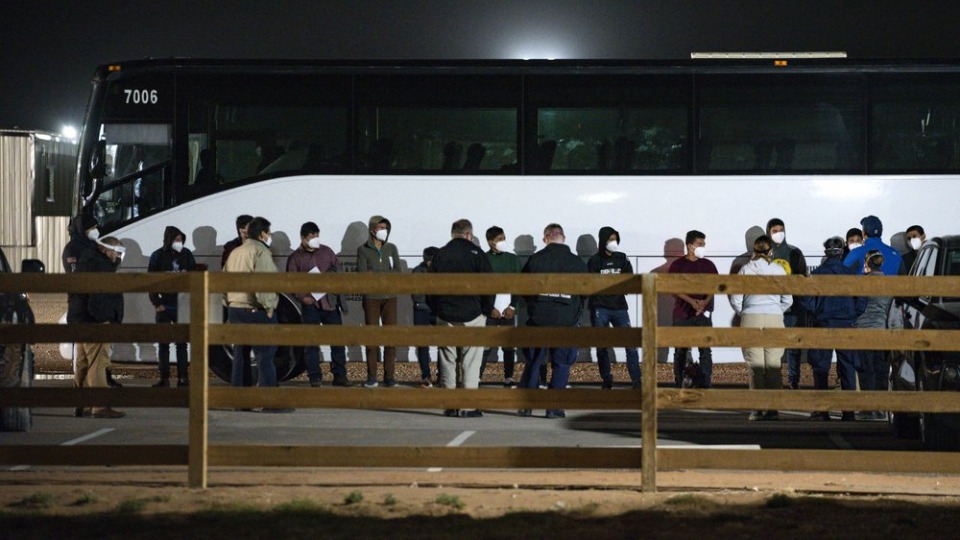 In its attempts to deal with rising numbers of immigrants at the southwest border, the Biden administration is facing strong criticism from many different sources, some of it legitimate but much of it outrageously hypocritical.
The administration's head of Homeland Security insisted yesterday that the situation is "under control." He made that assertion during a talk with the press in which he defended Biden's policy of allowing teens and children crossing by themselves to remain in the country.
Homeland Security Secretary Alejandro Mayorkas admitted that a surge in the number of children, mostly from Central America, is a major challenge for the Border Patrol and other agencies amidst the coronavirus pandemic.
Mayorkas, who is saddled with a Border Patrol agency still filled with right-wing pro-Trump and anti-immigrant elements, strongly rejected the Trump-era policy of sending these immigrants immediately back to Mexico or other countries.
"They are vulnerable children, and we have ended the prior administration's practice of expelling them," Mayorkas said. He characterized the situation at the border as "difficult" and told the press that he wanted to be truthful and accurate in his reports to them. He said, however, that the situation at the border is not the severe crisis that some critics are portraying.
On the one hand, the increasing number of migrants attempting to cross the border is at the highest level since 2019. It, therefore, has become a test for Biden and, at the same time, an opportunity for Republicans to divert attention from the remarkable progress the administration has made in battling both the pandemic and the economic depression.
The pressure is on Biden when it comes to immigration policy, though, as he tries to cancel the policies of Trump, who literally waged a war to stop all immigration, including immigration that fit totally within the bounds of existing immigration law.
Republicans in Congress are making the false claim that Biden's support for immigration legislation and his decision to allow people to make legal asylum claims are the reasons for the current problems.
Mayorkas has challenged these claims, pointing out correctly that there have been huge surges in immigration in the past and that such surges occurred also during the Trump years—even as that administration was making immigration a living nightmare for thousands of people.
Advocates for immigrants note that Republican obstruction has prevented passage of any legislation that would have eased the problems at the border. The GOP Senate blockade on immigration reform and other proposals has contributed to the unacceptable conditions of today in which children are packed for days in overcrowded tents.
Some progressive Democrats have joined those criticizing the Biden administration for keeping migrant children in U.S. Customs and Border Protection detention facilities longer than the legally allowed 72 hours as it struggles to find space in shelters run by the Department of Health and Human Services.
Late last month, when the government re-opened a Texas facility for holding migrant children, Rep. Alexandria Ocasio-Cortez, D-N.Y., dissented, saying, "This is not okay, never has been okay, never will be okay—no matter the administration or party."
She acknowledged the long roots of the problem, tweeting, "It's only 2 mos into this admin & our fraught, unjust immigration system will not transform in that time. That's why bold reimagination is so impt."
In a separate tweet, referring to the Department of Homeland Security, Ocasio-Cortez said, "DHS shouldn't exist, agencies should be reorganized, ICE gotta go, ban for-profit detention, create climate refugee status & more."
The pay-per-bed system of converting local jails into immigrant detention centers was also targeted by Rep. Ilhan Omar, DFL-Minn., earlier this week. Writing to White House domestic policy chief Susan Rice and Mayorkas, Omar said in a letter, "In order to truly sever the financial incentives causing the expansion of an unnecessary and abuse-ridden system of mass incarceration, we urge you to end contracts between the federal government and localities for the purposes of immigration detention." Her letter was co-signed by several progressive members of Congress.
The Biden administration, in an attempt to find a solution for migrant children in the first place, has called in the Federal Emergency Management Agency to try to assist in providing decent temporary housing. FEMA is the one federal agency that has experience in housing people during various crises.
The number of children crossing by themselves rose 60% from January to more than 9,400 in February.
Behind this increase, much more than Biden's policy changes, are the worsening economic conditions in Central America. The usual economic horror show in that region, triggered initially decades ago by U.S.-based multinational corporations, was worsened by two recent disastrous hurricanes. The raging coronavirus pandemic then made things still worse in the region, further pushing people out of their home countries.
The GOP is determined, however, to blame everything on the Biden administration.
House Minority Leader Kevin McCarthy led a delegation of a dozen Republican lawmakers on Monday to the border in Texas and blamed the Biden administration's support for immigration reform as the main reason for the problems.
"The sad part about all of this is it didn't have to happen. This crisis was created by the presidential policies of this new administration," McCarthy said.
A review of what happened under Trump puts the lie to this claim by McCarthy. After Trump rushed to build more of his border wall, diverting Pentagon funds to do so, and after he started his separation of families and forced people seeking asylum to wait outside the country in dangerous areas, he nevertheless experienced a similar surge in immigration.
The total number of people encountered by CBP rose about 28% from January to February of this year to just over 100,000, most of whom were single adults. The surge under Trump—after all of his anti-immigrant moves—was slightly larger than that.
Advocates for immigrants are pleased that migrants who are under 18 years of age are being allowed to remain in the country while the government decides whether they have a legal claim to residency, either under asylum law or for some other reason.
On the downside, the U.S. under Biden is continuing to expel most single adults and families either to Mexico or to their countries of origin. Mayorkas said exceptions are being made for adults with "certain acute vulnerabilities" that he did not specify, or for families when Mexican authorities don't have capacity in shelters to accept them.
Mayorkas said that 80% of the children, most of whom are from the three Northern Triangle countries of Central America (Honduras, El Salvador, and Guatemala), have a relative in the U.S. and 40% have a parent here.
On the plus side, the Biden administration last week ended a Trump administration policy that made relatives reluctant to contact HHS to retrieve children for fear of being deported themselves.
FEMA has begun setting up temporary facilities to house migrant children in Texas and Arizona. It says it is also working with HHS to expand that agency's shelter capacity and that it is backing aid to Honduras, Guatemala, and El Salvador to try to stem the flow of migrants at the source.
Mayorkas blasted the Trump administration for dismantling an asylum system that he said would have enabled a more "orderly" immigration system and for cutting aid to Central America. He also attacked the Trump administration for having made no effort to vaccinate Border Patrol agents and other workers in the immigration system.
"The situation we are currently facing at the southwest border is a difficult one," Mayorkas said. "We are tackling it."