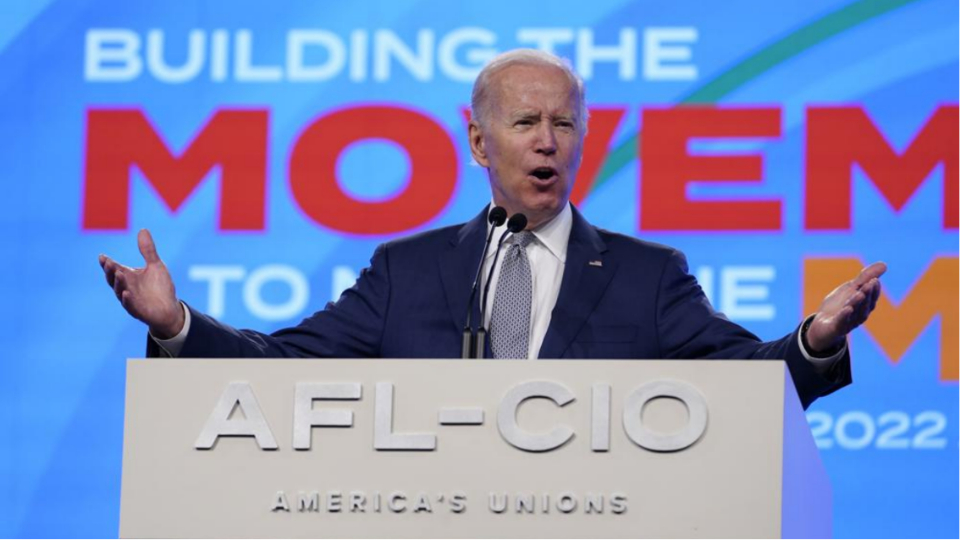 PHILADELPHIA—Reiterating support for workers and unions, Democratic President Joe Biden went one step further at the AFL-CIO Convention in Philadelphia.
"I call on Congress to pass the PRO Act," he declared, repeating a vow he's used not just before union audiences but elsewhere, again backing the measure.
"It's not just because it's pro-union, but because it's pro-American."
The Protect the Right to Organize (PRO) Act is the most pro-worker rewrite of U.S. labor law since the original 1935 National Labor Relations Act. It's organized labor's #1 legislative priority.
That Biden PRO Act line brought the house down from the capacity crowd in the city's convention center on June 14, the third day of the conclave. It was also part of a strong section of Biden's speech where he reminded listeners, and the U.S. as a whole, of the tough shape the nation was in when he took over from "my predecessor" and where it is now.
When he took office, Biden said, the coronavirus pandemic was killing 3,000 people a day. That's down 90%.
When he took office, Biden said, unemployment was high and people—middle-class people included—"were waiting in their cars" for hours just to pick up packages of free food. Now joblessness is at 3.7%, Biden said—(actually 3.6%)—"and we've created eight million jobs," including 600,000 new factory jobs.
Not only that, but many employers—low-wage ones, but Biden said so only by implication—complain to him, "'My people went to another job.' Well, they got paid more," the president proclaimed. "Isn't that a shame?" he asked sarcastically.
Biden also touted union-specific causes. Elating building trades members, he declared the new jobs in the "green economy" would be union jobs, including construction jobs via project labor agreements, with the workers paid prevailing wages.
That's the pattern in the first such big agreement, for wind farms to generate power, sited off the Atlantic Coast. Biden's Commerce Department estimates those could both lessen dependence on foreign oil—another point Biden made in the address—while also providing jobs with good incomes.
And their components, he said, must be made in the U.S., a policy he's established through both legislation and executive orders.
That, too, is a contrast with his predecessor, who did nothing as the number of billionaires skyrocketed during the pandemic, while so did unemployment, Biden noted. And "55 Fortune 500 corporations paid zero in taxes," which is less than a firefighter or teacher.
"All I'm asking for is for the largest corporations and the wealthiest people to pay their fair share of taxes" to run a government they benefit from, he said, as he has before.
Besides, one Republican solution is to "sunset" every federal program unless Congress re-approves it every five years. That includes Social Security and Medicare, a point made clear by Biden aides' distribution of the front page of a report, with that sunset scheme, by the Senate Republican Campaign Committee.
Such reinstatement won't succeed "without 60 votes in the Senate" to kill Republican filibuster threats. "Think about that: After five years, (Texas Senator) Ted Cruz and the rest of the MAGA Republicans will vote against" the two programs. But Biden passed on a chance to denounce the filibuster and call for its obliteration, a key goal of political progressives and unions.
Biden also returned to the economy to excoriate congressional Republicans, who have opposed him at every turn. None voted for the American Rescue Act, and only a handful in the House backed the infrastructure law, though it drew bipartisan support in the 50-50 Senate.
And Republican Senate filibusters, plus opposition from renegade Sens. Joe Manchin, D-W. Va., and Kyrsten Sinema, D-Ariz., halted the third segment of his program, the Build Back Better (BBB) bill. It's an overhaul and improvement of the frayed U.S. social safety net.
Its tax section also includes the higher fines of $50,000 per violation for labor law-breakers, with double that for repeat offenders, taken straight from the PRO Act.
That same opposition also prevents Biden from fully tackling inflation, now running at an annual rate of over 8%. "Inflation is sapping the lives of working families," especially those depending on their cars to get to work and for other uses, since gas is now $5 per gallon or more.
"The problem is Republicans in Congress are doing everything they can to bring down my plan to do everything we can for working families," he said. That includes not just reining in the price of gas—which Biden said he tried to do by getting agreement from other nations to release millions of gallons from their reserves—but reducing the price of prescription drugs.
"And imagine being in the position of paying for pre-school, or for child care,"' in large cities, such as New York, Chicago, and Philadelphia, where the cost can run to thousands of dollars monthly. "It shouldn't cost more than 7% of" a family's income, as the BBB bill proposes.
Biden took time from extolling unions, who he noted have supported him ever since he first sought local office in Wilmington, Del., and who helped him in personal crises, such as when his first wife and a daughter were killed in a car accident or when his house burned. He also took some shots at the Republicans, especially over their slanted fiscal policies.
"Republicans like to portray me as some sort of big spender," he said, alluding to their slams against his American Rescue Act, designed to get the nation out of the Depression that the coronavirus-caused closures produced and to his five-year $1.2 trillion infrastructure law.
"But the deficit increased every single year" of former Oval Office Republican occupant Donald Trump's reign and all of that money "went to the 1%."
Biden reiterated: "I don't want to hear any of these lies about big spending. We're changing people's lives."
Random post-speech interviews by People's World with unionists produced praise, as might be expected.
"I'll vote for him again," said Sherry Thomas of Professional and Technical Engineers Local 195 in Milltown, N.J. "He touched a lot of bases, on taxes and also on child care."
"He gets it and understands unions are a democratizing force and the most important factor in building the middle class," said Northern Virginia Labor Federation Executive Director Don Slaiman, who particularly praised Biden's words about the PRO Act. "But if we don't start having conversations with our members about people questioning the system, and about the Big Lie, we could all be threatened."
Given the opposition on Capitol Hill, Biden "is doing everything he can," said Robert Hollingsworth, executive director of AFSCME Council 20 in D.C. "Hopefully he can do more" if workers and their allies return or strengthen a pro-labor Congress this fall in the elections.
"It was a good and strong speech, and I couldn't think of anything I would offer" as far as what went unspoken "because there has to be a certain amount of pragmatism" about what the president could achieve with a balky Congress, added Arizona AFL-CIO Executive Director Fred Yamashita.
"'I'm with Joe,' as they say," added Ed Smith, veteran executive director of the D.C. Nurses Association. Smith's one disappointment: "I'm surprised he didn't do a broader" endorsement of strengthening the Voting Rights Act, and backing candidates—Democrats—who pledge to do so. The GOP-named Supreme Court majority emasculated the historic law.