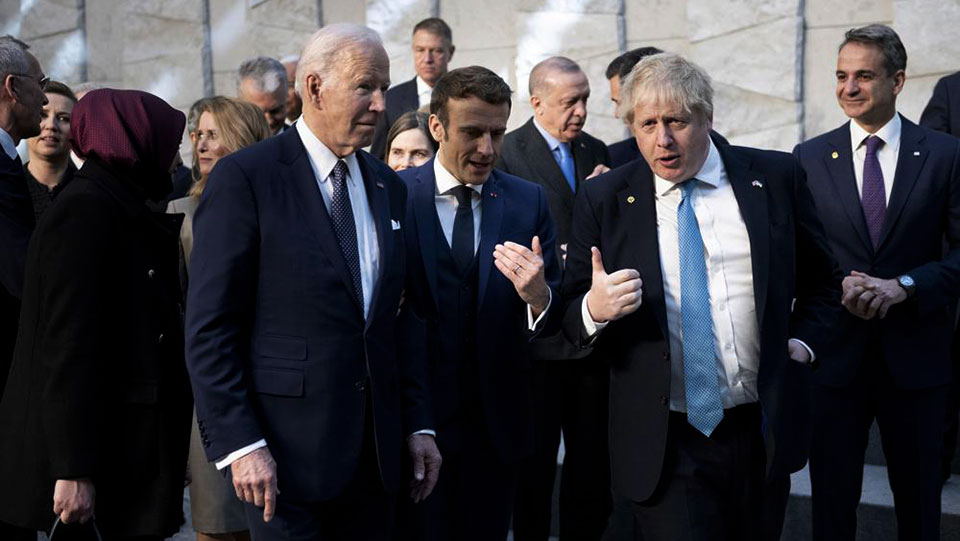 The article that follows is a statement by Code Pink which is emerging as a major factor in the U.S. peace movement demanding an end to U.S. escalation of the Ukraine-Russia war. It includes a petition readers can sign.
President Biden arrived in Brussels last night for meetings with the North Atlantic Trade Organization (NATO) and the G7. He plans to discuss "military, humanitarian, and economic coordination." During these meetings, there will be many calls for increasing Western military engagement in Ukraine. But we, as people of sane mind who want to avoid a nuclear war between the U.S. and Russia, are calling on Biden—during his meetings in Europe this week—to choose negotiations, rather than military escalation.
Add your name to our letter to President Biden urging him to use his meetings in Europe this week to promote peace and de-escalation. 
Biden is under pressure on the home front. In advance of Biden's trip, a bipartisan group of senators sent a letter to the President urging him to "ramp up" the U.S. military presence in Ukraine. The group of eleven senators, who make up the newly re-established Senate NATO Observer Group, are specifically are asking Biden to:
Applaud our European allies who, after Russia's invasion of Ukraine, committed  to increasing their military spending;
"Urgently consider all options to support Ukraine" —  this implies considering a no-fly zone, the transfer of fighter jets, even NATO boots on the ground;
Bolster NATO's presence on the alliance's eastern front and increase engagement in the Balkans. The Senators are asking for his despite the fact that  NATO's expansion eastward played a major role in escalating the conflict leading up to Russia's invasion.
In addition, on March 13, 58 members of the bipartisan House Problem Solvers Caucus sent a letter to Biden arguing that he should facilitate the transfer of Polish MiG-29 fighter jets to Ukraine, and Republican Senators Romney and Graham have introduced a bill to that effect. But the Biden administration, which once supported the transfer, now sees this as a dangerous escalation because Russia would consider the U.S. as having joined the active combat.
As members of Congress, including such Democrats as Cory Booker and Jeff Merkely, are pushing actions that could take us to WWIII, we must lift our voices and concerns even higher.  Tell Biden when he meets with NATO and the G7 this week to continue opposing a no-fly zone, providing Ukraine with fighter jets, and NATO boots on the ground — that would escalate the war even further. A ceasefire and peace agreement is needed. 
Polish Prime Minister Mateusz Morawieki has said that during the NATO summit he will formally propose a NATO peacekeeping mission (aka NATO boots on the ground) in Ukraine — another dangerous escalation. Following the summit, Biden will travel to Poland, where undoubtedly he will be pressured to increase U.S./NATO military engagement in the war.
Yesterday, Kremlin spokesman Dmitry Peskov responded to the Polish proposal, calling it "reckless" and warning that could easily lead to a direct clash between Russian and NATO forces.
While there is so much pressure on world leaders to escalate, it is urgent that we raise up sane voices for de-escalation and serious negotiations that will end this cruel war. Sign the letter to Biden now. 
Towards peace and disarmament,
Medea and the entire CODEPINK team: Ariel, Ann, Audrey, Clay, Danaka, Emily, Farida, Jodie, Justina, Kelly, Lauren, Leonardo, Marcy, Mark, Michelle, Nancy, Olivia, Paki, Presleigh, Samantha, Teri, Shea, and Suzie