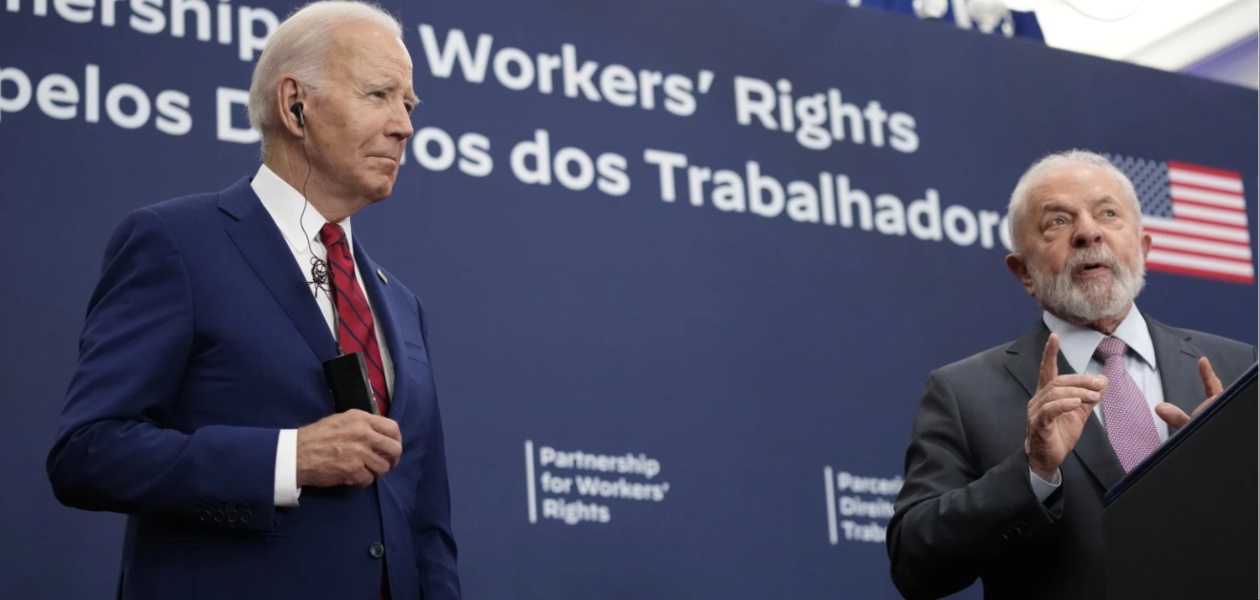 NEW YORK—When Brazil's President Luíz Inácio "Lula" da Silva, replaced Jair Bolsonaro, the "Donald Trump of the Global South," as president of his country, the Biden administration had high hopes of being able to work with the newly elected president.
It has turned out that Biden and Lula, who leads his country's Workers Party, see eye to eye on a number of issues related to workers' and battling right-wing extremists, but have vastly different views on a wide range of other issues, especially U.S. use of sanctions to punish many countries whose foreign policies it opposes and U.S. policy on how to deal with the Russian invasion of Ukraine.
The Biden administration has apparently decided to take what it can get, however, when it comes to dealing with the new government headed by Lula.
With U.S. and Brazilian union leaders looking on, among them Liz Shuler, president of the AFL-CIO, Biden and Lula unveiled what they called a "joint U.S.-Brazilian partnership to promote workers' rights" worldwide.
Details were fuzzy, however, as the two took time out on Sept. 20 from meetings with each other and other national leaders at the United Nations in New York to discuss their goals regarding workers' rights. Those goals were clear cut, but how to achieve them—except by jawboning other world leaders—wasn't.
The two didn't take questions. One idea came from Lula. He said Brazil has "established a collective bargaining roundtable to create a new framework for labor-management relations in the 21st century."
Contrast to remarks on war
The cooperation in their joint press conference was in contrast to the U.S.'s emphasis at the U.N. on the war in Ukraine. In his speech on that war, Lula denounced Western pressure, backed by threats of sanctions, to join in the war, and instead concentrated on other joint problems the world must tackle, notably global warming and income inequality.
Lula made clear that the world's developing countries, who had met the week before in Havana, Cuba, will assert themselves on the world stage as a counter to the U.S. and other powers bent on "domination."
When Lula and Biden made their joint announcement, they agreed, as Biden said, that the overriding goal of the new joint pact on labor rights "is to ensure workers all over the world will be treated with dignity and respect."
Workers' power needed
But Lula argued workers need something more: That something more, he said, is economic power.
"We know what happened with the neoliberal economy," Lula said, in translation from his native Portuguese. "We have two billion people in the informal sector" of the world's economy, working in occupations not covered by national workers' rights and international treaties. "And there are 214 million people who live on less than a dollar a day."
And the partnership, former steelworker Lula added, must also figure out ways to "directly protect workers' rights in the transition to a clean energy economy." It's an issue in the historic autoworkers' strike underway now in the U.S., with the UAW voicing concern that the Big Three auto companies want to move production of electric vehicles to plants in the non-union South and expressing the intention to fight these moves.
The neoliberal economy, pushed by the corporate class and repressive rulers, exploits workers worldwide in wages, working conditions, and equality on the job, all in pursuit of profits. It's held sway in the U.S. for decades, which has often exported its exploitation elsewhere, including to nations of the Global South, such as Brazil.
The partnership's "first objective will be to protect workers' rights," Biden declared. "We'll work with leaders around the world to ensure workers not only know their rights, but can exercise them."
That includes the right to strike, said two top Biden aides, speaking on background to reporters before the official announcement. "Nothing about this initiative should be interpreted as discouraging or limiting the right to strike, which is a key part of freedom of association, collective bargaining, and workers' rights, generally speaking," one said.
The UAW, acting after Biden made a strong speech last week declaring that record auto profits should translate into record gains for workers, has invited Biden to join their picket lines. He has declined that invitation, according to the Associated Press.
Biden said other goals of his deal with Lula will be to get their nations and others to emphasize safety and health on the job. Presumably, improved strength for unions will translate into narrowing the wealth gap between rich and poor. Biden did not specifically mention the wealth gap as a separate issue, however.
"This announcement is also an invitation" to other nations to join the partnership, the U.S. president said. That may be easier said than done. Repressive anti-labor regimes hold sway in dozens of nations. Those governments often find it profitable to let multinational corporations exploit their workers—with national police forces and troops ready to enforce such oppression.
Cuba and Ukraine remain sticking points
Before his meeting with Biden, Lula earlier opened this year's session of U.N. General Assembly by being less friendly with the U.S., strongly condemning the U.S. blockade of Cuba, in existence now for over six decades.
Other leaders from the Global South also used part of their speeches to the Assembly to join in the condemnation of U.S. attempts to strangle the economy of the socialist island and other nations of the Global South.
Lula hit U.S. classification of Cuba as a state sponsor of terrorism and said: "Brazil will continue to denounce measures taken without protection in the U.N. Charter, such as the economic and financial blockade imposed on Cuba."
The Brazilian leader also condemned a global increase in racism and xenophobia and warned against the rise of "far-right adventurers who deny politics and sell solutions that are as simple as they are wrong.
"Many have fallen to the temptation of replacing failed neoliberalism with primitive, authoritarian, and conservative nationalism."
Bolivian President Luis Arce also denounced the blockade of Cuba as "inhuman and criminal."
His Argentinian counterpart, Alberto Fernández, also called for an end to the blockade of Cuba, saying that its continuation was "unacceptable."
He went on to demand that Havana be removed from the U.S. list of state sponsors of terrorism.
Widening his criticism of Washington's foreign policy, Fernández added: "The sanctions imposed by the U.S. on Venezuela must cease immediately. Their prolongation over time has only harmed the living conditions of Venezuelans and led millions of them into exile."
In his remarks, Cuban President Miguel Díaz-Canel described the blockade as an "extraterritorial, cruel, and silent economic war that is accompanied by a powerful political machinery of destabilization against my country."
Biden did not respond to calls to lift the sanctions in his own U.N. speech.
Instead, he made an appeal for the world to remain united in defending Ukraine against Russia's invasion, warning that no nation can be secure if "we allow Ukraine to be carved up."
We hope you appreciated this article. At 

People's World

, we believe news and information should be free and accessible to all, but we need your help. Our journalism is free of corporate influence and paywalls because we are totally reader-supported. Only you, our readers and supporters, make this possible. If you enjoy reading 

People's World

 and the stories we bring you, please 

support our work by donating or becoming a monthly sustainer today

. Thank you!