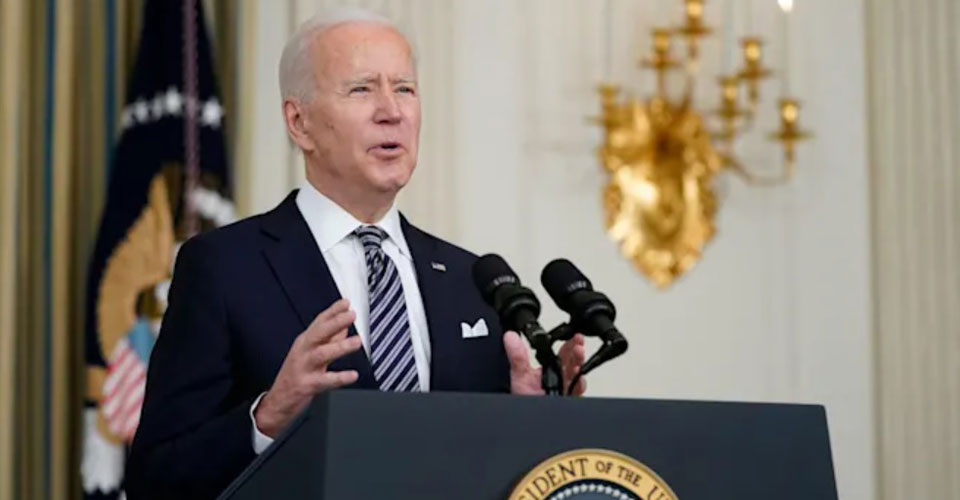 WASHINGTON—Democratic President Joe Biden's $1.5 trillion spending blueprint for the fiscal year starting Oct. 1 contains a big hike for domestic programs, while his Pentagon proposal—a 1.7% increase—caught flak from both left and right. Congressional progressives said the military money should be cut, while Republicans wanted even more for war, and less for everything else.
Biden's spending plan, which he'll elaborate on with even more detailed tables and justifications later this spring, has increases ranging from 40.8% for the Education Department—including more than doubling money, to $36.5 billion, for schools with students from low-income families—down to 0.2% for the Homeland Security Department.
That's the agency Biden's predecessor, GOP Oval Office occupant Donald Trump, ordered to build the racist Mexican border wall, a project that receives no funds in Biden's spending plan.
By contrast, the Environmental Protection Agency, which Trump cut by 27%, adjusted for inflation, would get a 21% increase. And, in another reversal from Trumpism, the words "combatting climate change" are now back on EPA's website, indicating Biden's priorities.
Union leaders who commented on Biden's spending blueprint, which lawmakers could rework between now and the start of the fiscal year on Oct. 1, generally praised it, especially its hikes for education, public services, and mass transit.
Typical praise came in a tweet from Teachers (AFT) President Randi Weingarten: "Title 1," the money to help schools with low-income students, "is about equity. It's about making the promise of a high-quality public education real for every student, regardless of zip code. Biden wants to make sure we are doing the right thing for students, particularly our most vulnerable. HUGE!" How huge? 121%, the budget blueprint says.
Biden's domestic spending increases drew praise and his military money hike drew criticism from progressive leaders such as Rep. Mark Pocan, D-Wis., a Painter, and Sen. Bernie Sanders, Ind-Vt., the Senate Budget Committee chair. Sanders, however, does not sit on the Appropriations Committee, which actually helps dole out federal funds. Pocan does.
"There's a lot of good things, like a 16% increase in spending for non-defense programs" in Biden's blueprint Pocan, a former co-chair of the House Progressive Caucus, told MSNBC. "Still, there's a 1.7% increase for the Pentagon at a time when we should have a lower defense budget."
And, citing Trump's military spending hikes of 20% over four years, Pocan added: "there was little accountability" for where that money went. Trump diverted billions of it to his Mexican wall, too, though Pocan did not say so.
"At a time when over half of our people are living paycheck to paycheck, and millions of elderly people are experiencing poverty, this budget goes a long way in providing the help that so many Americans desperately need," Sanders added.
"I have serious concerns, however, about the proposed $753 billion budget request for the bloated Pentagon–a $12.3 billion increase compared to" Trump's final fiscal year, which ends Sept. 30. "At a time when the U.S. already spends more on the military than the next 12 nations combined, it is time to  take a serious look at the massive cost overruns, waste, and fraud that currently exists at the Pentagon."
Plans to work with colleagues
Sanders said he "plans to work with colleagues" in the 50-50 Senate to craft actual spending bills that will help people other than "the wealthy and the well-connected."
"Over the past decade, due in large measure to overly restrictive budget caps, the nation significantly underinvested in core public services, benefits, and protections," Biden Budget Director Shalanda Young wrote, introducing the 58-page blueprint.
"Since fiscal year 2010, non-defense discretionary funding—the area of the federal budget that funds education, research, public health, and other crucial services—has shrunk significantly as a share of the economy. The consequences of this broad disinvestment are plain to see.
"Anticipating, preparing for, and fighting a global pandemic requires a robust public health infrastructure. Yet, going into the Covid-19 (coronavirus)pandemic, funding for the Centers for Disease Control and Prevention was 10% lower than a decade ago, adjusted for inflation.
"Creating an economy that works for everyone requires investments in working families who drive growth and prosperity. Yet, the government chronically underinvested in crucial programs like Head Start, which serves 95,000 fewer children today than it did a decade ago. Responding to the climate crisis depends on helping communities transition to a cleaner future. But instead of investing in climate science and technology at the Environmental Protection Agency, we've cut funding by 27% since FY 2010, adjusted for inflation.
"The president believes now is the time to begin reversing this trend—and the expiration of nearly a decade of budget caps presents a unique opportunity to do so," Young said.
One big reversal is a 17% ($304 million) hike in worker protection program money at the Labor Department, to $2.1 billion. That includes increases for the Occupational Safety and Health Administration, the Mine Safety and Health Administration, and DOL's Wage and House Division, which pursues firms that short workers of the minimum wage or overtime pay, or misclassify them as "independent contractors," ineligible for both and ripe for corporate exploitation.
"Over the past four years, DOL worker protection agencies have lost approximately 14% of their staff, limiting DOL's ability to perform inspections and conduct investigations," the budget blueprint explains.
"The proposed funds would enable the department to conduct the enforcement and regulatory work needed to ensure workers' wages, benefits, and rights are protected, address the misclassification of workers as independent contractors, and improve workplace health and safety." It also "restores resources" to the Equal Employment Opportunities Commission to "oversee and enforce the equal employment obligations of federal contractors, including protections against discrimination based on race, gender, disability, gender identity, and sexual orientation."
"Biden's budget proposal puts working families first and makes the kinds of investments in public services our communities need to recover and build back better from the brutal toll of the pandemic," AFSCME President Lee Saunders added.
"Investing in critical public services such as health care, public education, job training, mental health, and substance abuse will combat deep-seated inequalities and create opportunity for everyone, not just the wealthy and profitable corporations. Congress must follow the president's lead and pass a budget that invests in the public services needed to strengthen communities across the country."
Sanders' campaign to target spending away from the rich and powerful won't get much, if any, help from the Senate's 50 Republicans, though. Neither will Biden. Nor will the union leaders.
In a joint statement, Senate GOP leader Mitch McConnell, R-Ky., and four colleagues who now, or earlier, sat atop panels that set military and intelligence spending, blasted Biden's budget. They also set up China as a bogeyman to justify their stand.
They alleged that since a 1.7% increase for the military is less than the inflation rate, it represents a spending "cut." They also alleged that while Trump increased Pentagon funding, China's increases were double. Left unsaid by the GOP: The World Bank reported U.S. military spending was $649 billion in fiscal 2021, which ends Sept. 30. China's was $250 billion. Saudi Arabia ($67.6 billion) and India ($66.5 billion) followed. The list proved Sanders's point.