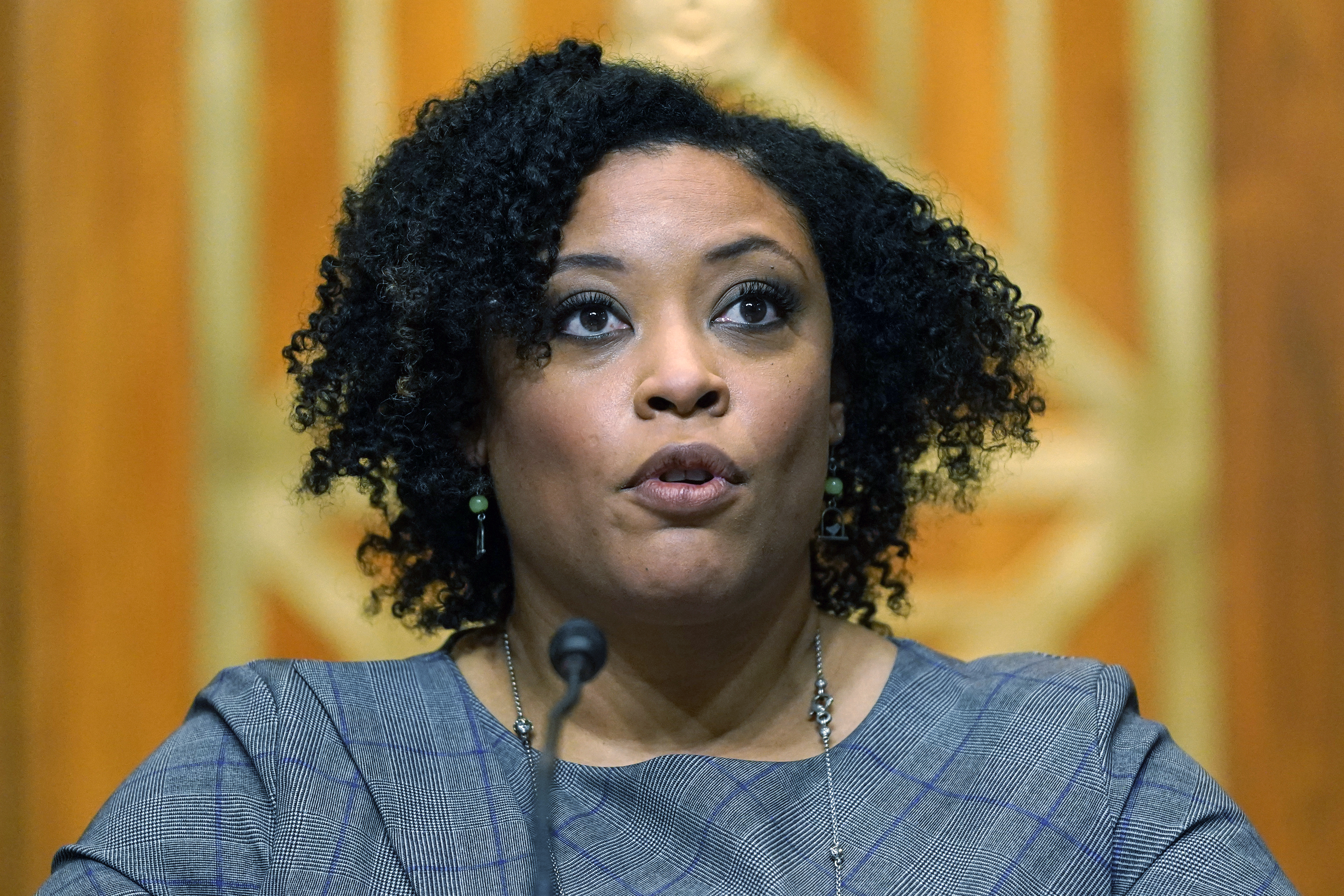 WASHINGTON—If a federal budget blueprint is a political roadmap, and it is, then President Biden's $6 trillion spending plan for the fiscal year starting Oct. 1 is a roadmap of progressive priorities.
And it drew praise from union leaders and backers of reproductive choice. They hailed Biden's proposal to eliminate the ban on using federal Medicaid money to pay for abortions. The GOP and its business backers reacted with criticism and disdain.
Biden unveiled his budget's details, crammed into more than 1,000 pages of small print, on the afternoon of May 28. Still, congressional committees, working from a 54-page preview the administration published more than a month before, are already holding hearings on some key sections.
Among its sections of interest to workers:
·      Raises taxes on the rich and corporations while increasing and extending the child care tax credit and the earned income tax credit for the lower- and middle-class.
In its summary, Biden's Office of Management and Budget says he wants to "reform our tax system by changing the rules of the road for the largest corporations and highest income Americans."
The budget incorporates his American Jobs Plan to "reform the corporate tax code to incentivize job creation and investment in the United States, stop unfair and wasteful profit shifting to tax havens, ensure large corporations are paying their fair share, and stop a race-to-the-bottom in corporate tax rates around the world," OMB said.
"The American Families Plan revitalizes tax enforcement to ensure high-income Americans pay the tax they owe under the law–ending the unfair system of enforcement that collects almost all taxes due on wages while regularly collecting a smaller share of the business and capital income. The plan will eliminate long-standing loopholes, including lower taxes on capital gains and dividends for the wealthy that reward wealth over work.
Savings will exceed costs
 "Over time, the savings from these reforms will exceed the investments' cost and by large and growing amounts. The American Jobs Plan and American Families Plan together are paid for over 15 years.
"A budget that added to long-term deficits would worsen fiscal health, while a budget that reduced deficits today by underinvesting in the American people would result in slower, more stratified growth that would cause more damage than one that invests appropriately," OMB concluded.
·      $692 million for the Occupational Safety and Health Administration, $46 million more than in
the current fiscal year. The increases would be across the board, with the largest in federal enforcement, an increase of $26 million to $255 million.
It also envisions 36,984 OSHA inspections, almost 6,000 more than this year and 15,274 more than in fiscal 2020, the last full budget year of the GOP Trump regime. Biden also wants to add 443 more people to OSHA's staff, raising the total to 2,413.
The budget does not say, but Biden's OSHA has said elsewhere, that inspections will be real on-site inspections, rather than the e-mail probes and telephone turndowns that characterized Trump's reign.
·      A separate $67 million increase for the Mine Safety and Health Administration would bring that agency's total to $453 million. Biden wants to add 327 workers to MSHA, too, bringing it to 2,059. The budget does not say, for either job safety agency, how many would-be new inspectors.
·      A $304 million increase in spending for all worker protection programs, including the OSHA and MSHA increases. It also includes a $30 million increase for the Wage and Hour Division to $276 million. The Division pursues overtime pay and other wage theft cases. That includes the Fair Labor Standards Act (minimum wages and overtime pay), workers comp law, and unemployment benefits.
·      A new $100 million program "for training and employment assistance for workers in communities that have experienced job losses due to dislocations in industries related to fossil fuel extraction or energy production. 
The money would be a start towards a comprehensive transition program the Mine Workers published earlier in 2021. UMWA envisions retraining and infrastructure improvements in coal country, 20-year grants to coal country counties and other counties hit by tax losses as plants close, miner tuition aid for the transition, and family health care and pension coverage.
·      A 41% increase in education funding. That includes aid to schools and students, making the first two years of public college education tuition-free, and funding two years of pre-K education.
"The budget has a relentless focus on creating jobs and expanding opportunity for all, including with a historic $20 billion increase," to $36.5 billion, "for high-poverty schools, more subsidized child care places and Head Start slots, and a $400 increase in the maximum Pell Grant" for low-income college students, says House Appropriations Committee Chair Rep. Rosa DeLauro, D-Conn. Her panel actually helps decide where the money is going—and how much.
Biden's budget "reflects a commitment to invest in the things that affect our daily lives, including public education, mental health services, and public health systems, rural and infrastructure support, gun violence prevention, housing, and climate initiatives," said Teachers (AFT) President Randi Weingarten.
The hike in money to schools with high proportions of kids from low-income households "will help tackle systemic inequities that have plagued some of our most vulnerable students and will provide the funding to enable educators and school staff to return to in-person schooling and give our students the support they need," she added.
"President Biden often says, 'Show me your budget, and I'll tell you what you value,'" commented Becky Pringle, president of the National Education Association, the nation's largest union.
Historic investments in students
Via a budget "that includes historic investments in America's students, working families, and public education, President Biden is showing us once again how much he values our public schools and institutions of higher learning.
·      Billions of dollars to "modernize 20,000 miles of highways, roads, and main streets," an Office of Management and Budget summary says. Biden aims to "fix the ten most economically significant bridges in the nation in need of reconstruction…repair the worst 10,000 smaller bridges" and "replace thousands of buses and rail cars, repair hundreds of stations, renew airports and…expand transit and rail into new communities.
·      Biden's clean "green" infrastructure plan has two key features: Tens of thousands of what he says will be well-paying union jobs doing the repairs, rehab, and more needed nationwide and, in so many words, "No More Flints" and no more Texas power crashes.
The budget proposes to "eliminate all lead pipes and service lines in our drinking water systems, improving the health of the nation's children and communities of color," unlike what happened when lead from old pipes leached into drinking water in Flint, Mich., it says.
 "It will put hundreds of thousands of people to work laying thousands of miles of transmission lines and capping hundreds of thousands of orphan oil and gas wells and abandoned mines. And, it will bring affordable, reliable, high-speed broadband to every American, including the more than 35 percent of rural Americans who lack access to broadband at minimally acceptable speeds."
Biden also wants to rehab and preserve more than two million homes and commercial buildings, retrofit schools and childcare facilities, and upgrade VA hospitals. It also would, through federal subsidies, raise the wages for the child care workers in those revitalized care centers.
All this pleased Electrical Workers President Lonnie Stephenson, and it will be the topic of discussion at the North America Building Trades legislative conference this month.
Biden "fulfills his promise to Build Back Better with significant investments to modernize the nation's infrastructure that will lower emissions, increase reliability, and support middle-class union jobs," said Stephenson's statement. It will "aggressively tackle climate change by investing $36 billion into renewable energy technology and expanding clean energy tax credits." Those tax credits, he noted, are paired with "strong labor standards and protections.
"Slashing carbon emissions while ensuring our nation's energy security requires an all-of-the-above strategy that taps into every energy supply, and this budget does just that," with investments in electric vehicles, advanced energy storage, and power lines, and nuclear power.
·      A 2.7% pay hike for the nation's two million federal workers, 85% of whom work outside the D.C. and Baltimore metro areas. Trump routinely tried to cut federal pay, benefits, and pensions. He also yanked due process protections from workers, making it easier for bosses to fire them on a whim or for no reason at all.
The budget "recognizes our nation's nonpolitical, career civil servants are worthy of investment," Treasury Employees President Tony Reardon said in a statement. "Only when the government is able to recruit and retain highly skilled employees can our federal agencies do what needs to be done on behalf of the American people, and this budget is all-in on that concept."