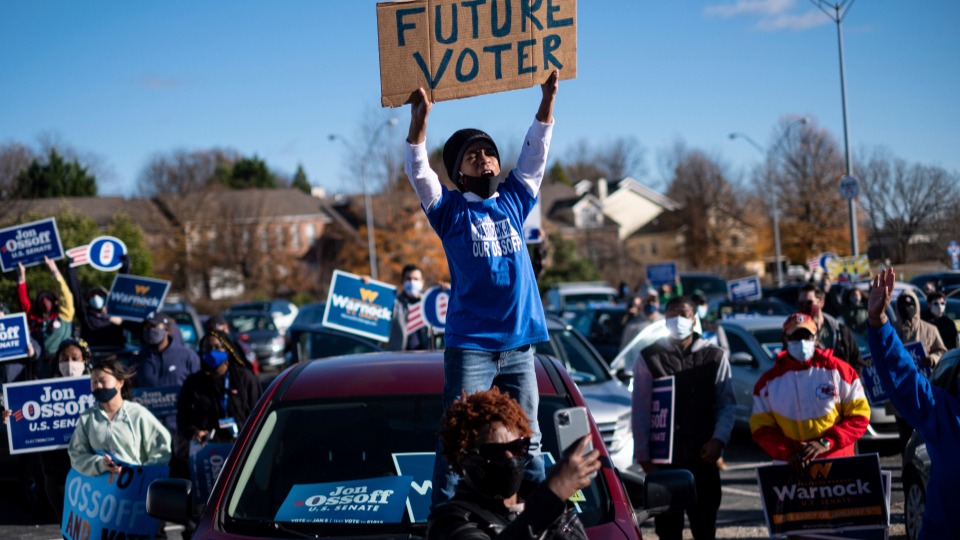 On the second day of record, early voting in the Jan. 5 Senate runoff elections in Georgia, President-elect Joe Biden urged Georgians to vote "as if your life depends on it" in an election that will determine which party controls the Senate next month.
The voters seem to be taking Biden seriously. As he spoke, they were turning out at a 23% higher rate than they did on the first two days of early voting in the recent presidential elections. The huge early vote surpasses anything seen in this country in non-presidential elections and has raised the hopes of Democrats that they can win on Jan. 5.
Campaigning for the Democrats Jon Ossoff and Rev. Raphael Warnock in Atlanta, Biden described the Jan. 5 runoffs as a critical landmark that will in important ways determine what can be accomplished during his presidency.
"We've got a lot of work to do, and I plan to get to work right away doing it, and I need two senators from this state who want to get something done—not two senators who are just going to get in the way," Biden said to cheers and honks at a drive-in rally in Atlanta's Kirkwood neighborhood. "Because, look, getting nothing done just hurts Georgia," he declared.
Ossoff is battling to replace first-term right-wing Republican Sen. David Perdue. Warnock, a longtime civil rights activist in the state, is challenging Republican Sen. Kelly Loeffler, who was appointed to her post in January.
Both Republicans are embroiled in scandals during which they withheld information they had last year about the coming pandemic to either dump or buy stocks affected by the pandemic. They made trades to enrich themselves on the basis of that information. Perdue has refused to debate Ossoff during this runoff campaign.
Biden, who beat Trump in Georgia in the general election, said the key to defeating Loeffler and Perdue is turnout. If early voting during the first two days is any indication, the signs already look good.
"You've got to vote in record numbers again," Biden declared. Because, yes, the lives of every Georgian still depend on what you do, and, yes, you still need to vote as if your life depends on it," Biden said. "You have the power to win this election again."
Biden condemned Perdue and Loeffler for blocking any progress on coronavirus relief and other things Georgians need. In contrast, he said Ossoff and Warnock would "fight for progress and not just get in the way. They won't just say 'no' to everything Georgians need," he said.
In an angry and loud tone of voice, Biden took aim at Perdue and Loeffler for backing Trump's effort to have the Supreme Court invalidate all election results in Georgia and three other states over baseless accusations of voter fraud.
"They fully embraced nullifying nearly five million Georgia votes," Biden said. "You might want to remember that come Jan. 5."
The Biden campaign actually never left Georgia after he won the state. They have kept on 50 staffers who are working on the Warnock and Ossoff campaigns, and they have put $10 million into the campaigns.
While Trump showed up in Georgia recently to ostensibly campaign for the Republicans, he spent most of his time pushing for his own failed effort to overturn the results of the presidential election. On Tuesday, he re-tweeted a tweet from a supporter who called for the jailing of the state's Republican leaders, including Georgia's governor and secretary of state, who did not bow to his demands to reverse the popular vote in their state.
As for money, Trump has not transferred a penny of his campaign money or the money he is raising from his failed legal effort to overturn the election to the Republican Senate candidates. That money is being used, in true Trumpian style, to line his own pockets.
Disgusted completely yesterday with both the GOP and Trump, Steve Schmidt of the Lincoln Project announced he has left the Republican Party and become a Democrat.
Schmidt, a longtime Republican who ran GOP Sen. John McCain's presidential campaign and a self-described "centrist," said he was becoming a "single-issue" Democrat, one committed to democracy. He said he left the GOP because it is clear that it has become an "authoritarian and anti-democratic party."
He made his announcement yesterday on MSNBC. When the commentator there asked him whether he will be comfortable in his new party where AOC is also a member he said, "my views may be to the right of some of the Democrats, but I want my children to grow up in a democratic republic and the Democratic Party is the one that offers me hope of that."
Schmidt said that he sees himself as part of the coalition that got Biden elected and that the coalition must be kept together for the foreseeable future. For the rest of his life, Schmidt said, he will fight to make sure a Republican is never again elected president. "History tells us how coups work," he said. "The first time they often fail but the next time they succeed."
Like free stuff? So do we. Here at People's World, we believe strongly in the mission of keeping the labor and democratic movements informed so they are prepared for the struggle. But we need your help. While our content is free for readers (something we are proud of) it takes money — a lot of it — to produce and cover the stories you see in our pages. Only you, our readers and supporters, can keep us going. Only you can make sure we keep the news that matters free of paywalls and advertisements. If you enjoy reading People's World and the stories we bring you, support our work by becoming a $5 monthly sustainer today.