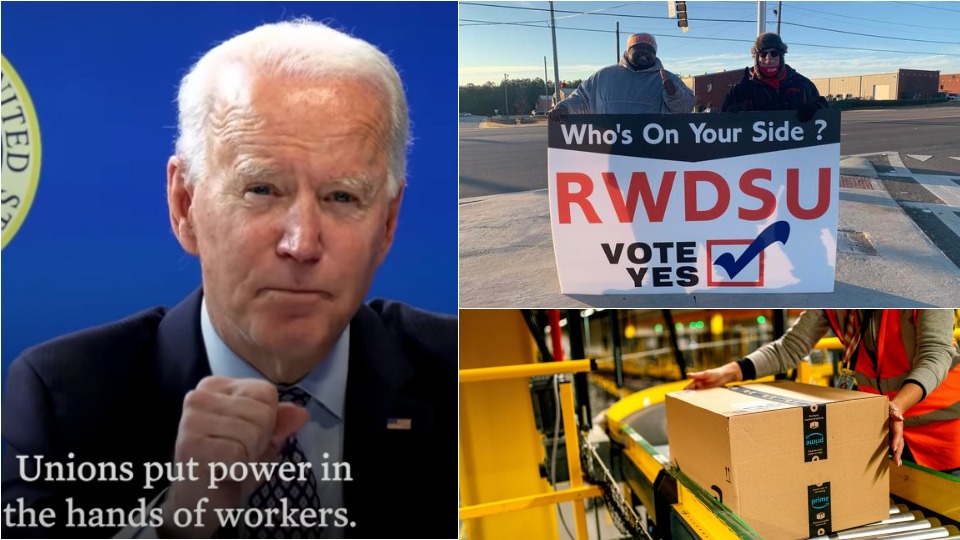 WASHINGTON—Democratic President Joe Biden has officially backed the union organizing drive at the big Amazon warehouse in Bessemer, Ala.
In a two-minute-20-second video he posted on Twitter Feb. 28, and an accompanying shorter tweet, Biden declared the choice by the 5,800 workers there is "vitally important" to both them and the country.
"Today and over the next few weeks, workers in Alabama, and all across America, are voting on whether to organize a union in their workplace," Biden declared in summing up his video message.
"This is vitally important—a vitally important choice—as America deals with the deadly pandemic, an economic crisis, the reckoning on race, and what it reveals about the deep disparities that still exist in our country."
"Unions put power in the hands of workers. They give you a stronger voice, they give you a stronger voice for your health, your safety, higher wages, protection from racial discrimination and sexual harassment. Unions lift up workers, both union and non-union, but especially Black and brown workers."
And while he was at it, Biden also strongly opposed bosses' anti-worker intimidation tactics and other labor law-breaking during organizing drives. The labor-pushed Protect The Right To Organize PROAct, which AFL-CIO President Richard Trumka referred to in cheering Biden's video, would curb or outlaw such tactics.
Amazon's refusal to protect workers during the year-long coronavirus pandemic was a key issue that drove the Bessemer workers—a majority of them workers of color in a 70% Black city—to seek to join the Retail, Wholesale and Department Store Union, a United Food and Commercial Workers sector.
If they win, it would be an historic breakthrough on two fronts: A big victory in union-hating Alabama, where bosses routinely divide white and Black workers, and the first-ever organizing win at anti-union Amazon, owned by one of the nation's three richest people, Jeff Bezos.
Read and download the flyer: Why the Alabama Amazon struggle matters to workers everywhere
The workers, RWDSU President Stuart Applebaum, and Trumka cheered Biden's video and tweet.
"Just now, @POTUS shared his support for our fight! He is with us and supports our fight for a union at @Amazon! #BAmazonUnion #Union #1U," the workers' group, BAmazonUnion, tweeted.
"Thank you, President Biden, for sending a clear message of support for the BAmazon Union workers in Alabama seeking to bring the first union to an Amazon warehouse with the RWDSU," Applebaum said in a statement. "As President Biden points out, the best way for working people to protect themselves and their families is by organizing into unions. And that is why so many working women and men are fighting for a union at the Amazon facility in Bessemer, Ala."
"POTUS is right. Every worker should have the free and fair choice to join a union. And when we pass the PROAct, that's the promise we'll keep," Trumka tweeted.
"I have long said America wasn't built by Wall Street, it was built by the middle class," Biden began his video message. "And unions built the middle class."
After discussing unions creating worker power, Biden reminded his audience—which has already exceeded 250,000 views nationwide—that "I made it clear, I made it clear when I was running, that my administration's policy would be to support unions and the right to collectively bargain. I'm keeping that promise. You should all remember, the National Labor Relations Act didn't just say that unions are allowed to exist, it said we should encourage unions." (His emphasis)
"So let me be really clear: It's not up to me to decide whether anyone should join a union," he said. Then, pointing his finger at the camera for emphasis, the president added: "But let me be even more clear: It's not up to an employer to decide that either. The choice to join a union is up to the workers—full stop, full stop."
After his "vitally important choice" comment, the president then went after bosses' common anti-union tactics. He did not mention Amazon by name or some specific tactics it has used in Bessemer—such as getting city officials to speed up traffic light cycles outside the warehouse gates so that pro-union volunteers can't distribute flyers to workers in cars waiting to enter and exit.
"There should be no intimidation, no coercion, no threats, and no anti-union propaganda by employers," the president said. All those are common employer tactics against organizing drives. The propaganda is barely legal; the others aren't. But labor law's penalties are so light that bosses or their union-busters commonly disregard them and break the law anyway. The PROAct would change that, too.
"No supervisor should confront workers about their union preferences," Biden said, citing another illegal boss tactic. "You know, every worker should have a free and fair choice to join a union."
"And it's your right, not that of an employer, it's your right. No employer can take that right away. So God bless you all, and God bless all the workers and their families who are trying to make it out fairly," he concluded.
The Bessemer workers started voting, by mail, on Feb. 8, after the National Labor Relations Board, which is running the election, tossed out Amazon's last-ditch attempt to stop the election by using a tactic common among employers during the pandemic: Demanding on-site voting in crowded conditions, despite the threat of super-spreading the virus. Results will be announced March 29.