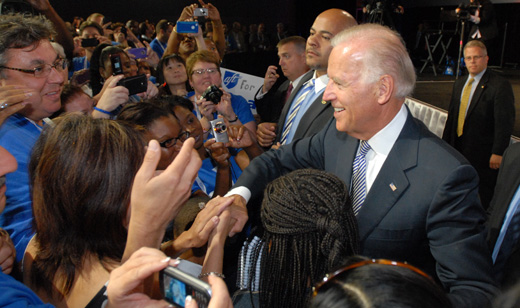 DETROIT – "Teachers are under full blown assault," declared Vice President Joe Biden, addressing the American Federation of Teachers convention here on Sunday. Vice President Biden, his wife Dr. Jill Biden – a longtime teacher, United Auto Workers President Bob King and noted educator and author Diane Ravitch all came to the AFT convention to pledge their support for our nation's teachers.
The vice president was introduced by Jill Biden who taught for 13 years in a public high school and continues teaching full time at Northern Virginia Community College, even as she serves as the "Second Lady." She told the audience, "Being a teacher is not what I do, it's who I am."
Vice President Biden spelled out the choices voters have in the November election.
Why does the Republican budget cut $900 million for K-12 education, cut Head Start and Pell grants, Biden asked, answering himself: "because they have to pay for their one trillion dollar, 600 million tax cut for the wealthy."
The attitude of the "new" Republican Party, Biden said, is: "Government needs to keep its hands out of education." He declared, "Don't tell me you value education but then don't invest in it."
Biden noted that the middle class has been clobbered by the economic crisis, and attacked the Republican aid-the-rich, trickle-down approach. He said, "We think you rebuild the middle class from the 'middle out,' they think from the 'top down.'" Addressing the teacher delegates, he said, "We don't see you as the problem, we see you as the solution."
A sea of 3,000 teachers and school workers, wearing AFT Obama-Biden blue T-shirts, cheered enthusiastically. Thought many disagree with some of Obama's education policies, they saw the bigger picture, as outlined by UAW President Bob King.
Addressing the convention on Saturday, King cited two priorities in the coming period. Number one is the re-election of President Obama. We may not agree with all the president does, King said, but we "cannot allow the perfect to be the enemy of the good. We will go back 50 years if Republicans win."
Second, to achieve real progress, King said labor must recommit to rebuilding a social and economic justice movement when the elections are over.
He noted that when unions were stronger, "every measure of social justice" was stronger too. "Too many of our economists do not understand the core centrality to a fair and just society is a vibrant and strong labor movement," King said. When union members advance, every worker in America benefits, he said, adding that labor is the "core of democracy" in any nation.
Educator Diane Ravitch tore apart the "big lie" of lagging test scores used by some education "reformers" to justify privatization. The American educational system is failing as the National Assessment of Educational Progress (NAEP) shows that test scores of American students are at their highest points ever, she said. She said increases have been steady and significant and they have been greatest for black and Hispanic students. "We should be thanking our nation's teachers," said Ravitch.
"Teachers need to work in a professional atmosphere where they are treated with respect and dignity," Ravitch said. "Carrots and sticks are for donkeys, not professionals."
She cited a number of reason students have difficulty in the classroom, from health issues to family stability but she said the "single biggest predictor of student progress is family income." Thus, poverty and joblessness must be addressed to improve student learning.
Retired hearing specialist and past Chicago Teachers Union President Marilyn Stewart agreed. When an economic crisis hits the country, she said, "teachers feel it first in the classroom; stress from the home is carried into the classroom."
Delegate Debbie Uribe, a 30-year early childhood educator in Los Angeles, said she feels her work with children builds the foundation for future success. She's upset her school is getting an 8.5 percent cut in state funding.
Also bringing the crowd to its feet Saturday was Detroit NAACP President, Rev. Wendell Anthony. Reverend Anthony said if you are teaching in America you're going through some kind of hell adding, "Love has got to kick in, because the money isn't." He asked what message are we sending when you can use your NRA card to vote (as in Texas) but can't use your college ID. "Insanity is running wild," he exclaimed.
The convention re-elected AFT President Randi Weingarten to another term.
Photo: Vice President Joe Biden greats teachers at the AFT Convention in Detroit, July 29. Courtesy AFT.