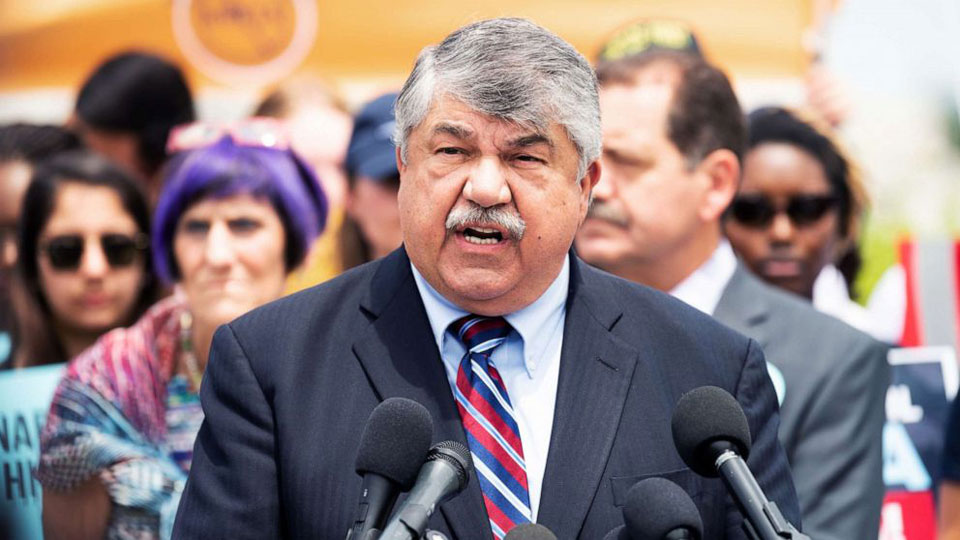 WASHINGTON—Congressional passage of the Protect The Right To Organize (PRO) Act, the most pro-worker rewrite of U.S. labor laws since the original 1935 National Labor Relations Act, is high among Democratic President-Elect Joe Biden's economic priorities, assuming he successfully takes office on Jan. 20.
AFL-CIO President Richard Trumka applauds that, with one caveat: He wants it to be #2. And the only reason it's second is that Trumka, thinking of the entire country, as well as the benefits to workers, wants lawmakers to approve the Heroes Act first.
"The Biden-Harris administration will rebuild the middle class—and this time make sure everyone comes along," the president-elect's transition plan declares in its opening paragraph.
And, carrying out his economic pledge to "build it back better," Biden added that  "means an updated social contract that treats American workers and working families as essential at all times, not just times of crisis, with higher wages, stronger benefits, and fair and safe workplaces."
"Let's not just praise them, let's pay them," Biden says of essential workers, adding they deserve a decent wage of "at least $15 per hour, and ending the tipped minimum wage and sub-minimum wage for people with disabilities, and strong benefits so they can live a middle-class life and provide opportunity for their kids."
"This starts with passing the Protecting the Right To Organize (Pro) Act, providing public service and federal workers with bargaining rights, and taking other steps to make it easier for workers to organize unions and collectively bargain."
The PRO Act would remove many of the roadblocks the courts, the National Labor Relations Board, and corporate criminals have used for more than 70 years to destroy unions and reduce workers to serfdom. The (PRO) Act would ban "captive audience" meetings and other coercion, impose hefty fines and court orders on labor lawbreakers, make unionizing easier to achieve and mandate arbitration when workers and bosses couldn't agree on a first contract.
And Biden himself, on the campaign trail, added an extra provision: Send chronic corporate labor law-breaking executives to jail.
After the (PRO) Act comes the Paycheck Fairness Act, to stifle pay discrimination against workers who are not white males and ensure equal pay for equal work, and "legislation for universal paid sick days and 12 weeks of paid family and medical leave."
Trumka praised the top priorities, and put the (PRO) Act at #2 overall as part of "a long-overdue workers-first agenda."
He declared "union voters delivered this election for Biden" and Sen. Kamala Harris, D-Calif., the former VP's running mate. Trumka said 58% of voting union household members backed the Democratic ticket. Other surveys, however, showed lower percentages, notably in Ohio, where union household members went 52% for GOP nominee Donald Trump, again.
After the Heroes Act, which unions have lobbied for long and hard ever since the Democratic-run House approved it, twice, months ago, comes the (PRO) Act, Trumka says. After all, the Heroes Act provides "emergency" relief, "but it's just that—relief."
"Once working people are made whole, the real rebuilding can begin. We call on Congress to pass and Biden to sign the (PRO) Act early in 2021 to make sure every worker who wants to form or join a union is able to do so freely and fairly. Working people want our leaders to act swiftly and think more boldly than ever before."
Both the Heroes Act and the (PRO) Act are behind tackling the coronavirus pandemic. As of 4 pm on Nov. 10, it killed 237,760 people out of the 1.023 million who tested positive since it was declared on March 13. The number infected equals the population of San Jose, the 10th-largest U.S. city. The number of dead is slightly more than the headcount in Hialeah, Fla.
The task force, like Biden, is expected to push for mandatory measures to prevent the virus's spread, including always wearing masks in public, constant hand-washing and sanitizing, and social distancing. He also wants to mandate increased U.S. production of personal protective equipment (PPE), especially for health care workers.
That's a key goal of National Nurses United and other unions representing health care workers, whose members have been on the front lines in battling the scourge.
The Heroes Act would push that goal, too, by forcing the Occupational Safety and Health Administration (OSHA) to issue an emergency rule, effectively immediately, ordering bosses to craft and implement protection plans, including PPE, for workers.
It would also provide extra money for schools to sanitize, create social distancing in classrooms and check the temperature of every student, teacher, and staffer every day to forestall the pandemic's spread by isolating people who test positive.
And the Heroes Act, which Senate Majority Leader Mitch McConnell, R-Ky., has pigeon-holed, would also restore a special subsidy for airlines, contingent on keeping their workers on the payroll. The Association of Flight Attendants-CWA got that guarantee in the prior Cares Act, but it ended Sept. 30 and there have been massive airline layoffs and furloughs since.
Which of course brings up the key roadblock both the Heroes Act now and the (PRO) Act next year face: Continued GOP Senate control, avoidable only if Democrats Jon Ossoff and Raphael Warnock beat both GOP incumbents, on Jan. 5. That would let McConnell kill all three measures. If past is prologue, he will. When Biden, as Barack Obama's vice president, lobbied first for labor law reform (EFCA) and then the Affordable Care Act in 2009-10, McConnell and corporate lobbies killed the first and almost suffocated the second.