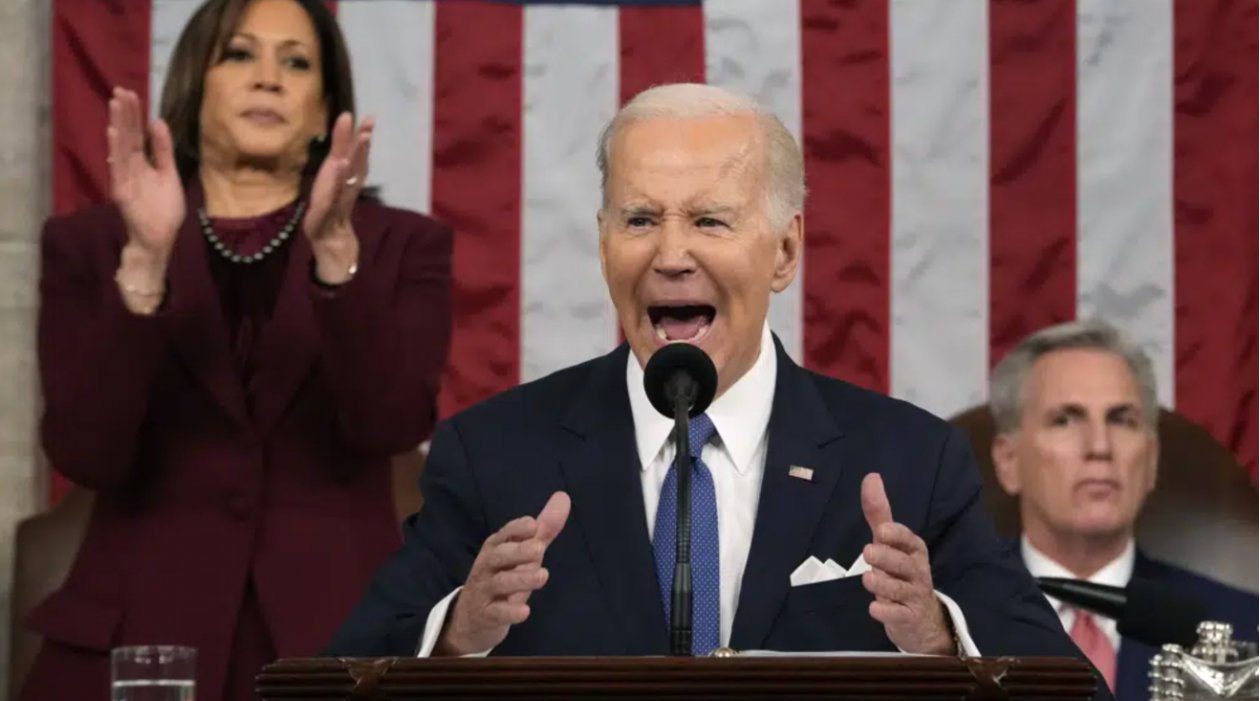 WASHINGTON—In his State of the Union message to the Congress and the people Tuesday night, President Joe Biden faced many of the same fascist Republican lawmakers in the chamber who had backed an attempted coup to prevent him from taking office in January 2021.
Sitting in back of him as he delivered his second State of the Union message was not the now-revered Nancy Pelosi who sat there last year but Kevin McCarthy, a Republican Speaker who is not the helpless pawn described in much of the corporate media but rather the man who has turned control over the House to a gang of fascists.
Determined to face them down and speak to the American people, the president opened his speech with a litany of progressive domestic policy achievements popular with 80% of the population, according to an array of polls.
He rattled off everything from infrastructure and curbs on the price of insulin to gun controls and the biggest investment ever in battling climate change as only a few examples. He followed that opening with calls for many more progressive achievements, including new strides in abortion rights and LGBTQ equality and he pledged to wage a relentless battle to preserve Social Security.
"Restore the rights in Roe v. Wade taken away by the Supreme Court," Biden demanded of Congress as he stared directly at the Justices sitting below and in front of him.
But perhaps one of the most powerful parts of his speech was the impassioned plea he made for an end to police violence. Biden had coordinated a plan with the Congressional Black Caucus to bring the families of people killed by the police and have them sit in the chamber as he delivered his remarks.
He introduced the parents of Tyre Nichols, murdered two weeks ago by Memphis Police. "Do something!" he demanded of the Congress when Nichols' parents sat down.
"Even if you can't pass the George Floyd Justice in Policing Act, do something. Imagine how you would feel if you lost a child to police violence. Most of us in this room haven't, like Black and brown parents, had to give 'the talk' to our children, telling them if they are stopped in traffic by police to turn on their lights and put their hands on the steering wheel, hoping they won't be killed."
When Tyre's family walked out after the speech, some Republican lawmakers said they were praying for them. "Give me action, not just prayers," a deeply religious RowVaughn Wells, Tyre's mother, was heard telling them.
In an interview after the speech, Rep. Steve Horsford, chair of the Congressional Black Caucus, said, "The president deserves a lot of credit for what he said tonight as he described how the White House and the Black Caucus members worked out ahead of time the invitations to the parents of so many victims of police violence."
Mentions the threat to democracy
Early in his speech, Biden mentioned the threat to democracy that is posed by a Republican Party run by fascists, but he did not go as far as many would have liked.
"Two years ago, our democracy faced its greatest threat since the Civil War. Today, though bruised, our democracy remains unbowed and unbroken." He did not, however, call out the Republicans as the source of the threat, much less criticize their continuing kowtowing to the coup plotter and prompter—Biden's "Big Lie" predecessor, Donald Trump.
Late in the speech, Biden returned to protecting democracy. Without naming Trump either time—even when noting the former president ran up 25% of the national debt in four years—Biden proclaimed, "With democracy everything is possible. Without it, nothing is.
"We have to protect the right to vote, we have to uphold the rule of law, and we have to give hate and extremism no safe harbor."
Democrats jumped up and applauded when he made those remarks, but McCarthy stayed seated. So did Republicans, who in the last Congress successfully opposed voting rights laws and the Democrats' comprehensive election reform bill, which died. It would have outlawed almost all voter suppression schemes the Republicans use to suppress the vote. A smaller bill passed, post-election.
Determined as he always is to push "bipartisanship," Biden mentioned "300 bipartisan bills" he signed in his first two years in office. They included the first gun control law in three decades, an anti-opioid restriction, and a measure to aid veterans who were victims of toxic burn pits in the Iraq and Afghanistan Wars.
"If the deeply and angrily split last Congress could occasionally be bipartisan, this one can, too," Biden said.
His very next demand showed how his call for "unity" will likely go nowhere with the MAGA fascists now running the House, though. Biden called on Congress once again to ban assault weapons. In 1994, as a senator, he successfully led the fight to ban them for a decade. In 2004, Republicans let the ban lapse "and mass attacks tripled."
But the Republicans at the speech again sat on their hands. Left unmentioned by Biden: The Supreme Court's Republican-named majority and its hostility to any and all gun controls, as shown by a decision last June.
Republicans continued to sit in silence, and Democrats applauded, when Biden demanded, again, that Congress pass the Protect the Right to Organize (PRO) Act, labor unions' number-one legislative priority, to give "everyone who wants it the right to join a union." The president noted before he mentioned the PRO Act, that he expected "some of my Republican friends not to like what I am about to say."
Later, Republicans booed and frowned when Biden vowed to veto any national abortion ban that reaches his desk. Republican "red" states are competing to enact the most-draconian anti-abortion bans despite the fact that the Supreme Court ruling killing Roe boomeranged against the Republicans last fall, as did their support and encouragement of the Trump insurrection. Reports from labor's foot soldiers on the campaign trail led to that belated Biden-Democratic decision to make both into major campaign themes.
Riding on popular outrage against both the Trumpite coup attempt and for a woman's right to abortion, Biden and Democrats converted the pundit-predicted Republican 2022 tsunami to take over the House into a wavelet. The Senate went from a 50-50 tie to Democratic control, however slim. Despite the predicted tsunami not happening, however, enormous damage is being done now by a House controlled by Republican fascists.
Occasionally in the speech, Biden did get a bit of the bipartisan unity he sought. Once, he even forced it on them. "Some Republicans, whom I won't name, want to sunset Social Security and Medicare" as part of a deal to raise the debt ceiling, Biden said.
Shook his head "no"
With McCarthy shaking his head "no," and rabid right-wing Rep. Marjorie Taylor Greene, R-Ga., yelling "Liar!", Biden looked right at her and vowed to veto any cuts. That drew an immediate standing ovation from the Democrats, followed, more reluctantly, by the Republicans, McCarthy included.
They eventually joined those who immediately rose to their feet but only after Biden demanded that lawmakers "stand up for seniors." Grinning, Biden then declared that at least on one issue, unity was achieved.
Unfortunately, he did not include the total prevention of Medicare and Medicaid cuts in his call. Now that the pandemic is officially (if not actually) over, many on Medicaid could be losing their health insurance, and the Republicans, of course, are out to get both of those programs.
Another unity moment came when Biden vowed to continue "unending" support for Ukraine in its war with Russia. "We will be with you until the end," he declared after he asked the Ukrainian ambassador to the U.S. to stand. No mention of when that end might come was made, and Biden made no call for moves toward peace. Despite hundreds of thousands of deaths and the growing chance of the outbreak of wider war, he made no mention of support for any peace moves—neither a ceasefire nor negotiations.
"We're going to stand with you as long as it takes," Biden declared to the Ukrainian ambassador, signaling an open-ended commitment. Though Biden didn't say so, Germany, Denmark, and Holland announced, just before his speech, they would send 100 more Leopard tanks to Ukraine.
Brazil, however, a major supplier of parts for those tanks, spurned prodding by German Chancellor Olaf Scholz to send those parts to Germany and Ukraine. Brazilian President Lula said this week that Brazil would send no parts, ammunition, or weapons to fight the war in Ukraine.
Biden's commitment to war in Ukraine and saber-rattling against China in his speech upset peace groups. CodePink was typical. "We say NO to endless war!" it tweeted. It announced a forum and demonstration in D.C. in mid-March "to demand #PeaceInUkraine and an end to the war economy which funds the war machine over people's needs."
"China is not our enemy," another CodePink tweet read. "It is outrageous and scary to see how much hate exists in our Capitol to drive fear and war with China. Our leaders should lead with love and dedication to peace, not taking us to another deadly and costly war."
On China specifically, Biden bragged about shooting down the alleged spy balloon earlier this week and said he would engage with China but only when it was advantageous to the U.S. He said nothing about U.S. warships maneuvering off the coast of China for most of last week.
Unmentioned
There were some notable omissions in Biden's speech. One was avoiding rhetorically mentioning poor and low-wealth people in the U.S. and closing the chasm between the wealth of the 1% and the one-paycheck-from-disaster status for the bottom half of the country. Biden preferred to talk instead about the "middle class" and "building the country from the bottom up and middle out."
The White House, unfortunately, declined to meet with representatives of the Poor People's Campaign before the speech to consider their program to aid the bottom 140 million-plus people in the U.S. The Poor People's campaign wanted to discuss with him their 12-point agenda, including stronger labor rights, cutting war spending and diverting the war money to domestic programs, and fighting the fascist right, including right-wing "Christian" ministers.
Then there was Biden's split stance on tackling corporate greed, again a matter of what he said, and what he didn't.
On one hand, Biden, who assured everyone he was "a capitalist," blasted the oil companies for their record profits earned during the pandemic and for returning that money to Wall Street rather than investing it in further production—while admitting that despite his "green" manufacturing program and its thousands of union jobs, the U.S. would still depend on oil and natural gas as energy sources for the immediate future.
Democrats cheered his pledge to tax those billions, including the 15% minimum corporate tax Congress enacted during his first two years, and his renewed demand to further tax millionaires "to make them pay their fair share." Republicans didn't.
Biden didn't mention that a lot of the energy giants' new cash comes from selling products to Western Europe. The firms are replacing oil and gas previously purchased from Russia, stopped by a Biden-led embargo, and a mysterious blast in an undersea Baltic pipeline which guarantees higher profits for U.S. oil and gas companies for quite a while to come.
On the other hand, Biden was completely silent about another bipartisan "achievement" last year: Forcing an unwanted contract, pushed by the rail barons who cater to Wall Street and recommended by a Biden-named board, on the nation's 115,000 unionized rail workers.
Prevented a strike
The pact prevented a scheduled strike and left the workers still subject to bosses' sudden changes in their schedules and no sick days, among other problems. The railroads, meanwhile, enjoy profits, turned over to financiers of course. Adjusted for inflation, the profits exceed those of the Robber Barons of the late 1800s.
Yet another Biden omission was how to curb the nation's overly expensive healthcare non-system, which benefits the insurers but drives nurses to strike in order to protect their patients from denial of care, again due to corporate—insurer and hospital chain—profiteering.
Not touching the idea of Medicare for All, supported by many Democrats, he instead touted the mandated $35 monthly cap on insulin for seniors, which took effect Jan. 1, and demanded Congress extend it to everyone in the country. He also said the government will get the power to bargain down some prescription drug prices for Medicare, Medicaid, and the VA—but not until 2025.
And importantly, Biden didn't fully comment on one of his administration's major achievements, notably the economic improvements from getting the coronavirus pandemic response organized and the modern-day plague itself corralled, if not ended. Thus far it seems that has not registered with voters. Nobody on the president's staff discussed that in the days before the speech, either.
Biden's partial answer was that many of the gains are only now kicking in, from lowering the cost of insulin to the billions of dollars in infrastructure projects being started in both blue and red states. He even joked about Republicans who opposed the infrastructure law now taking credit for the projects it brings.
Biden opened his address by declaring "the story of America is a story of progress and resilience…We are the only country that has emerged from every crisis stronger than when we entered it.
"That is what we are doing again. Two years ago our economy was reeling. As I stand here tonight, we have created a record 12 million new jobs—more jobs created in two years than any president has ever created in four years. Two years ago, Covid had shut down our businesses, closed our schools, and robbed us of so much. Today, Covid no longer controls our lives."
He said he is lifting the national coronavirus emergency order on May 11. House Republicans offered a bill last week to lift it now, but Biden's announcement the same day co-opted them and let Democrats vote for it, too. He didn't refer to their bill in his speech. The AFL-CIO has declared that it is too early for the government to be ending some special Covid programs and points to the fact that people are still dying of the disease every day in America.
Biden's one nod to low-income people didn't use the word "poor." Instead, Biden talked about "those left behind," without saying who many though not all are: White working-class men who backed Trump in 2016 and 2020.
"My economic plan is about investing in places and people that have been forgotten. Amid the economic upheaval of the past four decades too many people have been left behind or treated like they're invisible," said Biden.
"Maybe that's you watching at home. You remember the jobs that went away. And you wonder whether a path even exists anymore for you and your children to get ahead without moving away. I get it. That's why we're building an economy where no one is left behind. Jobs are coming back, pride is coming back because of the choices we made in the last two years.
"This is a blue-collar blueprint to rebuild America and make a real difference in your lives," promised Biden. It's a promise, polls show, that many of the people he's addressing—indeed, a 62% majority of the country—don't believe right now.