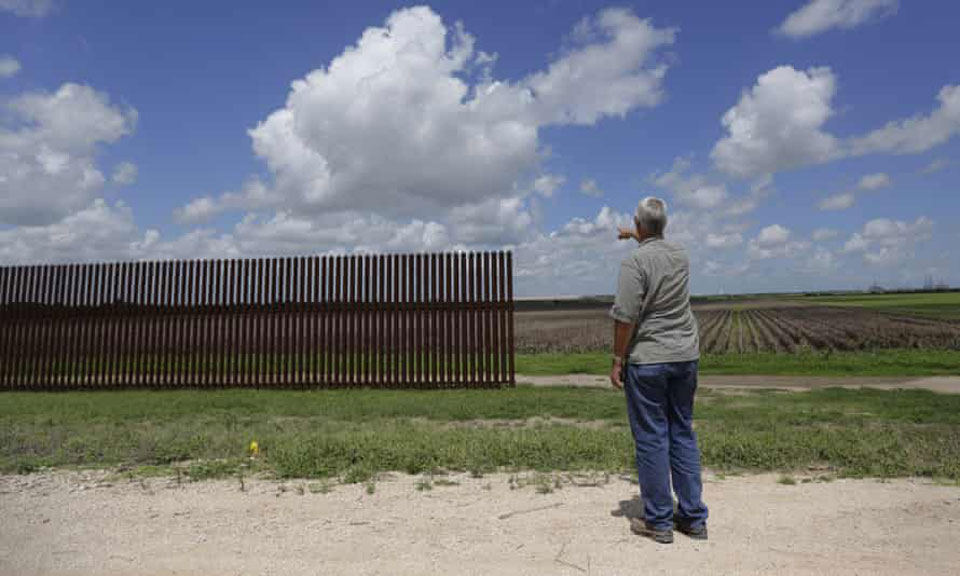 WASHINGTON—Talk about hitting the ground running: On his first day in the Oval Office, Democratic President Joe Biden kept the Dreamers in the U.S., dumped GOP predecessor Donald Trump's Muslim ban, halted construction of Trump's racist Mexican Wall and dumped Trump's phony state of emergency that freed up federal cash for it.
Further, Biden rejoined the Paris Climate Accords and withdrew federal approval of the Keystone XL Pipeline, sent a comprehensive immigration reform bill to Congress and got the nation started on a coordinated plan to battle the coronavirus pandemic and its disastrous economic impact, too.
That included a moratorium on student loan repayments, and continuing the ban on evictions of renters and mortgage foreclosures through the end of March.
And to signal the U.S. is now part of the worldwide fight to eradicate the modern-day plague, Biden wrote UN Secretary-General  António Guterres the U.S. is now back in the World Health Organization, reversing Trump's pullout. He also sent the nation's top infectious disease specialist and leader in the coronavirus fight, Dr. Anthony Fauci, to a virtual WHO meeting to publicly say so.
Whew.
All that's just for starters. There's a lot more to come between now and the end of January, the Biden White House promises: More orders on Jan. 27 to reinstitute the campaign against climate change, Jan. 28 on health care, Jan. 29 on immigration again, and national security on Feb. 1.
Biden spent his first hours in the presidency signing 15 executive orders and two proclamations. Virtually all reversed prior Trump dictates that pleased the former occupant's white nationalist base, the corporate class, or both.
One dumped Trump's scheme to let the military discriminate against LGBTQ and transgender people—an order the military first resisted and then ignored.
Another reinstituted tough ethics standards for incoming federal officials. It's yet another attempt to stop the "revolving door" between government service and private profit. Biden included a flat ban on all gifts from lobbyists to administration officials.
Trump signed an ethics order in 2017, but kept waiving it for his pals, cronies and corporate counselors. Then he revoked it completely on Jan. 19. By contrast, Biden's order not only bans the revolving door, but also declares any appointee who later violates it could face prosecution, a five-year ban on any future lobbying, or both.
A third Biden order overhauled a little-known White House agency, the Office of Information and Regulatory Affairs. OIRA reviews federal rules before they're officially published. At least that's what it's supposed to do, to ensure the rules conform with presidential policies.
But in practice, the corporate class, under Trump and prior GOP presidents, used OIRA as a back-door secret conduit to derail pro-worker, pro-consumer and pro-environmental rules they hated. It became infamous for that in GOP President George H.W. Bush's tenure.
Instead, Biden wants OIRA, when it reviews rules, to ensure they "promote public health and safety, economic growth, social welfare, racial justice, environmental stewardship, human dignity, equity, and the interests of future generations." And they must not have a disproportionate impact on people of color or other exploited communities, he wrote.
But it was Biden's other executive orders, especially a start at redoing the chaotic federal response to the pandemic, and the ones concerning migrants, that drew attention.
Like Biden's inaugural address, many of his executive orders were plain-spoken. Take the one to keep the Dreamers in the country, under the Obama-era Deferred Action for Childhood Arrivals (DACA) program. Not only that, but in a separate order to the Homeland Security Department, Biden halted summary arrests and deportations by ICE and Border Patrol agents of migrants along the U.S.-Mexico border.
Trump ordered an end to DACA, but federal courts stopped his scheme to deport all 700,000-800,000 beneficiaries. Biden, bluntly, went completely in the other direction—a course public opinion backs.
"DACA reflects a judgment that these immigrants should not be a priority for removal based on humanitarian concerns and other considerations, and that work authorization will enable them to support themselves and their families, and to contribute to our economy, while they remain. The Secretary of Homeland Security, in consultation with the Attorney General, shall take all actions he deems appropriate, consistent with applicable law, to preserve and fortify DACA," Biden ordered.
Or consider his language in stopping erection of Trump's Mexican Wall: "Building a massive wall that spans the entire southern border is not a serious policy solution.  It is a waste of money that diverts attention from genuine threats," Biden wrote.
Biden's executive orders and immigration reform bill cheered the AFL-CIO, United We Dream—the Dreamers' top group—and UnidosUS, the leading organization representing Latinos and Latinas in the country.
"We welcome President Biden's actions to reverse the Trump administration's cruel, racist and divisive immigration policies and introduce constructive, inclusive alternatives," said AFL-CIO President Richard Trumka. He also cited Biden's comprehensive immigration bill that includes an eight-year path to full citizenship for most of the estimated 10 million-11 million undocumented people in the U.S.
The exceptions? The Dreamers, Temporary Protected Status visa-holders and their families and farm workers. Their path is cut to six years, UnidosUS reported. TPS recipients, many of whom have lived in the U.S. for decades, come from war-torn nations or those smashed through natural disasters, including Syria, Liberia—singled out for protection in a Biden order—Haiti and Central America.
Not coincidentally, all the TPS recipients are Black or brown and drew Trump's hate. They also drew strong support from a five-union coalition headed by Painters President Kenneth Rigmaiden, who estimates 30% of his members are TPS beneficiaries.
"We applaud the administration for taking immediate and decisive executive action to protect workers' status, reunite families, end discriminatory exclusions, and halt the enforcement practices that have bred fear in our workplaces and communities. It will take time to fully address the harm built up over decades of enforcement-only immigration approaches, but these actions represent a strong start," Trumka added.
UnidosUS President Janet Murguia and the Dreamers agreed. Both keeping the Dreamers in the U.S. and the comprehensive immigration reform legislation are "exactly what the nation needs after four years of cruel and bigoted anti-immigrant actions," she said. Murguia also called for a 100-day deportation moratorium.
"Too often immigration policy has been used to rip families apart and jeopardize the futures of nearly six million American children living in mixed-status homes," she explained.
The Dreamers also cheered Biden's decision, but warned a GOP-named federal judge in rural Texas could still throw them out of the country, as a result of a red-state lawsuit declaring DACA an illegal overreach of presidential enforcement flexibility.
"DACA remains at risk as a current lawsuit brought forth by Texas Attorney General Ken Paxton, and Republican officials from eight other states seek to end the program, putting hundreds of thousands of immigrants at risk of deportation," warned Cynthia Garcia, a Dreamer and UWD's campaigns manager.
"The threats against immigrants don't leave with Trump. His presidency is a symptom of the white supremacy rooted in the birth of this country. United We Dream will continue to push for an equitable country and a world where everyone has freedom to move, to stay and to thrive," she concluded.