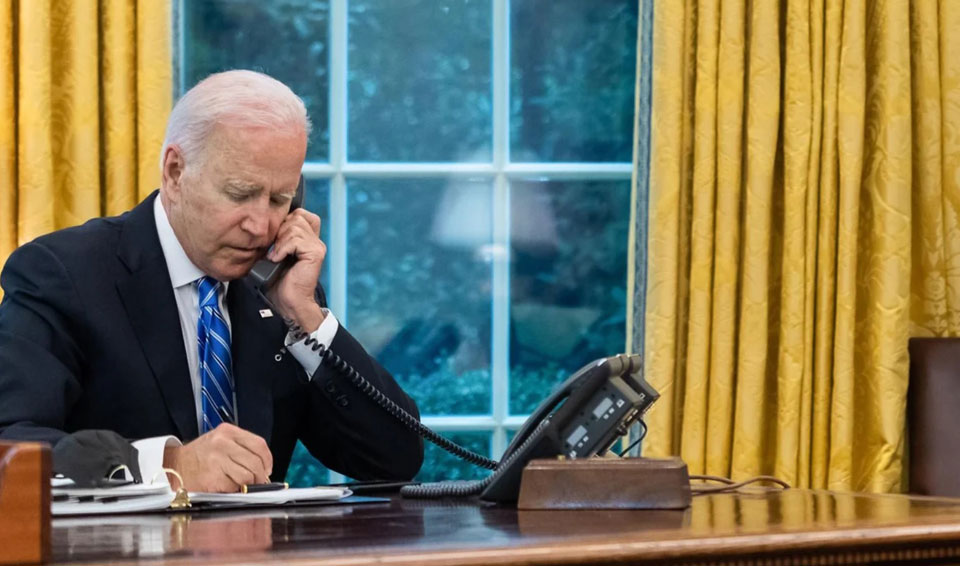 WASHINGTON—Democratic President Joe Biden has apparently given some 70,000 federal workers—the lowest-paid ones—an immediate raise.
The Government Employees (AFGE) reported the hike, to $15 an hour, is in a January 21 Biden executive order. The White House, as of 10 a.m. Eastern Time on January 25, had not posted a separate order, beyond a general one, for contract workers, issued almost a year ago.
AFGE President Everett Kelley called Biden's move "one of his most significant actions to date," and noted it carries out a Biden 2020 campaign promise. AFGE is the largest union for federal non-Postal Service workers.
And, contrary to Republican dogma, which uses federal workers as a convenient punching bag, along with the Washington metro area—implying most feds work there—Kelley reiterated 85% of the U.S. workforce of two million live and work elsewhere.
"For the tens of thousands of workers who will start seeing more money in their paychecks each week, this is a transformative policy choice that will improve their everyday lives."
The distribution of the higher pay packets outside D.C. should also spur the private sector to raise its minimum pay to $15 an hour, the longtime goal of the labor-backed "$15 and a union" movement of low-wage workers nationwide. Employers who skimp workers on less "are paying poverty wages," Kelley said.
"It is hard to imagine a single action that could have a more significant positive impact on all American workers' paychecks beyond raising the federal minimum wage itself, which would take an act of Congress." The federal minimum has been stuck at $7.25 hourly since 2009.
"President Biden promised to be the most pro-union, pro-worker president in American history. Actions like these show he is delivering on that promise," said Kelley.
Separately, federal worker unions, starting with the second-largest, the Treasury Employees (NTEU), endorsed legislation Rep. Gerry Connolly, D-Va., introduced to give all two million federal workers a 4.1% pay hike in fiscal 2023, which starts October 1.
Last year, Connolly and his allies proposed a 3.2% hike, but it sank in the GOP-hamstrung Senate. They wound up with Biden's proposed 2.7%. His Republican predecessor, Donald Trump, refused to give raises and cut pay by forcing higher pension contributions.
Connolly also proposes an additional 1% hike in "locality pay," which covers workers in high-cost areas, such as New York, San Francisco, D.C., and Boston.
"The (coronavirus) pandemic has caused an upheaval in the labor market and rising costs continue to chip away at federal employee paychecks. Our nation's public servants deserve a pay increase that brings their salaries closer to their counterparts in the private sector," NTEU President Tony Reardon explained.