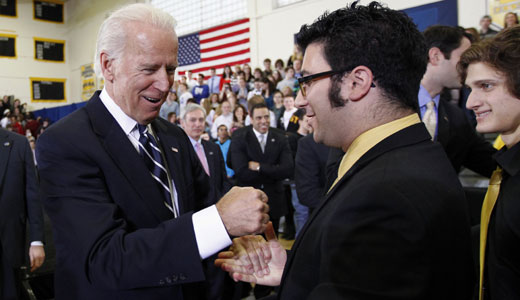 WASHINGTON – As far as Joe Biden is concerned, the Republican Party "doesn't understand the middle class."
In pointed words uttered in an often-conversational tone, the vice president told more than 700 unionists at the Communications Workers' Legislative-Political Conference that the woolly thinking on the other side of the partisan aisle applies to both its congressional leaders and its presidential hopefuls.
Biden's Feb. 2 speech highlighted the final day of the three-day meeting in D.C. CWAers gathered from around the nation to lobby lawmakers for four key causes.
The four are: Reversing the impact of the Supreme Court's two-year-old "corporations are people" ruling that let loose the flood of campaign cash; a financial transactions tax to force Wall Street to help pay for recovery from the Great Recession; union voting rights at airlines and railroads, and; taxing firms that move call centers offshore while giving a tax break to firms that bring call center jobs back.
Biden repeated the administration's stand for a 20 percent tax credit for all firms – not just call centers – that return jobs from overseas, coupled with withdrawal of tax deductions for moving jobs out of the U.S. He did not discuss the other three ideas.
Most of his speech alternated between jabs at GOP leaders – whom Biden called smart, even sometimes likable, but completely misguided – and defense of the Obama administration's actions. Biden said he would talk "about how to make the state of our unions stronger," but never elaborated.
Biden's defense came just after CWA President Larry Cohen said the union's executive board endorsed the Obama-Biden ticket for re-election this fall. Obama received 66 percent of rank-and-file votes in electronic and phone balloting.
That led to a repeated chant of "Four more years!" when Cohen escorted Biden to the podium. Then the vice president got started, repeatedly interrupted by applause.
"I don't think those other guys understand what a great struggle it is to get into the middle class, but that families have seen that shot evaporate," he said.
"Being in the middle class is not a matter of income. It's where you can own your own home, in a decent neighborhood, make sure your kids do good in school so you can send them off to community college, a trade school, or college, where you can take care of your parents" if necessary, "and where you can put enough away" for retirement "so your kids won't have to take care of you."
GOP presidential hopefuls – specifically former Massachusetts governor and Bain Capital CEO Mitt Romney and ex-House Speaker Newt Gingrich – "don't get it," Biden said. Neither does Senate Minority Leader Mitch McConnell, R-Kent.
"That bargain has been broken," Biden said of the middle class description he provided. "The Republicans don't have an idea" of "how to fix" the problem, shown by rising U.S. productivity and declining median income during the Bush years, he added.
"They're not bad guys, but they don't realize there's a problem," Biden explained.
Biden extended his criticism to Republican governors in Wisconsin, Ohio, Florida, and Indiana, who have shoved anti-worker measures through their GOP-run legislatures. "Instead of realizing the bargain has been broken, the Scott Walkers, John Kasichs, Rick Scotts, and the Mitch Danielses go out and look for scapegoats – the unions," Biden declared. Walker governs Wisconsin; Kasich runs Ohio, Scott heads Florida, and Daniels signed a law on Feb. 1 making Indiana a right-to-work state.
Republican stands "aren't gaffes," as sometimes portrayed, Biden warned. Republicans, for once, are open "about their beliefs" against workers and unions.
The GOP also must respond to Obama's record of pulling the nation out of the recession, withdrawing troops from Iraq, setting a permanent policy, and starting the withdrawal from Afghanistan and rescuing major enterprises, the vice president said.
"We inherited a country where the economy was in free fall, with four million jobs lost before we came in and another four million lost before we could get the first major pieces of our program in place. Now, in 22 months, we've created three million jobs.
"The auto industry was on the brink of liquidation. Now GM is number one again, the company has paid back their federal loans and I just spoke to the chairman of Ford, who said they're investing $16 billion in new plants – in the U.S." That got another big cheer.
"The best comparison I can think of is that Osama bin Laden is dead and General Motors is alive," Biden said, to another cheer. "This is a metaphor for a lot more."
The nation would eventually recognize the GOP's hostility to the middle class, the vice president predicted, and re-elect the Obama-Biden ticket. But the veep admitted one other reason would mark the difference between his boss and the Republican presidential nominee. Quoting the late Boston Mayor Kevin White, Biden said: "Don't compare me to the Almighty. Compare me to the Alternative."
Photo: "Biden shakes hands with a student after speaking at Central Bucks High School West in Doylestown, P.A." Alex Brandon/AP Photos