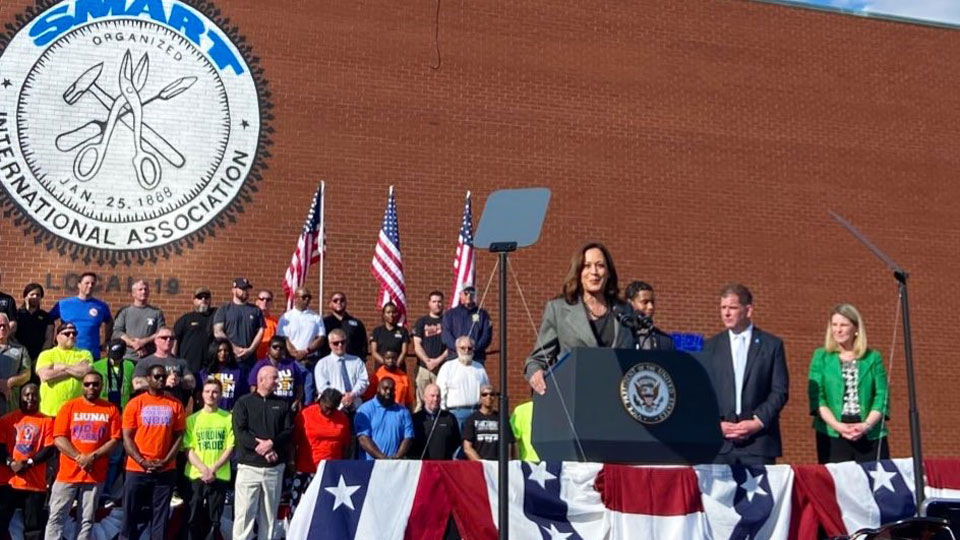 April 14 was a positive day for workers as Democratic President Joe Biden ordered federal agencies to stay neutral in union organizing among the nation's two million federal workers, and Vice President Kamala Harris announced OSHA would tackle the health hazard of high heat.
Biden concentrated on making the federal government an example for the private sector, by executive orders mandating agency neutrality during union organizing drives, by telling agencies they must inform their workers of the right to organize, and ordering government agency paymasters "to process payroll dues deductions in a timely manner."
That cheered Everett Kelley, president of the Government Employees, the largest union for federal workers. It represents some 700,000 workers, including free-loaders.
"Working people everywhere should have the right to join together in a union and advocate for better working conditions at their place of employment without fear of retaliation or reprisal–and this White House gets it," Kelley said in a statement.
"Today's action by the Biden administration will further the federal government's goal of being a model employer," Kelley continued. Through the moves Biden announced, "The White House is sending a powerful message to employers everywhere that efforts to interfere with union elections and workers' union rights should not be tolerated."
Biden, however, must send that message, part of the 70 pro-worker recommendations a Harris-headed commission presented to him several months ago, by executive orders. That's because Senate GOP filibusters—backed by the corporate class–have stymied his domestic agenda, including the Protect The Right To Organize (PRO) Act, labor's #1 legislative priority.
The PRO Act's higher fines against labor law-breakers and wider reach of both offenses covered and honchos who must pay are both in Biden's Build Back Better/ reconciliation bill, currently marooned in the Senate.
Harris announced a major Occupational Safety and Health Administration initiative. Speaking in Philadelphia's Sheet Metal Workers Local 19 hall, she said OSHA would target 70 high heat hazard industries both outdoors and indoors for its National Emphasis Program. That program of nationwide workplace inspections concentrates on the worst industries and highest hazards. Her announcement drew applause.
The reason? Increased global warming exposes outdoor workers to heatstroke or worse. Indoor workers, in steel mills and similar plants, face a similar hazard, she added. The outdoor workers, she said, include tens of thousands of union construction workers toiling to build projects funded with the administration's new five-year $1.2 trillion infrastructure law.
The projects, Harris said, range from retrofitting U.S. schools with new heating- ventilation-air conditioning systems—which the coronavirus pandemic showed they need—to laying broadband nationwide. Sheet Metal Workers do much of the HVAC work.
The pandemic, which forced distance learning via Skype and Zoom for millions of students, showed the need for national broadband, too, Harris said. Wiring the whole country is a key goal of the Communications Workers.
The pandemic "highlighted the importance of clean air in our schools where our babies, where the children of our nation go to get an education, to reach their God-given capacity," Harris told the appreciative crowd.
"We know the connection between these issues because we know that when students breathe clean air, they are healthier, they concentrate better, they learn more. Well, who's going to do the job to help make that possible? These folks," building trades workers.
"High heat is dangerous and can be dangerous when it is there, in their workplace–even deadly," she continued. "Every year, thousands of workers suffer heat-related injury and illnesses. The danger posed by extreme heat has been ignored and overlooked for far too long. And that danger is only increasing.
"Climate change has become a climate crisis. By 2030, this city can expect 25 days a year with heat and humidity that will make it feel like 105 degrees or hotter. Think about that.
"So, let's be clear…It turns out outdoor heat, indoor heat presents a workplace safety issue. And employers are responsible for protecting their workers in the workplace from the dangers of heat, including in farm fields, in delivery vans, and in nursing homes—everywhere that has workers," she stated, to applause.
OSHA is working on a new rule governing heat exposure. Congress dithers over legislation—which Harris reminded listeners she introduced, as a senator, at the behest of the United Farm Workers—mandating protecting agricultural workers from excessive heat exposure. But the heat danger issue can't wait. Thus the OSHA initiative, she explained.
Harris also took a veiled potshot at the GOP, after again extolling the PRO Act, too.
"I'm making an obvious point clear. Some people who don't understand"—she didn't name names but the implication was obvious—"need to understand that the workplace to get the jobs done that'll make life easier for most people in our country…is not necessarily an office with air conditioning. But it is a workplace nonetheless where highly skilled workers work.  And that is how we are approaching this issue" of heat danger.
That statement cheered her listeners, including building tradespeople plus AFL-CIO President Liz Shuler, Smart Union (Sheet Metal Workers) President John Sellers, new Teamsters President Sean O'Brien, and Labor Secretary Marty Walsh, a Laborers Local 223 member and former Boston Mayor. Walsh and Harris have become personal friends—a rarity among top officials.
In Philly and elsewhere, Californian Harris calls him "Mah-ty" in a Boston accent. He has walk-in-anytime privileges to see her. Harris told the crowd the two "have actually been on a bit of a traveling roadshow, I should say," to worksites and union halls.