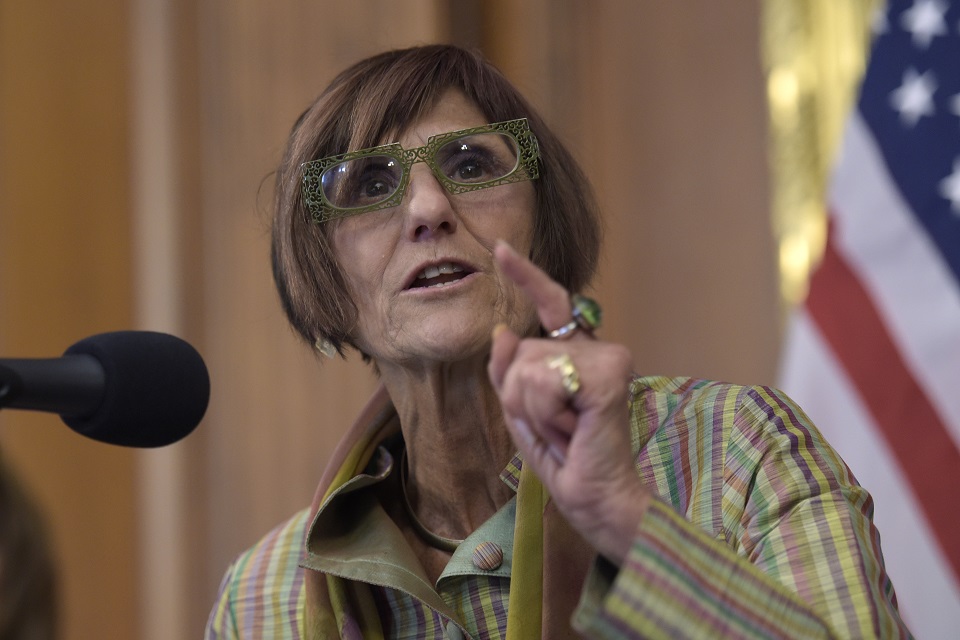 WASHINGTON—Highlighting stories from people who have benefited from 30 years of the Family and Medical Leave Act, the Biden administration's Labor Department and its allies—including the nation's unions—launched a new drive to convert the law to paid family and medical leave, with emphasis on the word "paid."
That's because the current law, with 12 weeks of unpaid leave to anyone who works for a firm with at least 50 workers, and with their job waiting for them at the end, and their health insurance, too, leaves millions of people out, speakers said at the Feb. 8 DOL ceremony.
And 60% of the workforce who can't or won't take unpaid leave are women of color, low-income, or both. They can't afford to go without paychecks, department officials said.
The DOL ceremony, led by Labor Secretary and Laborers Local 223 member Marty Walsh, who instituted paid leave for Boston city employees when he was mayor, featured stories by workers or their representatives about how even unpaid leave, with those restrictions, helped them.
"The Family and Medical Leave Act is part of our efforts" to improve people's lives, and particularly the balance between work and family," Walsh said. That means making it paid FMLA is even more important, so it can be more widely used, he and other speakers added.
The FMLA "lays the groundwork for the fight we're still fighting and that we must fight, for paid family and medical leave for all Americans," declared Doug Emhoff, Vice President Kamala Harris's spouse, who followed Walsh to the podium.
"FMLA is only a first step," said Rep. Rosa DeLauro, D-Conn., the law's prime House sponsor and—before that—the top aide to Connecticut Sen. Chris Dodd when they drafted and first unveiled it in 1984. "Thirty years—I think that's long enough to wait" for paid leave's enactment.
Prime among the workers the unpaid FMLA has aided over the years was Chris Garcia, a Machinists Air District Lodge 141 member who works for United Air Lines at Chicago's O'Hare Airport. He drew the before-FMLA/after-FMLA contrast.
Speaking by a video beforehand, Garcia told how when his father needed a quadruple heart bypass and he was working for a non-union auto parts store, his boss grudgingly gave him several days off, unpaid. That was "before."
What wasn't said
What Garcia didn't say—but a stand-in speaker did—was that when his father later declined and was dying, his boss wouldn't let him take leave again. "While he was with a customer" Garcia "got the call no one wants to get," from the doctor, the stand-in speaker said.
The situation was far different when Garcia's mother, years later, contracted and was dying of cancer. By then FMLA was the law of the land, and by then Garcia was working for United—and a Machinists member.
His manager told him "to take all the time I needed" and assured him his job and health insurance would be there whenever he returned.
"After having the issue that I did with my father," Garcia said on the video, "I was able to be there, was able to be present and not having to worry about having my bills paid, and try to make the best (of the) time that I had with her" before she died in 2018.
Earlier ceremonies marking the law's 30th anniversary were held at the White House and featured former President Bill Clinton, who signed FMLA in January 1993, after his Republican predecessor, George H.W. Bush, vetoed it the previous September.
And while speakers at the Labor Department said the current law had bipartisan support, it also faced strenuous corporate and special-interest opposition.
That may be a problem again as Biden and his allies push for paid leave, said DeLauro.
"We serve for no other reason than to make a difference for all other folks," DeLauro told the standing-room-only crowd—who greeted her with a prolonged, and standing, ovation. The "collective vision" of making lives for workers and their families "is what it's all about."
After all, the House's new razor-thin Republican majority has shown itself beholden to corporate clout and right-wing mantras on social issues—campaigns that deliberately target women and people of color.
Her solution? "We'll have to put on outside pressure," she told a reporter, the only other person at the DOL event who was also at Dodd's 1984 unveiling of the law.
Here is a video of the entire ceremony: