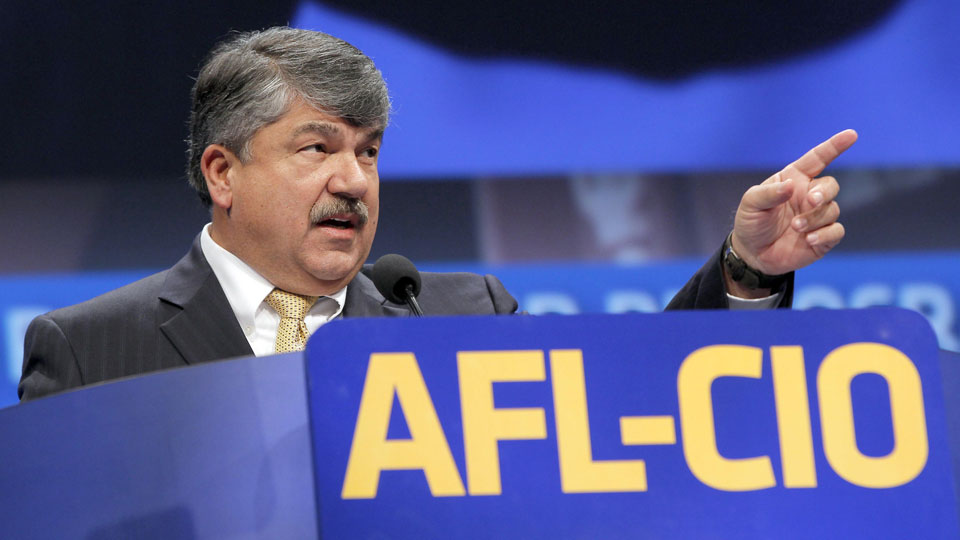 WASHINGTON—Praise and condolences, led by Democratic President Joe Biden, poured in as news spread of AFL-CIO President Richard Trumka's death from a heart attack at age 72.
Trumka died August 5 while on a family vacation in the South—a vacation he interrupted the day before to rally with members of his home union, the United Mine Workers, in their forced long strike against the Warrior Met coal company in Alabama.
That was typical of Trumka, some eulogists said.
"He wasn't just a great labor leader, he was a friend," Biden told reporters after calling Trumka's wife and son to offer his sympathy. "He was someone you could confide in."
Trumka was also a man of his word, Biden said, while other speakers noted he didn't mince words in speaking up for U.S. workers and on other causes, from civil rights to workers' rights to economic equality—or lack of it—contrasted with corporate greed.
"He was always fighting for working people, protecting their wages, their safety, their pensions, and their ability to build a middle-class life," Biden continued. "I've always believed the middle class built America and I know who built the middle-class: Unions. And Rich Trumka helped build those unions all across this country."
"Richard Trumka was a son of the American working class, and he never forgot where he came from. Over the years he and I worked together on many issues. He was a friend and I am saddened by his passing," Sen. Bernie Sanders, Ind-Vt., tweeted.
"Rich was a relentless champion of workers' rights, and even as we mourn his passing today, we will stand on his shoulders to continue the fight for workers, and for the fair and just society he believed in so passionately. We will honor his legacy with action," tweeted AFL-CIO Secretary-Treasurer Liz Shuler.
The federation constitution elevates Shuler to succeed Trumka, and she's the first woman to hold its presidency. The next election for federation officers is at next spring's AFL-CIO convention.
"The global labor movement has lost a giant," said Mine Workers President Cecil Roberts, Trumka's ally and successor at UMWA. "Richard Trumka was more than the leader of the American labor movement, he was an unequaled voice for the workers around the world.
"Richard and I were partners in leadership at the UMWA for many years, but we were more than that. He was my brother, he was my friend, he was my confidant.
"The hearts and prayers of the entire UMWA family are with his wife, his children, and his grandchildren. We will miss him terribly, but we know he has joined Mother Jones, John L. Lewis, William Green, Phil Murray, and all other UMWA leaders who have gone before him. Rest in peace, Brother. I will miss you." Green was also a past AFL president before the 1955 AFL-CIO merger, while firebrand Lewis founded the CIO (Congress of Industrial Organizations) after walking out of the AFL's convention over craft unions' refusal to organize industrial workers in coal, steel, and autos.
Workers "lost a fierce warrior when we needed him most. We will remember Rich Trumka forever," Senate Majority Leader Charles Schumer, D-N.Y., tweeted, after announcing Trumka's death to his colleagues—and having to pause for control while doing so.
Other praise, in speeches and tweets, came from individual union leaders, central labor councils, state labor federations, and even the U.S. Chamber of Commerce. A check of statements and websites showed worker haters farther to the right, such as Rep. Virginia Foxx, R-N.C., and the National Right To Work Committee, prudently stayed silent.
Some speakers who praised Trumka cited his advocacy—and theirs—of labor's top current cause, the Protect the Right to Organize (PRO) Act, the most wide-ranging, pro-worker labor law reform since the original 1935 National Labor Relations Act. Others recalled past struggles he joined.
The PRO Act is currently stalled in the evenly split Senate, marooned by a GOP filibuster threat engineered by leader Mitch McConnell, R-Ky. He, too, said nothing about Trumka.
"Our hearts are with the Trumka family, Rich's beloved @MineWorkers, and all of labor," Association of Flight Attendants-CWA President Sara Nelson tweeted. "What an incredible loss for our movement. I believe Rich would echo the words of UMWA's angel, Mother Jones: 'Don't mourn, organize!' We must honor Rich by uniting around his lifelong fight.
"This (PRO Act) will be his legacy and we have to act with urgency to honor his lifelong mission to fight for all working people. #1u," her tweet concluded.
"Honor Richard Trumka by passing the PRO Act," the Working Families Party tweeted.
Many speakers, including Biden, a fellow Pennsylvania coal country native, recalled Trumka's work in the mines, as his father and grandfather did before him. Trumka himself said their fate helped drive his goal to better workers' lives, as both died of black lung disease, caused by coal dust.
"From the commercial airways 30,000 feet in the air to the deepest mine shafts 10,000 feet below ground, there is no part of our world that was not touched by his grace and commitment to what he believed was right," said Biden Labor Secretary Marty Walsh, a member of Laborers Local 223.
Others referenced Trumka's campaigns for workers, civil rights, and for other causes. One was leading the crusade against unfair "free trade" pacts and forcing pro-worker changes in the GOP Trump regime's U.S.-Mexico-Canada Agreement.
"I have always admired his fight against job outsourcing and unfair trade agreements such as NAFTA. His reach was global, and he acutely understood the need for working people to band together to better the working conditions for everyone," Rep. Marcy Kaptur, D-Ohio, said.
"From the coal mines to Congress, workers had no stronger defender when they were attacked by corporate interests or anti-worker lawmakers. I will miss his devotion."
"We are thankful for all he accomplished on behalf of working people, particularly recently as he nimbly guided the labor movement through an extremely politically divided time, all the while keeping the movement united in the fight for the future of all working people. We are committed to upholding his powerful legacy and the fight for dignity and respect for all," Office and Professional Employees President Richard Lanigan said.
Stuart Applebaum, president of the Retail, Wholesale and Department Store Union and the Jewish Labor Committee, echoed that theme.
Trumka "fought on behalf of all workers, in fields and factories and schools and workplaces across the country, was deeply meaningful and important in the struggle to build a society that lifts us all up.
"We commit ourselves to continuing his work, and that of the larger labor movement that he headed and championed, and to building a more just, a fairer, and more equitable society," said Applebaum. The AFL-CIO strongly supported RWDSU's continuing fight to unionize the giant Amazon warehouse in Bessemer, Ala. The union lost, but an NLRB hearing officer ruled the election should be overturned due to extensive company labor law-breaking.
Auto Workers President Ray Curry said Trumka kept fighting for workers "to his dying day."
Trumka "understood working men and women in this country are indispensable and are the engine that drives our economy and our communities. It is with great sadness, having met with him as recently as Monday, to hear the news of this tragic loss of a great champion of the labor movement and social justice.
"Anyone who knew him knew he was a tireless fighter of workers' rights and human rights. The arc of history will remember this great man as a beacon of light during this trying time for working men and women."
Trumka "stood with us for decades in confronting the attacks on RNs and patient care standards conducted by a corporate health care industry more focused on profits and budget goals than on public health and safety and on the rights of frontline caregivers," National Nurses United said. Through multiple efforts by hospital corporations to roll back nurses' standards and patient care protections, NNU could always count on Rich Trumka to be by our side.
Trumka's "leadership transcended a single movement, as he fought with principle and persistence to defend the dignity of every person–whether speaking out against apartheid and discrimination abroad or fighting bigotry and racism here at home," House Speaker Nancy Pelosi, D-Calif., said.
"His courage in speaking truth to power made a difference for millions and made him a cherished ally in our mission to advance the health, financial security, and well-being of working families. Richard Trumka's life was a testament to the power of organizing and mobilizing for progress, and his leadership leaves a legacy of inspired advocacy for workers."
"If you have to be in a war, you want to be in the trenches with Richard Trumka," Teachers (AFT) President Randi Weingarten concluded a longer statement.
Top AFL-CIO staffer Damon Silvers cited a recent Trumka fight, against the Trumpite fascist forces who invaded the U.S. Capitol Jan. 6.
Trumka "goes to be with Jock Yablonski & Mother Jones, John L. Lewis, and Eugene Debs—in whose company he can hold his head high," Silvers tweeted. "Among @RichardTrumka's many legacies is his role in preserving American democracy in 2020. We are all in his debt."
"Rich Trumka embodied the soul of the labor movement—the dignity of work, the idea that hard work should pay off for everyone," Sen. Sherrod Brown, D-Ohio, tweeted, before a seven-minute floor speech honoring the late AFL-CIO leader.
"We've walked picket lines together and we've rallied together on behalf of workers. Connie and I are proud to have called him a friend. As we mourn Rich's passing and honor his legacy, let us hold fast to the motto of our labor movement — solidarity. Let's carry on his life's work by standing in solidarity with all the women and men of our labor movement and passing the #PROAct. #UnionStrong"
"If you ever got to see Rich at a rally or on a picket line, his face would light up with excitement and hope. He never forgot who he was working and fighting for and with. America's working people were his guiding light for more than 50 years," the Maine AFL-CIO said.
Rep. Andy Levin, D-Mich., a former top labor organizer for the Service Employees and the AFL-CIO, summed it up: "Rich Trumka was an incredible champion for American workers. He embodied the meaning of the labor movement—how we are not here to represent ourselves but to lift up each other. We will miss him dearly—and fight on like hell."