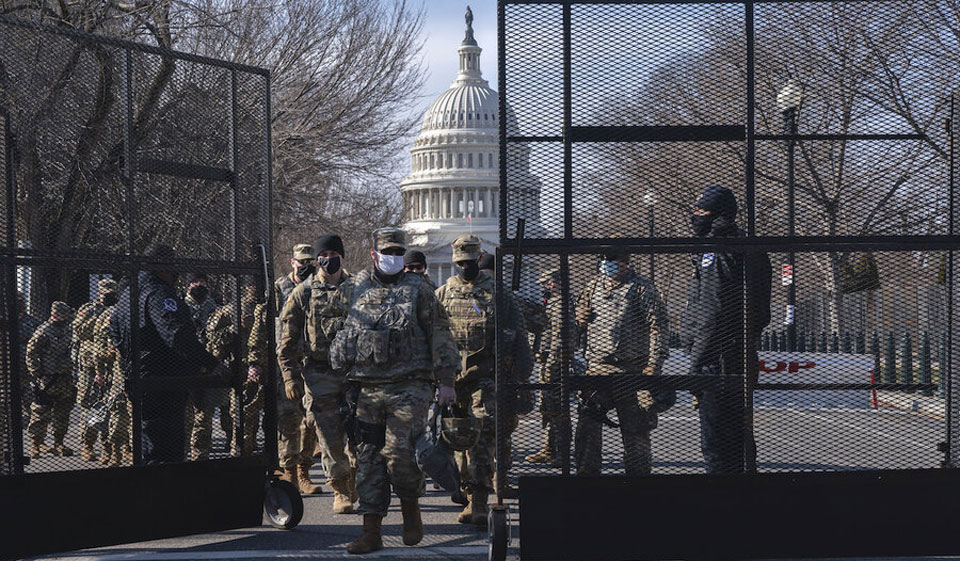 WASHINGTON – Joe Biden and Kamala Harris, soon-to-be President and Vice President, are preparing a sprint against the coronavirus pandemic, the economic depression, and reversing Trump regime policies right after he takes the oath of office at noon on Jan. 20.
Meanwhile, debate is rising over retribution for Trumpite rebels who invaded the U.S. Capitol on Jan. 6—and their corporate and political backers, an ever-expanding list.
That list of funders includes the political arm of GOP state attorneys general, Tea Party Action, and the so-called Council for National Policy (CNP), a registered non-profit, the Washington Post reported. All supported the pre-invasion rally where Trump told the rebels to march to the Capitol.
After the fact, the groups denounced the invasion itself and tried to distance themselves from members' participation. "We have no interest or capacity to monitor" individual CNP members' actions, its spokesman told the Post.
Biden will use his inaugural address to reassure the U.S. of a return to normal government, as opposed to GOP Oval Office occupant Donald Trump's extremism, racism, right-wing ideology, white nationalism, chaos, and anarchy.
He also plans to use it to start restoring the U.S. role in combating climate change, among other actions. One move will be to reverse Trump's withdrawal of the U.S. from the Paris climate accords. Another is undoing Trump's federal permit for construction of the controversial Keystone XL Pipeline, the U.S. Public Interest Research Group says.
Supporters, notably  Sen. Bernie Sanders, Ind-Vt., and analysts both say Biden will lay out a progressive agenda that isn't shy about big and controversial goals, having learned from his service as Democrat Barack Obama's vice president that compromising in advance with yourself only hurts your aims.
Biden will also reverse Trump's government inaction on protecting workers from the ravages of the virus, which has now killed 400,000 people in the year since the first "official" case was discovered in Washington state. And his first pre-inaugural event, on Jan. 18, was a memorial display on the Mall, honoring the dead.
Will please defenders
That reversal will please defenders of front-line workers, notably the National Nurses United—which had unsuccessfully sued to get the feds to act against firms that refused to protect workers and consumers—and the United Food and Commercial Workers. Hundreds of thousands of its members are "essential" front-line workers who are more exposed to the virus, notably grocery workers and meat and poultry plant workers. Most are people of color, women, or both.
Biden also plans a raft of executive orders to reverse the Trump regime's anti-worker, anti-environment and pro-corporate edicts.
One set will restore workers' rights to the nation's two million federal employees, pleasing the Government Employees, the Treasury Employees, and other federal worker unions. Another Trump edict, kicking tens of thousands of top workers out of the civil service, will die on the vine. Needed paperwork for it lagged as Trumpites left after Jan. 6.
Biden has already unveiled a $1.9 trillion economic aid package for hard-hit workers and businesses socked by coronavirus-caused closures. That includes billions of dollars to get anti-virus vaccine shots into people's arms. And it includes an extension of federal supplemental jobless benefits, at $400, not $300, per unemployed worker, through at least Sept. 30.
It also includes billions for state and local governments and more money to help schools safely physically reopen—a key issue in major cities such as New York, Chicago, and D.C. Biden wants to see kids physically back in schools within 100 days of his inauguration.
A second economic aid package will quickly follow, adds Sen. Christopher Coons, D-Del., a close Biden ally. Both will challenge Republicans to vote for aid for people who need it. Most Republicans right now are apparently unwilling to do so.
And what Biden can't do by legislation, he'll do by executive order, a key supporter, House Majority Whip Jim Clyburn, D-S.C., a Congressional Black Caucus member, told the Post. Such orders will let Biden evade GOP legislative blockade tries.
"I've said to him [Biden] he cannot allow his programs to get hijacked by people who have other agendas," Clyburn said. He added he repeatedly urged Obama to take the same executive order route due to GOP blockades. Obama finally did so, late in his tenure. Trump overturned his orders.
For some Biden supporters, the actions he plans are not enough and they plan to show it on Inauguration Day. The National Park Service granted two protest permits for Jan. 20 but restricted both to small fenced-in areas and to 100 people each. Both are far from Biden's Capitol swearing-in site.
The two groups are the Answer Coalition and the Working Families Party, which will have five techs and a screen demanding Biden enact a more progressive agenda. WFP members can connect with it virtually. No right-wing or white nationalist groups have permits, unlike on Jan. 6.
But to make sure they can't cause trouble, permits or not, D.C. is an armed camp.
More than 25,000 National Guard members from around the country are patrolling streets festooned with Jersey barriers and eight-foot-high steel fencing. The Capitol ceremony will have only invited guests. Trump won't be there. House Speaker Nancy Pelosi, D-Calif., and Trump Vice President Mike Pence will.
And in an indication of the continuing white nationalist threat to Biden, Guard and military officials are honeycombing the lists of troops being sent to D.C. to weed out those affiliated with racist groups, along with two dozen or so already identified and arrested participants in the Jan. 6 invasion.
Even as Congress prepares to tackle Biden's agenda, debate is increasing over what retribution should be meted out, and against whom, for the Trump-ordered invasion and attempted coup in the U.S. Capitol that day.
Plans two-track sessions
Incoming Senate Majority Leader Charles Schumer, D-N.Y., plans two-track Senate sessions, one for regular business, notably Biden Cabinet confirmations and the other for an impeachment trial of Trump, the former White House occupant.
Rep. Cori Bush, D-Mo., has introduced a resolution to expel the 140 House Republicans who stuck with Trump's lies about election fraud and voted to reject the Electoral College results that elected Biden. Her precedent: Expulsion of Confederate backers from Congress in the winter of 1860-61, as southern states seceded to prepare for the Civil War.
And the Women's March has compiled a list of corporate contributors to one main Trump congressional backer, Sen. Ted Cruz, R-Texas, so its members can pressure those firms to demand Cruz return their prior campaign cash.
Other big GOP capitalist corporate political givers, which backed Trump and pro-Trump Republicans for years, are belatedly hitting the "pause" button on donations.
The list of culprits is expanding, too, beyond the tens of thousands who overran the historic building. The insurrectionists looted, vandalized, erected a noose and scaffold on the Capitol grounds, and paraded through the building with Confederate flags. Two weeks later, there are still smashed windows in the Capitol.
And the invaders threatened top officials, including Pelosi and Pence, who didn't kowtow to Trump's final edict and overthrow the 2020 Electoral College certification of Biden as the winner last November.
The FBI has so far charged or arrested more than 100 people who, through their own social media posts, identified themselves as leaders of the invasion. In a break in the normal "blue wall" of silence among cops, some police officers nationwide are turning in colleagues who joined the invasion.
And The Washington Post reported that a far-right white nationalist "Christian" group is raising money through Go Fund Me pages for both groups that assembled the Jan. 6 invasion, and for the president of the Proud Boys, who was arrested before it on previous riot charges in D.C.
Turning Point Action, another white nationalist group, funded buses of invaders to come to D.C. Its founder spoke loudly for Trump at the Republican National Convention, and it posted a tweet, later deleted, telling members of its bus caravan.
One CNP member and pre-invasion rally participant told the Post that event was peaceful and blamed other individuals for the subsequent insurrection. Since Trump took over the White House in 2017, CNP was a conduit between the administration and the far right. The CNP member conveniently omitted Trump's incitement, which led to the invasion and Trump's impeachment.