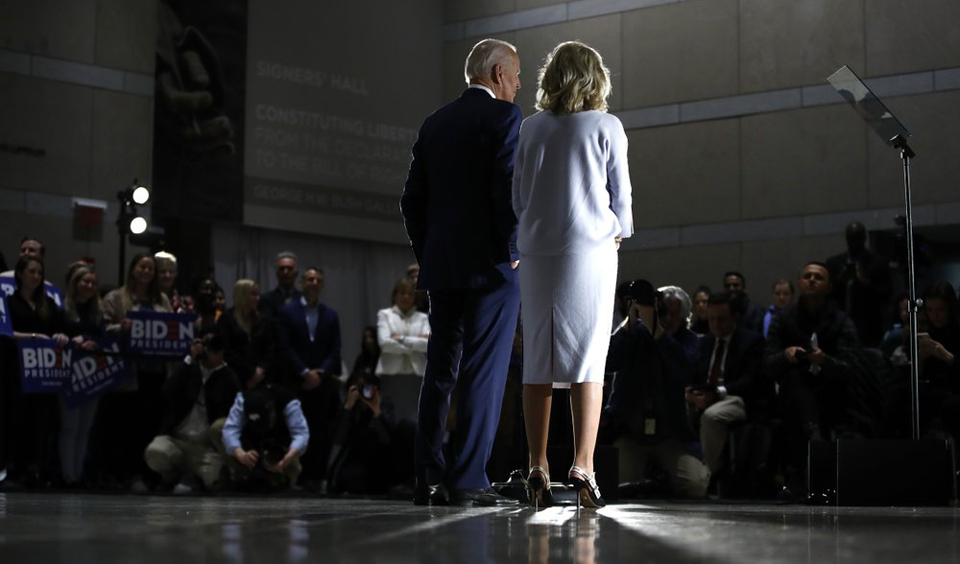 Former Vice President Joseph Biden's wins in four of the six primary states on March 10—including the key states of Michigan and Missouri—forced his top remaining foe, Sen. Bernie Sanders, Ind-Vt., home to Burlington to rethink what to do next. But Sanders has no plans to leave the race, he said at a press conference this afternoon.
Biden carried Michigan 52% to 37%, Missouri 60% to 34.5%, Mississippi 81% to 14.9%—below the share Sanders needs for delegates in that state—and Idaho 49% to 43%.
Sanders won the North Dakota caucuses by 53% to 40%. Ballots were still being counted in the second-biggest prize of the night, Washington state, where, so far, Sanders led Biden, 32.7% to 32.5%, with the rest of the state yet to report. All of that state's ballots came in by mail.
Exit polls showed Biden carrying voters across racial and gender lines and continuing his particularly strong showing among African-American voters. They accounted for one-fifth of Michigan voters and two-thirds of Mississippi's. In an upset, Sanders beat former Secretary of State Hillary Clinton in Michigan four years ago. That win kept his campaign going through the Democratic convention.
County voting maps showed Biden carrying heavily African-American Detroit. He also won among white working-class voters—including factory men, the key group then-GOP nominee Donald Trump took in the general election four years ago.
"Production workers responded to Biden," politically savvy United Auto Workers member Steve Noffke, a Sanders backer in Michigan, said of his colleagues. Noffke added the union took "a hands-off" stand towards the race, especially in Michigan, where it swings considerable weight in the state's politics.
Privately, however, Noffke reported UAW leaders supported Biden. "I'm a little disappointed by the labor movement not doing anything" in the race, he said. Most unions declined to endorse either hopeful, as has the AFL-CIO.
But one top unionist, Rep. David Norcross, D-N.J., an Electrical Worker and former president of the South Jersey Building and Construction Trades Council, backed Biden after the former VP's primary triumphs.
So did longtime pro-worker Rep. Marcy Kaptur of Ohio, African-American Rep. Eleanor Holmes Norton of D.C., and yet another dropout from the Democratic race, entrepreneur Andrew Yang. Rep. Mark Takano, D-Calif., endorsed Sanders.
Sanders issued no statement after the results came in. Biden and Sanders canceled rallies in Cleveland due to the coronavirus threat from big crowds and especially to older people like them. GOP Gov. Mike DeWine had declared a state of emergency and wants a ban on indoor athletic events and similar gatherings.
But Sanders told reporters outside a Michigan polling site that "we've got a whole lot of delegates to go." Speaking in Philadelphia, Biden lauded Sanders and his supporters for their commitment and enthusiasm but also said the main task now is to unite to beat Trump.
But Biden must do more than that to draw Sanders voters in with enthusiasm. Hillary Clinton failed in that task in 2016.
That means Biden must particularly find issues that appeal to the Sanders voters, such as moving towards Medicare for All, canceling student loan debt, favoring some form of free college tuition, and strong support for the right to organize. Young workers in general, and Sanders's supporters in particular, have been the driving force in the long-term Fight For $15 and a Union campaign.
Sanders doesn't have to leave the race. And the issues he's raised on the campaign trail, including income inequality and criminal justice reform, are still key to wooing and winning voters—of all races—against racist, pro-corporate, sexist Trump.
It also includes his signature platform plank, Medicare for All. Noffke reported influential Rep. Debbie Dingell, D-Mich., cited that in all but endorsing Sanders on Detroit-area Sunday talk shows. She supports Medicare for All and pointed out both her late husband, longtime Rep. John Dingell, Jr., whom she succeeded, and his father, Rep. John Dingell, Sr., introduced and pushed it. They were unsuccessful.
The March 10 results left Sanders and Biden, along with the third hopeful still in the race, Rep. Tulsi Gabbard, D-Hawaii, focusing on the next four states, whose voters cast ballots on St. Patrick's Day: The three big states of Illinois, Ohio, and Florida, plus medium-sized Arizona.
The latest pre-primary polls give Biden big leads in all three states: 55% to 26% in a poll of 457 Illinois voters, 61% to 25% in a poll of 1,216 Floridians, and 57% to 36% in RealClearPolitics's average of polls in Ohio. Biden also leads in convention delegates, 856-705. A candidate needs 1,991 delegates to win the nomination.
Biden and Sanders are scheduled to debate on March 15. But in another indication of the coronavirus's impact, the sponsoring Democratic Party said there will be no audience, no press center, and no spin room. All would feature big crowds in close quarters and thus raise the risk of infection.