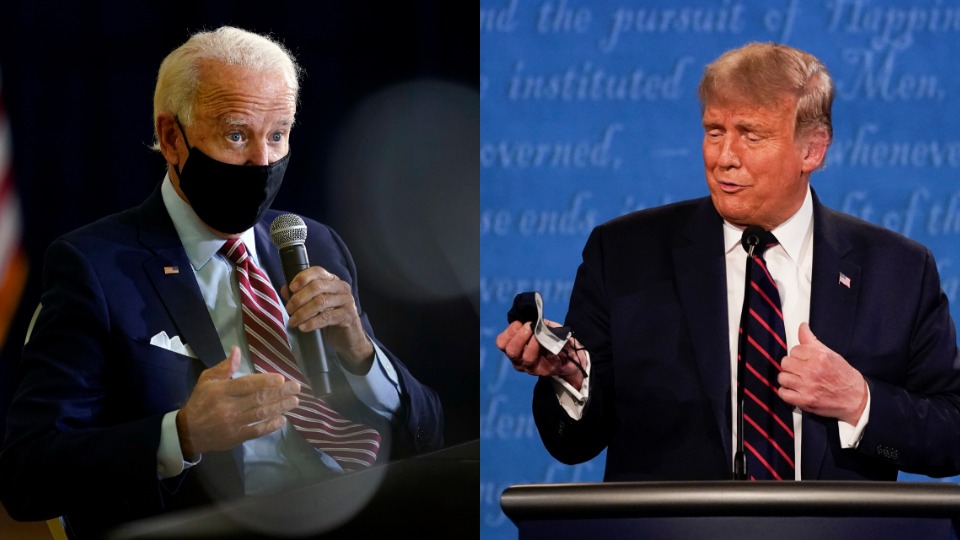 During the vice-presidential debate, Sen. Kamala Harris recounted the Trump administration's "historic failure" to address the COVID-19 pandemic. Vice President Mike Pence tried to defend the indefensible and, in desperation, claimed Joe Biden had "plagiarized" the Trump-Pence coronavirus plan, which he astonishingly touted as a great success.
FACT CHECK: The Biden campaign has released a highly detailed, science-based, public health plan for implementation on Day 1 of a new administration. The proposal is radically different from the Trump-Pence approach, or more accurately, the Trump-Pence calamity.
The Biden-Harris plan calls for a single national science-based approach that addresses both controlling the pandemic and dealing with the economic crisis. It begins with liberating the Centers for Disease Control, the Department of Health and Human Services, and other public health entities and their staffs from right-wing anti-science leadership.
Despite expected Republican resistance, a Biden-Harris administration will attempt to rally massive public support and cooperation with public health officials at every level, projecting a single national message and policy.
The general outlines of the Biden-Harris plan are:
A universal mask mandate. Biden repeatedly says mask-wearing is "patriotic" and is as much or more about protecting others, including loved ones, as it is protecting yourself. Masking up will be necessary even when a vaccine is developed and distributed because inoculating a substantial part of the population takes time.

Establishment of a COVID-19 Testing Board to vastly expand testing capability and shorten test result response times.

The Defense Production Act will be invoked to ramp up production of PPE, testing kits, and the vaccine and its distribution.

A robust system of contact tracing, including the hiring of 100,000 contact tracers, will be put in place to mitigate the virus's spread.

An extensive system to manufacture and distribute a vaccine, expected sometime early next year, will be developed. The plan will prioritize vaccination of vulnerable populations.

The U.S. will rejoin the World Health Organization. Biden follows the lead of public health experts embracing global cooperation to combat the pandemic, including the distribution of a vaccine.

Passage of a broad-based economic rescue plan like the Heroes Act, extending unemployment benefits, including an additional $600 per week, and extensive aid to states and cities, small businesses, cultural institutions, school systems, and hospitals. This approach allows the economy to reopen step-by-step as people continue to shelter in place.

Finally, Biden proposes to strengthen the ACA, develop a public option, bolster Medicaid, and reduce the qualifying age for Medicare to 60 to ensure affordable health care for tens of millions.
The Biden plan was developed in cooperation with a task force of public health experts and officials, infectious disease specialists, and other scientists, some of whom will assume positions in the new administration. They include Ron Klain, who directed the Obama approach to the Ebola pandemic; Dr. Ezekiel Emanuel, a key architect of the ACA; Dr. David Kessler, former FDA commissioner; Dr. Vivek Murthy, former Surgeon General; and former Health and Human Services Secretary Kathleen Sebelius.
Trump's plan: You're on your own
The Trump-Pence strategy to combat the COVID-19 pandemic went off the rails immediately and has indeed been, as Harris described it at the debate, a "historic failure." She cited Trump's reckless and erratic behavior and his interview with journalist Bob Woodward when he admitted to deliberately downplaying the pandemic, fearful it would hurt his re-election chances.
Now led by neuroradiologist Scott Atlas, Trump's strategy is to defeat the virus through the controversial approach of "herd immunity." It essentially means do nothing and let the virus run its course until enough people have contracted it and become immune. Doctors and researchers have warned following the strategy would be disastrous and could result in 2 million Americans' deaths. This approach is totally in line with the GOP's usual disdain for government and tells people, cities, and states: "You're on your own."
Even though he himself contracted coronavirus, Trump continues to give a wink and a nod to conspiracy theorists' claims the pandemic is a "hoax" cooked up by the Democrats and "deep-state" operatives to take down his administration. He's still telling the public that the virus will "miraculously disappear."
Trump refuses to provide frontline health workers with personal protective equipment (PPE) necessary to safely do their jobs and funds for testing and contact tracers. Simultaneously, the GOP attempts in both Congress and the courts to dismantle the Affordable Care Act, which would strip tens of millions of health care.
By not organizing a robust federal response, Trump forces states, cities, and hospitals to compete for scarce essential supplies, driving up prices and profiteering. He promotes snake oil cures and unproven drugs. His flippant attitude led to the White House becoming a virus super-spreader site that has infected the president and at least 35 others.
Trump censored public health authorities and government scientists at the CDC, pushed aside Dr. Anthony Fauci, director of the National Institute of Allergy and Infectious Diseases, in favor of Atlas, geared public messaging to his re-election campaign, and suppressed or twisted scientific data.
Trump has routinely attacked mask-wearing and social distancing and encouraged fascist militias to invade statehouses led by Democratic governors to terrorize them into reopening. His administration tried to force restarting the economy and schools despite the immense dangers, public fears, and rising COVID cases.
And finally, the refusal by Trump and the GOP to consider a new economic rescue package, including the Heroes Act passed by Congressional Democrats several months ago, kneecaps the public health response and threatens to send the entire economy into a deep nosedive. The 30 million unemployed, millions threatened with eviction, and bankrupt states, cities, and school districts need emergency assistance now.
Instead, Trump and GOP prioritize the bum-rushing of right-wing extremist Amy Coney Barrett as the new Supreme Court justice, who they hope will join a court majority in striking down the ACA.
The result of Trump's callous and reprehensible conduct is a pandemic without end, 220,000 dead and 8 million infections, and the largest economic crisis since the Great Depression, all disproportionately impacting African-American, Latino, and Indigenous communities. Much of this was avoidable.
Life and death election
The success of Biden's plan depends on the breadth and depth of a Democratic election victory. It may be possible to go beyond the program with a Biden landslide, a Democratic Senate majority, and the continued engagement of mass movements. But if the GOP retains control of the Senate, governorships, and statehouses, they will obstruct public health guidance based on science and full funding of an economic rescue and COVID-19 package.
Another unknown is how extensive the virus resurgence will be by the time a Biden administration takes office, assuming he wins. Over half of states are experiencing a resurgence heading into the flu season with widespread resistance to mask-wearing and social distancing. Even a vaccine will do little to control the pandemic immediately. And even if he loses, Trump will still be president for more than two months after the election.
If the virus is rampaging, Ezekiel Emanuel, the ACA's architect, has suggested a two-month lockdown may be necessary to crush the pandemic. GOP governors, fascist militias, and the right-wing media propaganda eco-system will fiercely resist this measure. Again, the mass democratic movements that are now playing an essential role in defeating Trump will have to be part of the fight to implement the new policy—but with the economic and health supports workers will need to survive.
Another open question is what the status of the economic recovery will be by then. Without a rescue plan now, the economic crisis could radically deepen in the coming days and weeks. Under those circumstances, the Biden administration will need to implement far greater emergency measures; already it appears necessary to enact a response on the scale of that taken by the Roosevelt administration during the Great Depression.
Crushing the pandemic and addressing the economic crisis pivot on the outcome of the Nov. 3 elections. The choice on both counts couldn't be clearer.