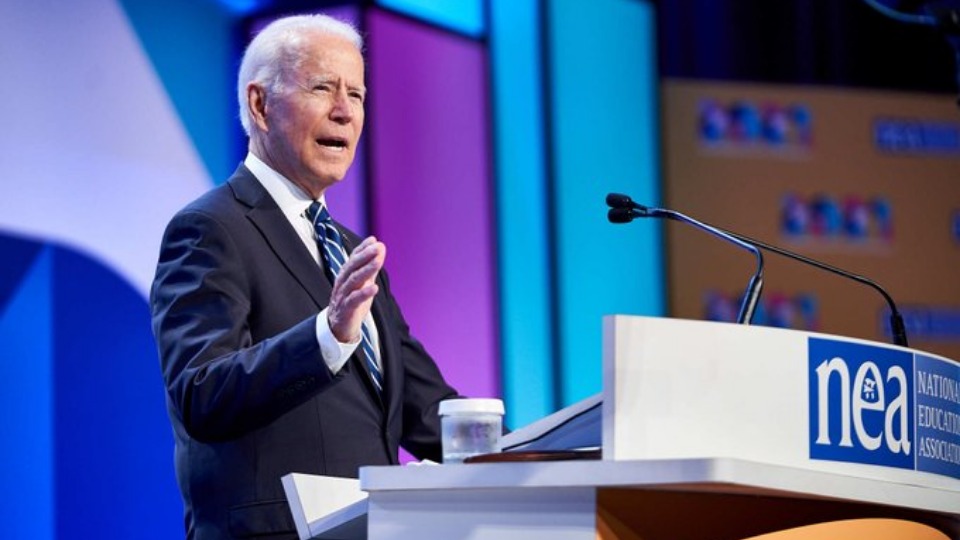 WASHINGTON—Declaring to U.S. teachers that "You deserve a raise, not just praise," Democratic President Joe Biden told convention delegates of the nation's largest union, the National Education Association, his spending plans aim at that goal and more.
"We are doing things that will fundamentally change the trajectory of this country. It's about building America from the middle up and middle out, not trickling down. There is much we can and must do," the president said.
Biden's July 2 address was one highlight of the 8,000-delegate NEA's Representative Assembly, held June 30-July 3. It was a virtual assembly this year due to the coronavirus pandemic's physical distancing rules and bans on large gatherings.
In between listening to Biden, First Lady Dr. Jill Biden—a community college English professor and NEA member—union President Becky Pringle and other speakers, delegates waded through a raft of resolutions, setting many priorities for the union for the next year. They also elected officers for the coming year, but results are not yet available.
"We've done a lot of difficult, inspirational, and truly impactful work—from electing President Biden, a true friend of educators and their unions—to voting in a new Senate, to securing historic investments in our schools, to winning court and legislative battles against attacks on our students' rights to safe and equitable schools, our rights as educators to organize, our right to exist as a union," said Pringle in her earlier keynote speech.
"We have fought for democracy, but we're not done yet.
"What's possible is going beyond educator voice to positioning ourselves as education professionals who have the authority, and the power to make the decisions that will transform public education in this country," she declared.
"With renewed strength and unwavering determination, we will lead through this attack on truth and democracy…. We will fight for honesty in education."
Biden didn't tackle the right-wing nativist threat to U.S. democracy, which Pringle and NEA Executive Director Kim Anderson discussed.
Instead, he preferred to look forward, touting the fact that by the end of May, 84% of school teachers and staff nationwide had been fully vaccinated against the coronavirus and that schools will fully reopen for in-person learning—also a subject of convention debate.
"Over the last year, the entire country has witnessed the extraordinary dedication and resolve of the NEA members—teachers, professionals, who had to be not just educators, but tech support, social workers, often while trying to take care of their own children," Biden said.
Biden also praised support staffers, such as school bus drivers dropping off meals and school tech experts making sure all students, even those whose families couldn't afford the devices, were wired into distance learning after the cascading school shutdowns in spring 2020 to battle the pandemic.
"You know, there's been so much heroic work to help children stay connected to school and to each other. The American people saw it. They get it. And they understand what you've been saying for years: That you are professionals, all of you. All of you. All of us have a responsibility to make sure that you have what you need to educate our children safely, equitably, and well.
"But as I've said many times, it's not enough just to get back to normal. We have to build back better than ever, especially our education system," he declared.
Biden touted the first $1.9 trillion American Rescue Act, which included $170 billion for schools and state and local governments that fund them. The money is to be used "to make sure schools are safe and to keep you on the job and in the classrooms.
"Now we have an opportunity to make the game-changing investments for educators, students, and families, and make it even better."
Biden pivoted to pushing the two pieces of legislation, the American Jobs Plan and the American Families Plan, that he's trying now to get through Congress, over intense and united GOP opposition, including looming filibuster threats in the 50-50 Senate. The jobs plan, for example, even in the "compromise" infrastructure agreement Biden reached with a bipartisan group of senators, would create tens of thousands of union jobs. The jobs he touted to the NEA would have trained unionists to replace all the lead-lined water pipes in the U.S., including in U.S. schools.
"My budget invests $20 billion more in Title I schools," he added, a 40%+ increase for those schools with the greatest numbers of kids from low-income families. "No student's education should depend on their ZIP code. It would represent a historic effort to close the funding gap between rich and poor districts."
Biden also wants to invest $9 billion in teacher education, to both diversify the teaching workforce and to stop its constant "brain drain."
"And one of the first things that funding will be used for is to help educators in those schools get the raises they deserve and the resources they need," he said, to applause from the delegates, via Zoom. "The idea that we have a large portion of our student population living in ZIP codes where they cannot afford the kind of education and can't pay the teachers enough in those schools to educate them, it makes no sense."
Pringle, a Philadelphia science teacher, used her speech to lay out an agenda for transforming the schools. The way she phrased that goal may raise right-wing hackles. "We, the NEA, will lead a movement that unites not just our members, but the entire nation to reclaim public education as a common good, and then transform it into something it was never designed to be: A racially and socially just and equitable system that prepares every student, every one, to succeed in a diverse and interdependent world; to be those leaders of a just society," Pringle declared.
"Our democracy is the foundation of a society which is supposed to value equal voice, respect for all, and the dignity of spirited but civil discourse," added union Executive Director Kim Anderson.
"And where do we learn to put those values into action? In our schools and on our campuses. In other words, the answer to a weakened democracy is a strong, just system of public education. And it's our job, as members of this union, to fight for it."
The big-ticket resolution delegates adopted sets up a wide-ranging task force to craft "criteria for safe, just, and equitable schools," notably reiterating NEA's opposition to putting armed cops in schools. That's a favorite cause of the notorious right-wing gun lobby, the National Rifle Association. The resolution, from NEA leaders, passed by an 88%-12% margin.
A separate resolution adopted from the floor told the NEA's Legislative Department to lobby against militarization of police forces, including the police inserted in schools.
"This work will also support campaigns that eliminate the school-to-prison and school-to-deportation pipelines; seek to remedy economic injustices, which include housing insecurity, food insecurity, and limited or no access to health care and childcare; and advocate for funding that addresses resource disparities based upon race, income, and geographic wealth patterns—plus other work required to reduce social and economic barriers that limit students' academic and economic progress," an NEA summary says.
"We believe in and want safe, just, and equitable schools for all students, regardless of race and place. Some may try to divide us, but we know that by working together, we will create public schools that affirm students' and educators' full identities, their creativity, and environments in which to thrive," Pringle said in arguing for the task force.
 Other notable resolutions included:
Two resolutions that came down hard against right-wing and corporate privatization of schools and their services. The first puts the three-million-member union on record against any privatization with "the purpose or effect of causing or maintaining racial segregation, including institutional or systemic racism, in the public schools."
The second resolution was more specific, opposing privatization of school buses and cafeterias that displace public workers. Left unsaid: Most of those school employees are workers of color. It also opposes no-bid contracts and school board requests for bids "that do not provide opportunities for female- and minority-owned businesses to compete."
That same resolution declares "NEA opposes the use of private-sector companies hostile to labor unions or that interfere with employees in the exercise of their right to organize and bargain collectively."
Telling the union's legislative department to lobby for federal guidelines that keep "remote" or "hybrid" learning going when local health departments decide large gatherings are unsafe due to the coronavirus's community spread threat.
Told that department to lobby for "expanded voting hours during federal elections, expanded access to polling places for voters with disabilities, and" for using "a utility bill as an acceptable form of identification if ID is required at polling places."
Several resolutions dealing with other controversies were defeated or sidetracked into committees. One which lost demanded a complete cutoff of U.S. aid to both Israel and Saudi Arabia, citing repression of the Palestinians.
Another proposed NEA "form and lead a committee of 12-15 people that includes members from some of the other larger national unions in the country to discuss and address the issues of police unions," with racial justice at the forefront of the discussion.
"The committee will make recommendations to the labor movement on what role we should play in putting an end to police unions' ability to protect violent cops, harmful policing practices, and racist policies that too often lead to the terrorizing and deaths of our students and their family members," it said. The resolution, by Stephen Siegel of Oregon, lost.
"Contrary to some labor leaders who are unwilling to differentiate between police unions and other unions, there is a clear distinction. No other union represents members who can terrorize, brutalize, or take the life of another person with almost complete impunity," Siegel said. Left unsaid: A recent AFL-CIO report walking a fine line on police unions and reform.
And a resolution by Mirielle Henderson of Maryland demanded NEA refuse to hold future conventions in states that suppress voting rights. It was "referred to the appropriate committee" i.e. sidelined. The next two NEA conventions are in 2023 in Dallas and 2024 in Orlando. Fla. The GOP-dominated legislatures in both states approved and right-wing GOP governors signed tough voter restriction laws targeting people of color.