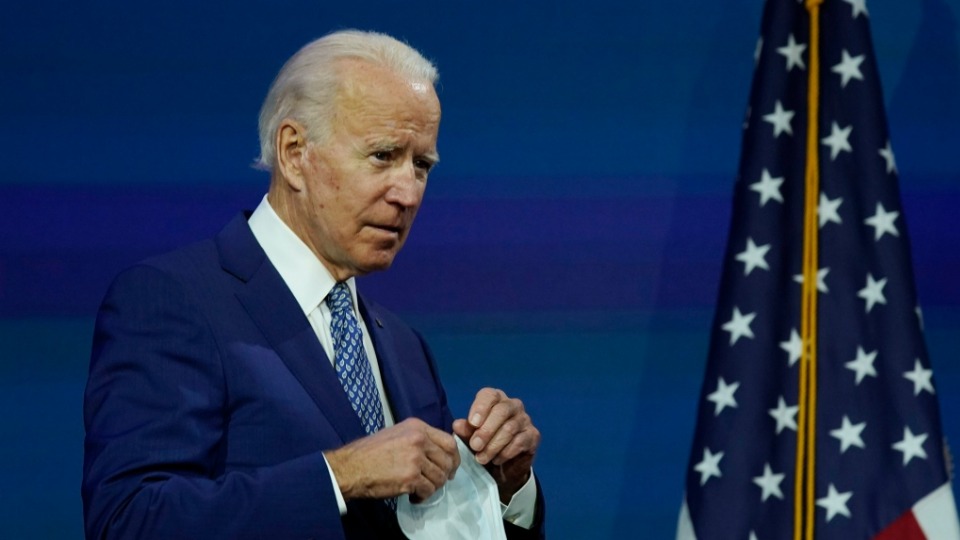 WASHINGTON — On his 99th day in office, President Joe Biden will use his first joint address to Congress to push for a $1.8 trillion program aimed at children, families, and the nation's schools that, if it becomes law, will radically alter the role of government in the U.S. More than at any time since FDR's New Deal, the federal government would be using its power to benefit the nation's working-class majority.
Biden will make his pitch Wednesday night in a U.S. Capitol surrounded by fences and barbed wire necessitated after former President Donald Trump incited his followers to carry out an insurrection against the U.S. government on Jan. 6. Sitting in front of the joint gathering will be the president and two women, itself a historic setting. One of those women, Vice President Kamala Harris, is a woman of color. The other is Nancy Pelosi, the Speaker of the House. For most of the nation's history, three older white men have occupied those positions in the chamber.
The program Biden lays out will not be just an ordinary reform program but one that shifts the balance of forces in favor of the working class on several important fronts. His proposal for universal pre-school will be for every single person in the country who has children. It will be paired with a proposal for two years of free community college for everyone. The program called the American Families Act will also lay out $225 billion for child care and monthly payments no smaller than $250 to parents for each child.
Had the American Families Act been in place as the pandemic enveloped the nation a year ago, so much of the devastation and suffering experienced by the population would have been avoided. As radical as it may seem, the Biden plan is similar to what has been in place for generations in most of the social democracies on the planet.
He is expected to discuss in detail the progress his administration has made in fighting the coronavirus pandemic. That fight has featured hundreds of millions of vaccinations and relief checks delivered to many millions to try to offset some of the effects of a pandemic that has killed more than 573,000 people in the country.
He will also push for his $2.3 trillion infrastructure program, which has come under heavy fire from Republicans. That plan is to be financed by higher taxes on the wealthy and corporations, something favored by majorities of Americans.
This time of unprecedented national disaster is precisely the time for major radical change aimed at remaking the economy as a force that works for the working-class majority in the country. No small patchwork reforms can measure up to the necessary tasks at hand.
Biden will be under pressure to go slower. Republicans will cry about government overreach and not being able to afford these massive plans.
All of this is their hypocritical non-response to the concurrent crises we face in this country. The GOP never cared about spending and deficits until Biden became president. When Republicans controlled the White House and both houses of Congress, they ran up historic multi-trillion-dollar deficits to fund their tax cuts for the rich. When there are plans underway to do something for the working-class majority, they are worried about spending and deficits.
Radical action is what is needed, and it is also what is supported by the American people. According to the polls, Biden's $1.9 trillion American Rescue Act to battle the pandemic has the support of 79% of the public. Resisting the GOP outcry and passing these plans without their support will, as it has with the American Rescue Act, result in increased support for the Biden and the Democrats. Caving in to the pressure and going small will cost them in the eyes of the people in the country, who are desperate for action.
Many presidents, particularly those just sworn in for the first time, hold their first address to Congress earlier in the year than has Biden. Such speeches are often aimed at taking advantage of the support new presidents automatically have right after a celebratory inauguration—the "honeymoon" period. Biden has wisely waited because he can now present the message of concrete success in battling the pandemic, which will go over well with the American people. They are getting more than just promises; they will receive a progress report on the success that has benefitted them concretely.
Republicans have no answer to this. Many are begging out of attending, saying they have scheduling and other conflicts. Senate GOP leader Mitch McConnell said Biden ran as a moderate, but he can think of hardly anything moderate about him. Mitch does not understand that most Americans understand that sweeping reform, not "moderation," is needed to deal with the historic crises the country is facing.
Nevertheless, the desire of the administration for swift action is the result of political necessity. Biden understands that the time for passing his agenda could be perilously short, given that presidents' parties historically lose congressional seats in the midterm elections, which are less than two years away from now. The Democrats' margins are already razor-thin—and are being made even more perilous for them by loss of congressional seats in states carried by Biden as a result of a census run by the Trump administration.
A key part of Biden's speech will be his call for a national reckoning over race in the nation and a call for passage of the George Floyd police reform bill. Having a president who admits to systemic racism in America and the need to deal with it is itself a radical change from what the nation endured during the Trump years. Along with police reform, gun control and immigration reform will also be on the agenda tonight.
The speech will be about a lot more than just the accomplishments of the Biden administration thus far, as impressive as they are. They include the $1.9 trillion COVID relief bill, passed with no GOP support whatsoever, and the direct payments of $1,400 per person to 160 million households. Hundreds of billions of dollars are already beginning to arrive for state and local governments. Most economists say the country is well on the way to restoring the 8.4 million jobs lost to the pandemic.
Only the radical reforms Biden is proposing tonight can sustain those gains. The "families" plan with $1.8 trillion worth of spending over 10 years is critical to cementing and maintaining them.
Families would receive at least $250 monthly per child through 2025, extending the enhanced tax credit part of Biden's COVID-19 aid. There would be $200 billion for free preschool for all 3- and 4-year-olds. Another $225 billion would pay for subsidized child care and invest in child care workers.
The American Families Plan would start a national paid family and medical leave program at the cost of $225 billion. Another $200 billion would permanently reduce health insurance premiums for people who receive coverage through the Affordable Care Act.
With $109 billion allocated, people could attend community college tuition-free for two years. There would be $85 billion for Pell Grants to help more people afford higher education. Historically Black and tribal institutions would be eligible to receive $46 billion.
Funding all of this would be a series of tax increases on the wealthy that would raise about $1.5 trillion over a decade.
None of this should be seen as simply an issue over which to wage a political battle. If the plans Biden is pushing become law, there will be a new day in America. Inventors, doctors, and scientists will emerge from among the poor and the working class, for example. Talent and human abilities now unavailable to the world could become available to us all.
These reforms must be won.