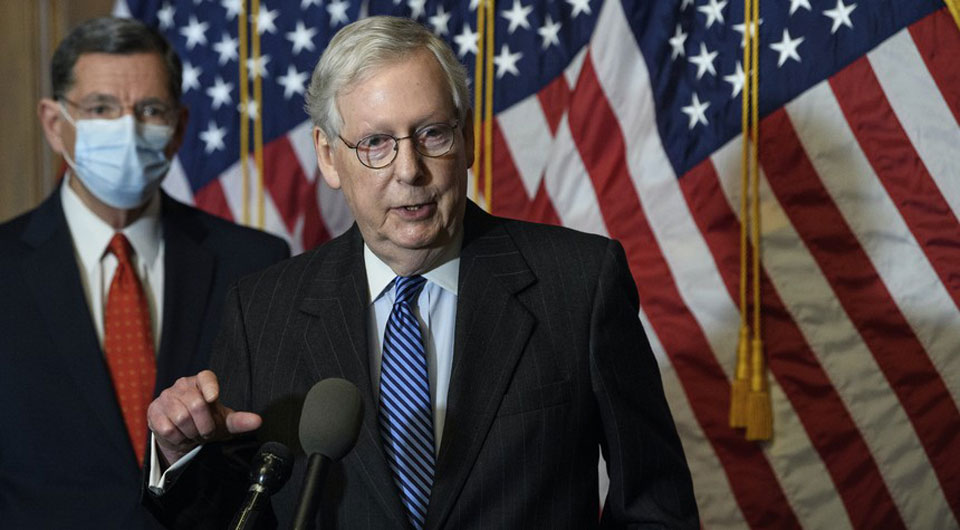 WASHINGTON— President Biden, the AFL-CIO, top unions, and key progressives condemned Senate Republicans' defeat—again—of key legislation to protect voting rights and stop voter repression measures running rampant in Republican-run states from coast to coast.
By a 49-51 vote, lawmakers refused to even start debate on the Freedom To Vote Act, crafted by "moderate" Sen. Joe Manchin, D-W. Va., to attract the needed 10 GOP votes in the 50-50 Senate.
The loss emphasizes the importance of eliminating the filibuster. Senate Minority Leader Mitch McConnell, R-Ky., threatened to start a filibuster to kill the bill even if the debate on it only began. He has also threatened a "nuclear winter" in the Senate if Democrats, in an attempt to salvage voting rights, try to eliminate the filibuster.
The Republicans' continued use of the racist-originated Senate rule, which is perpetuating their minority rule and the corporate agenda—has led the AFL-CIO and other progressive organizations to demand senators abolish it.
All 50 Republicans opposed starting debate and 47 of the 48 Democrats and both independents voted for it. Senate Majority Leader Charles Schumer, D-N.Y., who wanted to start debate, had to switch to "no" so he would have the power, as a member of the "winners," to try to reverse the vote in the future.
"The Freedom To Vote Act, which failed today to get 60 votes to overcome a filibuster in the U.S. Senate, would have protected the right of every American to cast our vote and have that vote counted. To save American democracy, we need democracy in the U.S. Senate," AFL-CIO President Liz Shuler said.
The Republicans' voter repression measures, derisively termed as "Jim Crow 2.0" would bar millions of workers, people of color, women, youth, and some elderly from voting. Stopping those voters from even casting ballots also advances the GOP's pro-corporate and pro-1% agenda, while catering to the party's white nationalist base.
That irate base, stirred by venomous lies from their leader, former GOP Oval Office occupant Donald Trump, about "fraud" and "stop the steal" in 2020, attempted the Jan. 6 coup in the Capitol.
Denial of voting rights harms groups that lean Democratic, especially since the bill killed yesterday would have restored some teeth to the 1965 Voting Rights Act.  The defeat on voting rights could also demoralize progressive voters and cause them to sit out 2021 and 2022 elections.
The bill that was defeated was actually a weaker version of the more comprehensive For the People Act passed in the House. Democrats allowed Sen. Manchin to draft the weaker substitute because he argued that he could get Republicans in the Senate to come on board and vote for it. In the end, he was not able to convince a single Republican senator to vote for his bill, making all his claims about being the one who could bring Republicans along into shallow, meaningless promises. The bill spurned by Senate Republicans was essentially a Manchin bill.
"If our Republican colleagues don't like our ideas for fighting voter suppression and guarding against election subversion, then they ought to tell us what they have in mind," a pissed-off Senate Majority Leader Schumer said. "What is there to be afraid of by allowing a debate?"
Pulled no punches
Biden pulled no punches about the Republicans, even before the vote began.
"The United States Senate needs to act to protect the sacred constitutional right to vote, which is under unrelenting assault by proponents of the Big Lie and Republican Governors, Secretaries Of State, Attorneys-General, and state legislatures across the nation.
"Senate Democrats would like to start debate on the Freedom To Vote Act (the Manchin compromise bill)," he said in a statement just before the 3 p.m roll call. "Democrats worked hard to ensure this bill includes traditionally bipartisan provisions. But Senate Republicans are likely to block even debate on the bill, as they have before on previous voting rights bills. It's unconscionable.
"The right to vote–to vote freely, to vote fairly, and to have your vote counted–is fundamental. It should be simple and straightforward. Let there be a debate and let there be a vote."
Biden, however, was silent on the GOP's threat to use the filibuster to kill the bill. Other commenters, including unions, weren't.
"A legislative package addressing voting rights, racial gerrymandering, and powerful big money special interests groups failed in the Senate," Service Employees President Mary Kay Henry said. "We cannot let the arcane rules of the Senate block the will of the American people," she declared.
"No matter what you look like, where you're from, or what you do for a living, we all want to have an equal say in how our country runs…By failing to move the Freedom to Vote Act forward, Republican Senators have once again shown they have no problem with the hundreds of racist and undemocratic legislative attacks on voters happening around the country.
"The Freedom to Vote Act is the bold action needed to end this assault on voting rights."
"Our elected leaders should govern for all of us, no exceptions," declared Becky Pringle, a Philadelphia middle school science teacher and president of the National Education Association, the nation's largest union. The Republicans, she said, aren't governing like that.
"Protecting our democracy should transcend race, place, and political persuasion," said Pringle, who is Black. "Minority Leader Mitch McConnell and other Republicans again failed to protect our democracy by standing in the way of advancing The Freedom To Vote Act.
"I am struggling with how to explain their indefensible action to our students, who are watching as they try to restrict access to our democracy and stack the deck against them. We will not be silent. And we should not allow Senate procedure to stop critical legislation like this from passing."
A sacred right for all
Calling voting "a sacred right for all," she vowed the three-million member union "will not rest until all Americans have their voices heard and can cast their ballots safely and freely."
House Majority Leader Steny Hoyer, D-Md., who helped shepherd the stronger bill McConnell sidelined earlier this year, was similarly caustic. "Because of the filibuster, however, an arcane rule that has historically been weaponized against civil rights, voting rights, and equality legislation, the very foundation of our democracy is at risk," he declared.
Common Cause also denounced the GOP and set up on its website automatic phone banks, a sample letter to the editor, and a webinar to tutor people on how to lobby lawmakers to end the filibuster.
"We know that our freedom to vote is under attack. In the last year, we've seen numerous racist, anti-voter laws like those recently passed in Texas and Georgia go into effect.
"If there's anything we learned from the January 6 insurrection, it's that our democracy is fragile and cannot be taken for granted. So, we can't sit back and let our voting rights be stripped away from us.
"Without the protections of the John Lewis Voting Rights Advancement Act and the Freedom to Vote Act, voters must overcome discriminatory laws and needless barriers just to have a voice in our democracy."
"Senate Republicans yet again made the shameful choice to put partisan politics ahead of the strength of our democracy," Common Cause said. "Democrats must use any means necessary to move the critical Freedom to Vote Act. The filibuster, an arcane rule of procedure, must not be more important than maintaining a democracy that can deliver.
"The gravity of this moment is unlike anything that this country has been through. It is not an overstatement to say the health of our union depends on it."
People for the American Way also joined the chorus calling for an end to the filibuster, in the wake of the vote. So did a resolution the Communications Workers convention delegates approved, vowing the union will lobby lawmakers to abolish it. Convention delegates voted just before the senators did (see separate resolutions story).
But People for the American Way found one other ray of light in the gloom: What it called the prospect that Biden, a senator for more than 30 years before becoming Barack Obama's vice president, and a Senate institutionalist, would change his mind and advocate abolishing filibusters.
"When asked yesterday about the Freedom To Vote Act, White House Press Secretary Jen Psaki said 'If Republicans cannot come forward and stop standing in the way then Democrats are going to have to determine an alternative path forward.' In response to a follow-up question, she said "the president is committed to getting voting rights done.'"
"That 'alternative path' is code for fixing the filibuster, and that word choice shows movement on the White House's public posture as a direct result of our efforts," the group commented.