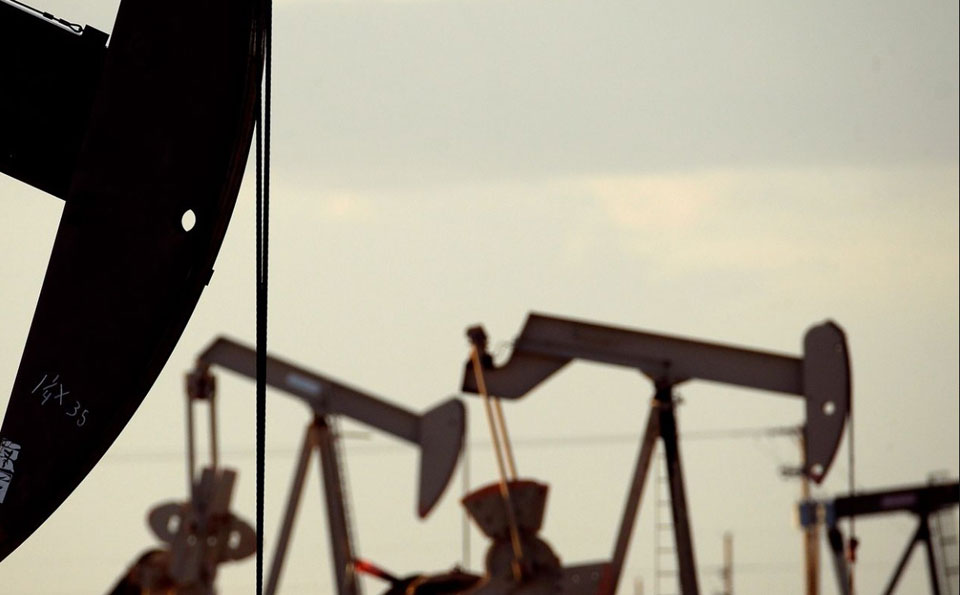 WASHINGTON—To environmentalist cheers, President Joe Biden has halted oil and gas leasing on federal lands. His moratorium effectively halts drilling plans and reverses the former GOP Trump regime's headlong rush to open those areas to corporate exploitation at the expense of workers, residents, and the environment.
The oil and gas leasing halt was part of a wide range of pro-green orders Biden issued in what he called a "whole of government approach" to environmental solutions. His approach is designed to battle climate change by relying on scientific findings demanding it and then implementing solutions.
"Dealing with the climate crisis and revitalizing our economy with well-paying jobs are one and the same," Biden said. "We're going to take money and invest it in clean energy, millions of dollars in wind, geothermal and solar."
Again, that was exactly the opposite of both how Trump approached climate change by denying science and what he did, which was worse than nothing: Enable polluters.
Or, as Nicole Cantello, president of the Government Employees local which represents Environmental Protection Agency workers put it in a Jan. 26 press call on another issue, "EPA was the agency Trump wanted to destroy the most," along with its mission to clean up the U.S.
Besides halting oil and gas leasing, Biden ordered his government to "address the climate crisis at the scale and scope demanded by science," the BlueGreen Alliance, a coalition of unions and environmental organizations, said. Biden's order also said he will "center climate in our foreign policy."
The White House will "coordinate governmental solutions centered on achieving economic and environmental justice and quality, union job creation, help[ing] impacted coal communities and workers and directing federal agencies to institute science and evidence-based decision-making."
Biden pledged his government will buy U.S.-made zero-emitting cars and trucks, which is important because the federal government is one of the largest fleet markets in the country. The feds also plan to buy "clean power," generated from wind and solar sources, he stated.
But the oil and gas leasing moratorium drew particular notice, because of how much is done on federally controlled lands, especially in the Mountain States—a GOP-dominated area, except Colorado–where the government owns a huge share of total acreage.
Biden's moratorium symbolizes "an environmental approach our nation has lacked for far too long," said BlueGreen Alliance Executive Director Jason Walsh, a former Obama-Biden administration White House aide.
Blue-Green Alliance backs the plan
"President Biden understands the reality and the severity of the climate crisis and knows how important it is to listen to experts and respond to it at the scale that science demands while simultaneously addressing economic and racial inequality and driving the creation of family-sustaining, union jobs."
"We are also excited to see [Biden] support to workers and communities impacted by our nation's transition to cleaner, cheaper forms of energy. These workers powered our nation for decades and we must ensure no community or worker is left behind as we move toward building the clean economy."
"Never has there been an administration that is vocally ambitious on how to combat climate change, how to build an equitable economy, and how to ensure clean air and water for all communities. We won't get what we don't ask for, and we're urging the Biden-Harris administration to not only be the most pro-climate and pro-environment White House in history but to reimagine and build a world safe and healthy for all," said Dalal Aboulhosn, the Sierra Club's acting deputy director for policy and law.
Environmental Defense Fund President Fred Krupp agreed, adding communities of color will particularly benefit from the leasing ban. That's because not only do rapacious polluters exploit those workers, but workers' low incomes often force them and their families to live in heavily polluted areas, increasing adult illnesses such as cancer and chemical hazards to children.
"The administration's commitment to rapidly cut climate pollution, create good jobs now and in the future, and build healthier communities—especially communities of color unfairly burdened by pollution—demonstrates significant progress in the fight to protect our climate," said Krupp.
"With today's orders President Biden seeks to not only repair this damage but to prevent future injustices and build back better," he said.
That means encouraging and building "clean" factories with good, well-paying jobs, Krupp declared. Biden has often said they must be union jobs, too. That's important, as only 5% or so of green jobs are union jobs, while traditional energy sources—oil, coal, natural gas, and nuclear—employ a far higher share of union workers, including construction workers who build pipelines and power plants.
The contrast led North America's Building Trades Unions to raise the only caution flag about Biden's orders. Lumping Biden together with green groups, NABTU said "we welcome this administration and the opposition for this and hundreds of other projects to engage with us on a rational national strategy going forward that does not treat workers, their families, and entire communities as an afterthought, but makes them equal to economic and climate imperatives." It issued that statement, which applies to the leases, after Biden yanked Trump's federal license for another controversial pipeline, Keystone XL.
Green groups also picked up another win on Jan. 26, in court. Seattle environmental attorney Jon Hasselman tweeted a federal appeals court upheld a lower court ban of more work on the controversial Dakota Access Pipeline project.
The court said its sponsors, oil companies, and the Army Corps of Engineers, must undertake a full-scale environmental impact review of DAPL. That could take months or years.
The Standing Rock Sioux, whose sacred lands DAPL would traverse—and dig up—sued to stop it. They and green groups also pointed out the oil pipeline's spill hazard to the Missouri River, the area's top drinking water source.  "Time for the Biden admin to close this chapter," Hasselman's tweet concluded.
Like free stuff? So do we. Here at People's World, we believe strongly in the mission of keeping the labor and democratic movements informed so they are prepared for the struggle. But we need your help. While our content is free for readers (something we are proud of) it takes money — a lot of it — to produce and cover the stories you see in our pages. Only you, our readers and supporters, can keep us going. Only you can make sure we keep the news that matters free of paywalls and advertisements. If you enjoy reading People's World and the stories we bring you, support our work by becoming a $5 monthly sustainer today.