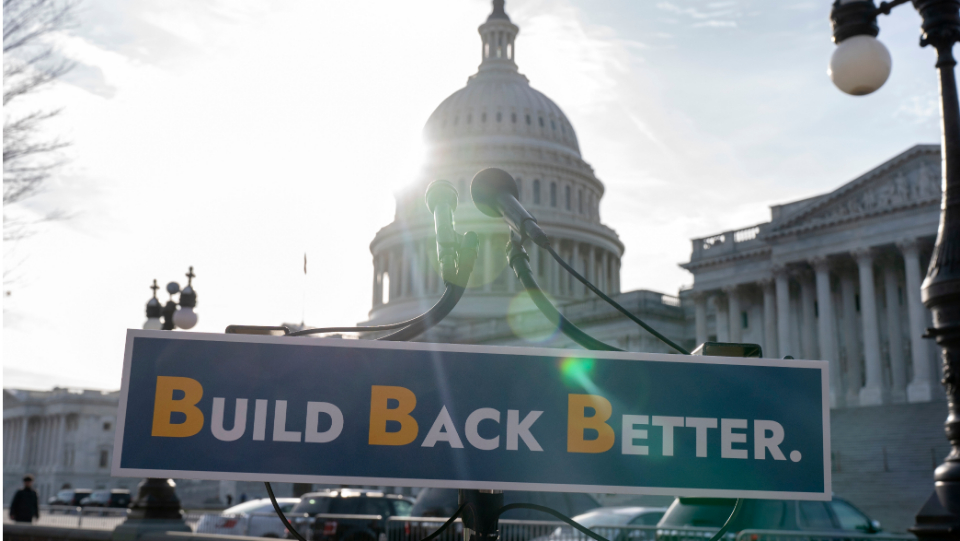 President Joe Biden and the Democrats are celebrating the passage of the Inflation Reduction Act, a stripped down version of the Build Back Better agenda.
The new bill will help reduce inflation, address climate change, and ease economic hardship— a little, over time, and with conditions. But that's still a big deal.
This smaller yet still sweeping new law makes landmark investments in climate, jobs, and health care, which it funds entirely by taxing big corporations and going after wealthy tax cheats. That's going to make a huge difference for working people while still reducing the deficit.
For starters, the bill marks the largest investment in clean energy in the history of this country.
It invests $370 billion over 10 years in greening our economy. It will reduce U.S. carbon emissions by 40% by 2030, help poor and low-income people retrofit and electrify their homes, and clean up pollution in poor communities. And it will create 9 million new jobs over the next decade, especially in the communities that need them most.
The bill will also bring health care costs down.
It allows Medicare, for the first time, to negotiate the prices of certain expensive medications. Notably, insulin costs will be capped at $35 per month, and out-of-pocket drug prices for those receiving Medicare will be capped annually at $2,000.
This will help many seniors weather inflation and could bring down drug prices across the entire market—especially if Medicare gets to negotiate over more drugs in the future. These price controls won't kick in right away, however, so the immediate effect on household costs isn't clear.
What is immediate, though, is that millions of people will now avoid a drastic increase in Affordable Care Act premiums that would have put health coverage suddenly out of reach this fall. And vaccines will be free for adults covered by federal health programs.
Finally, all of this is funded by imposing a minimum tax of 15% on the biggest corporations, levying a small tariff on corporations that buy back their own stock instead of investing in workers, and giving the IRS resources to track down tax-dodging elites.
Unfortunately, there are drawbacks. At the insistence of West Virginia Democratic Sen. Joe Manchin, the bill also includes big giveaways to the fossil fuel industry. And the original Build Back Better agenda would have gone much further to relieve the inflationary pressures families face.
Notably, it would have made the improved Child Tax Credit permanent. Created in the 2021 American Rescue Plan Act, that credit gave $250 to $300 per child, per month to families making up to $150,000 annually. It cut child poverty by 40% in its first months and was on track to reach the 50% mark before it expired.
The bigger bill also would have provided free universal preschool, subsidized child care, and made critical investments in education, health care, housing, food assistance, and more. All of it was paid for by fixing a tax system that had been rigged by corporations and the wealthiest.
Unfortunately, all Republican lawmakers—plus Democrats Manchin and Kyrsten Sinema of Arizona—derailed that legislation.
So the Inflation Reduction Act isn't everything we should have gotten. But it still takes a significant step forward on climate, creates millions of jobs, offers critical help for seniors and low-income families, and brings a little more fairness to our grossly unfair tax system.
It should be a first step—not the last.
Many climate justice organizations are now calling for Biden to declare a national climate emergency, which would enable him to set a better course for reducing carbon emissions than this bill alone. Other advocates are going to keep fighting for those bigger investments from Build Back Better.
Eventually, more and better legislation must pass. But the Inflation Reduction Act is a mostly laudable, necessary start.
Institute for Policy Studies / OtherWords