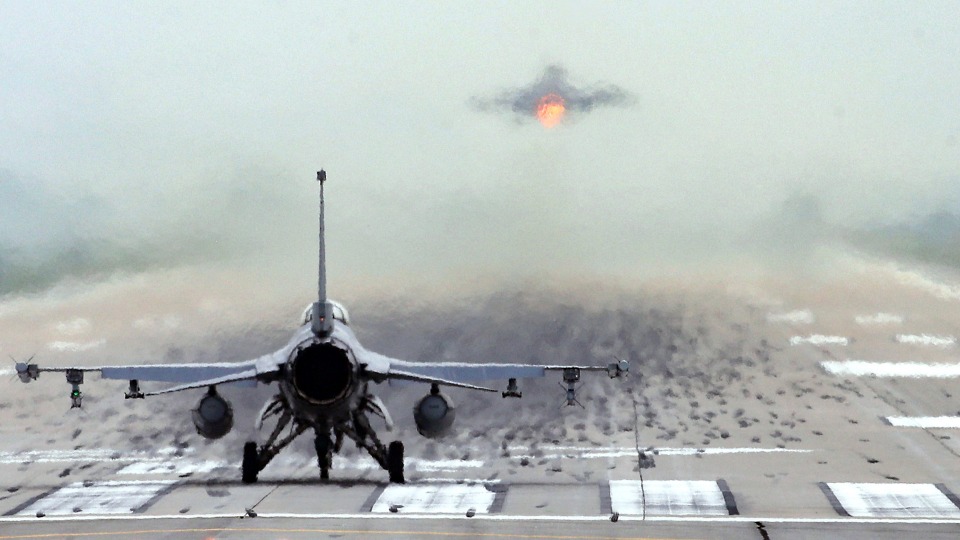 Talks between the U.S. and South Korea are not encouraging to peace activists who want to see a new direction in U.S. foreign policy. It is clear that the Biden administration intends to continue keeping large numbers of troops stationed in that country, leaving unchanged a situation that has been going on since the Korean War in 1953.
Korea is just one of many countries where the U.S., having once sent troops to enforce its policy, seems like it will never leave. During the Cold War, the Soviet Union was portrayed as the enemy muscling its way into the affairs of many countries, yet it was the USSR that regularly removed its troops from places in which they were once stationed. Now, after the removal of the Soviet Union entirely from the world scene, there are still U.S. troops stationed all around the globe.
There are well over 300 U.S. military bases all over the planet. Russia today has only one base outside the territory of the former Soviet Union, and China does not maintain a single military base outside of its own territory.
The agreement Biden is hammering out with Korea is that the U.S. will pay for most of the cost of maintaining that country's "defense." NATO allies are also already being told that the Biden administration will cut them a "break" by ending pressure to get them to shoulder more of the cost of keeping up NATO.
All of these arrangements are ones that will drive up the annual cost of the military budget to Americans, reducing what is available to be spent on meeting the needs of the people.
The American Rescue Act is rightly being touted as the most progressive legislation to be passed since Franklin Delano Roosevelt's New Deal. It is dwarfed, however, by the amounts of money the U.S. pours into its war machine. The operations in Iraq alone, for example, cost the American taxpayer an estimated $4 trillion.
And there are real indications that all of this money produces not just death and destruction abroad but does nothing to improve conditions in the U.S.
The fossil fuel corporations long pushed the idea of "energy independence" for the United States. Now that the "independence" is a reality, they continue the push for dominance over the Middle East's oil resources. Now the issue for them is keeping that oil out of the hands of Russia and China and, of course, the U.S. taxpayers have to foot the bill for the military means to maintain the control of the multi-national energy companies over that region.
The Biden agreement with South Korea on sharing the cost of keeping U.S. troops on the Korean Peninsula is that South Korea will boost its share of the cost by 13%, a much better deal for South Korea than the demand by former President Trump that they increase their share by 500%.
Why are American working-class taxpayers being fleeced this way to pay for keeping U.S. troops in South Korea and nuclear missiles stationed all around that peninsula? Major corporate interests in the U.S. see this as important in strengthening their ability to compete with China, which is now portrayed by them as the biggest security threat to the United States. Russia, of course, in their view, is not far behind in its role as a "security threat."
The focus on confronting China and Russia, an aim of significant portions of the U.S. ruling class, is not new. It actually was evident during all of the Trump years and during the Obama years before that. Constant troubles in the Middle East, however, continually forced the U.S. to divert its attention there. Biden's attack on Syria recently is seen by many as a possible attempt to tamp down any new problems that could divert from focusing more attention on Asia and the Pacific.
Biden is planning a major meeting with leading Asian countries, including Japan, Australia, and India, to signal his commitment to focusing more on Asia. It's a major step in the policy of "containing" China and Russia.
It would be great if the announced Biden goal of "partnering in the Asia Pacific Region" meant real partnership with those other countries, including China and Russia, to hammer out a cooperative policy in which all sides contribute to smashing the COVID-19 pandemic and boosting the world economy in the interests of the people of all the countries involved. So far, however, the "partnering" looks like it will be an attempt to pressure Japan, India, and Australia into joining a U.S. push to confront China and Russia.
After those meetings, Secretary of State Anthony Blinken will meet with Chinese officials. With those meetings under his belt, Blinken expects he will have more with which to put pressure on China.
We must be forgiven for expressing serious reservations about Biden's policy in Asia and the Pacific even as we praise his American Rescue Act on the home-front. A few days before the election last November, candidate Biden foreshadowed what could be frightening intentions toward Korea and the Asian-Pacific region in an opinion article he wrote for South Korea's Yonhap News Agency. In the article, Biden praised the South Koreans' role in an alliance "forged in blood," and he promised a "new approach" to Seoul if he were to win.
"Words matter—and a president's words matter even more," Biden wrote. "As president, I'll stand with South Korea, strengthening our alliance to safeguard peace in East Asia and beyond, rather than extorting Seoul with reckless threats to remove our troops." He promised "principled diplomacy."
Statements supportive of Biden's foreign policy coming from major corporations are also worrisome.
"This administration is trying to say alliances are important for us," said Bruce Bennett, an Asia specialist at the RAND Corp., adding that this goes beyond South Korea to include other traditional Asian allies like Japan. Biden officials "know they've got a substantial issue trying to deal with the Chinese threat. So making their relationship closer with allies is a key part of the strategy for doing that."
The top U.S. commander in South Korea, Adm. Philip Davidson, has called the area "the most consequential region for America's future."
Last month, the U.S. and Japan agreed to a one-year extension of their cost-sharing agreement for the U.S. troop presence in that country; the State Department said this allowed more time to negotiate a longer deal.
Another dangerous idea that is being put forward by some supporters of the Biden administration and by some inside the administration is that renewal of the U.S. economy at home and strengthening of the U.S. ability to confront China abroad are part of the same strategy to create U.S. pre-eminence around the world.
"There is a widely held view in the Biden administration that the U.S. should deal with China from a position of strength, which requires strengthening our alliances as well as renewing our own country," said Bonnie S. Glaser, director of the China Power Project at the Center for Strategic and International Studies.
The implications of Biden's foreign policy for world peace and progress here at home are many. One thing for sure right now, however, is that the direction in which it is going will mean the American people will be continuing to pay more and more for a policy that cannot mean, in the long term, a better world for Americans or for people around the world. Peace forces are hoping that an administration that is pursuing a progressive direction in domestic policy will eventually break with what has long been a dangerous U.S. foreign policy. So far, the prospects for that don't look good. Not unless a nation and worldwide movement for peace rises up and forces change.