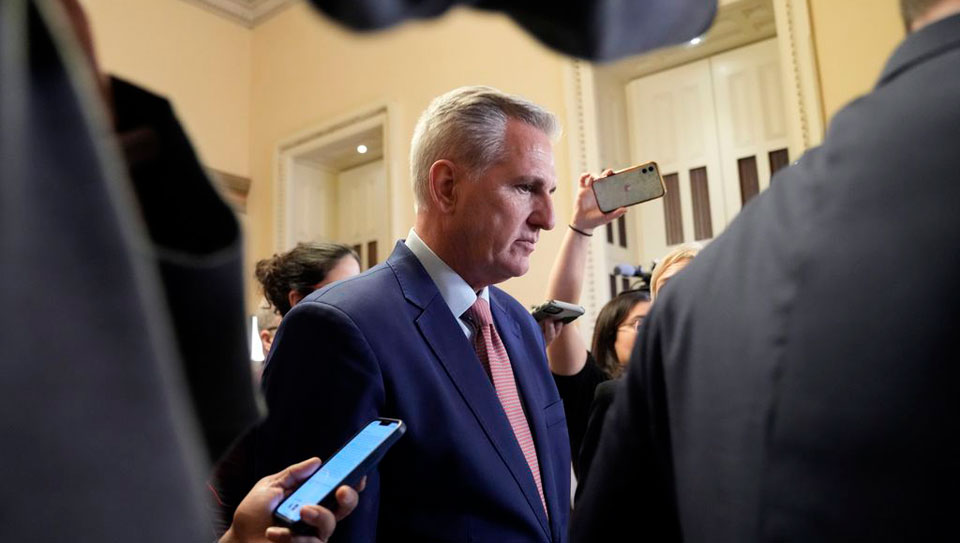 WASHINGTON—The fact that fascistic rightwing Republicans have been able to take over one of the two Houses of Congress is the result of strong backing they have received from major corporations and their lobbyists. It puts the lie to the proposition that big business can be counted on as a reliable or even any kind of ally in the fight against the right-wing extremists in the U.S.
Leading far-right lobbies, whose business backers, in turn, are very happy with chaos on Capitol Hill, back the lawmakers who wield so much power. Those lobbies have their own extremist agenda, one that their Republican lapdogs try to turn into reality.
For example, one front group, the "Citizens for Self-Governance," where former "bomb-throwing" Sen. Jim DeMint, R-S.C., is a "senior adviser," got $5.7 million in "dark money" last year from secret contributors, news stories reported. The group advocates for a constitutional convention to balance the budget, a favorite far-right mantra.
Heritage Foundation wants a probe
The Heritage Foundation demands lawmakers probe "the decision by federal officials to suppress scientific dissent on a variety of big issues—from lockdowns to discussing natural immunity and the validity of mask mandates" against the coronavirus pandemic.
Corporate America, especially big business lobbies, hated anti-pandemic restrictions. They still do. Never mind the coronavirus's latest variants still rage. Never mind the restrictions, and the vaccines—which some lobbies hate, too—saved millions of lives.
In addition, the corporate-funded so-called National Right to Work Committee, whose real agenda is to reduce workers to serfs, is lobbying lawmakers to use the power of the purse "to block the Labor Department from enforcing its forthcoming anti-independent contractor rule," the group's Vice President. Greg Mourad, says. As this is written those lobbies are talking with (they don't have to twist any arms) willing House Republican puppets.
The result of all this corporate backing is that Q-Anon conspiracy advocate Rep. Marjorie Taylor Greene, R-Ga., is on the House Homeland Security Committee. She may even get a subcommittee chair.
Greene's rehabilitation by new House Speaker Kevin McCarthy, R-Calif., in return for her outspoken support of his bid to lead the chamber, and her support of the corporate right-wing agenda, is just one indication of the fascists in the Republican Party now running the House. And, of course, there are many others.
Their biggest threat right now but by no means their only threat is letting the nation default on its debts—by refusing to raise the debt ceiling, which covers past IOUs, as well as scheduled payments for such expenses as Social Security and Medicare. Even after "extraordinary measures" by the Treasury, the default will hit by mid to late June, Secretary Janet Yellen says.
The fascists will support raising the debt limit only if they get big cuts in such things as Social Security, Medicare, Medicaid, food stamps, aid to kids, and workers' rights enforcement, but no cuts for the Pentagon.
Most Republican lawmakers also kowtow to another corporate honcho, former Oval Office occupant, invasion inciter, and coup d'etat plotter Donald Trump and his "stolen election" lies. Among the right-wing congressional leaders are:
Jim Justice, R-Ohio, will head the House Judiciary Committee, which will handle impeachments. He's already threatening at least one Biden official with that ultimate punishment. But as an assistant wrestling coach at Ohio State years ago, Justice went unpunished while he looked the other way as a team doctor sexually abused male wrestlers.
Matt Gaetz, R-Fla., is such a down-the-line Trumpite that he voted once for Trump to be House Speaker during the 15-roll-call marathon that finally elected Republican leader Kevin McCarthy. Gaetz now can bring McCarthy down. Just one majority party member can make a motion to "vacate the Chair" i.e. remove the Speaker from his job, and immediately get a vote on it. And the House GOP has only a four-seat margin.
Gaetz's also #4 in seniority among Justice's Judiciary Committee Republicans. That puts him high enough to do even more damage as a subcommittee chair—on a panel to be announced. Gaetz was cleared after Election Day of sex trafficking allegations in Florida. Prosecutors said they had "insufficient evidence" to charge him.
The Justice Committee of the House established one new subcommittee, though, another clue of where the House Republicans are going. It'll investigate the alleged "weaponization of the federal government" by Democratic President Joe Biden. Republicans don't define that point.
Jordan sent demands
The Ohioan also sent demands to top Biden officials for documents on, for example, alleged FBI probes of Trumpite parents who invaded and disrupted school board meetings. The parents were screaming about the lie that "critical race theory" is taught in local schools. Their source: Far-right wing website Breitbart News.
Virginia Foxx, R-N.C., a notorious hater of workers—she once told home state media she doubts unions should legally exist—again runs the Education and the Workforce Committee. Republicans renamed it from "Education and Labor." To Foxx and her mob, "labor" implies "unions," and that's a dirty word.
Even the supposedly saner, institution-oriented lawmakers, such as Robert Aderholt, R-Ala., join the madness. Aderholt is the new chair of the House Appropriations subcommittee that helps dole out dollars for the Labor and Health and Human Services Departments and the National Labor Relations Board.
He replaces Rep. Rosa DeLauro, D-Conn., a strong advocate for workers and for reproductive choice—and the House's lead sponsor of pay equity legislation. Aderholt's silent on NLRB funding and pay equity, so far, but not on abortion rights. He's on the record against those rights and in a floor speech last year endorsed his home state's "near-total ban."
"We should be enabling the states that have chosen to extend the responsibility of protecting its citizens to also include the unborn," Aderholt declared then. Several of the first few bills the House Republican majority passed slam hard restrictions on abortion.
The right-wing extremists in the House include a bloc of 40, the Freedom Caucus, who are so far out that they will do anything to get on cable TV channels. And they wield enough votes to frustrate McCarthy and sink anything and everything. Forget legislation. Try disruption, instead.
McCarthy not only can't stop them but he actually wouldn't if he could. As Rep. Adam Schiff, D-Calif. found out more than a decade ago after a red-eye flight from L.A. to D.C., McCarthy lies, too.
McCarthy won't stop the fascists because to win the Speaker's job, he genuflected to their demands. That means the far right runs the House, though they're not, to use the Republicans' own requirement, "The majority of the majority." They're the swing votes McCarthy needed to win. Given the new rule where one member (think Gaetz) can file a motion to throw him out of the chair, McCarthy still needs them.
So now those swing voters have more power over the House, and the country, than they've had in at least 30 years, and possibly much longer. Ever since the GOP took over the House in 1995, Speakers of both parties—using rules first crafted by Republican Newt Gingrich, but refined by his successors, including Democrat Nancy Pelosi—centralized clout in the Speaker's office. McCarthy had to give it back in the new rules governing the House.
Under McCarthy, the House's new rules read, committees and subcommittees will really write legislation, or so he promises. McCarthy kept charging all legislation written in the Speaker's office. During the tenure of at least one GOP Speaker, that meant then-Majority Leader Tom DeLay, R-Texas, invited corporate lobbyists in to write laws.
There is one irony in returning power from the Speaker to the committee chairs and rank-and-file members: The last time it happened was almost exactly a century ago, which was also the last time the lawmakers warred over electing a Speaker.
According to longtime House historian Robert Remini's authoritative book, House, then-progressive Republicans won that war. They forced the eventual winner in late 1923, incumbent Speaker Frederick Gillett, R-Mass., to yield to a deal they reached with his Majority Leader, Nicholas Longworth, R-Ohio, who succeeded Gillett two years later.
And that deal, like the one McCarthy signed, and like one where a progressive revolt stripped House Speaker "Uncle Joe" Cannon, R-Ill., of his dictatorial power in 1910, put more control—and now, more power to do damage–in the hands of committee chairs, subcommittee chairs, and rank-and-file members.