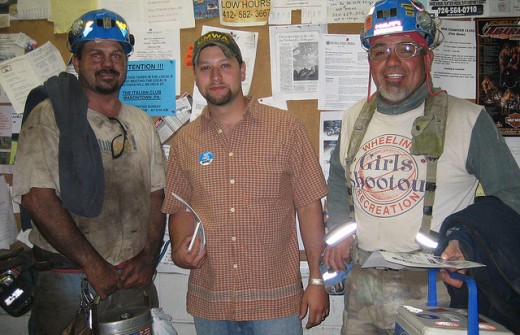 In Kentucky, coal is king. And now, it seems, coal operators are trying to crown their princes in this year's mid-term elections.
The Lexington (Ky.) Herald-Leader recently broke a story about coal companies pooling their money to defeat "anti-coal" candidates.
In a letter obtained by the Herald-Leader, Roger Nicholson, senior vice president and general counsel at International Coal Group, urged companies to meet about forming a group aimed at defeating Democrats they perceive as "anti-coal."
Mentioned in the letter were three races "of interest": Kentucky Attorney General Jack Conway, a Democrat, vying with Republican Rand Paul for Kentucky's open Senate seat; Rep. Ben Chandler, a Democrat, challenged by Republican Garland "Andy" Barr in Kentucky's 6th Congressional District; and Democratic Rep. Nick Rahall, who is being challenged by Republican Elliott "Spike" Maynard in West Virginia's 3rd Congressional District.
Maynard is famous for his French Riviera vacation photo with Don Blankenship, CEO of Massey Energy. Maynard, who was a state Supreme Court justice at the time of the photo, wound up casting the West Virginia court's deciding vote to overturn a $50 million jury verdict against Massey.
It was at a non-union Massey mine where 29 miners died in an April 5 explosion.
ICG owns West Virginia's non-union Sago Mine, where 12 miners perished in a 2006 disaster.
Two miners died in Western Kentucky in April at a mine owned by a subsidiary of Alliance Resource Partners.
Massey and Alliance are among the companies ICG's Nicholson says he has been talking with about his election project.
"Between them ICG and Massey have had 41 miners killed in just two disasters," mine safety expert Tony Oppegard told the Herald-Leader. "It's disturbing to see companies that don't have strong safety records try to defeat politicians, like Ben Chandler, who have fought for stronger mine safety."
Kentucky's GOP Senate nominee Rand Paul made headlines with shockingly clueless (at best) comments about mine disasters, mountaintop mining, mining regulations and Harlan County in an interview with Conde Nast's Details magazine. Paul's campaign called the interview "sloppy reporting."
Yet, according to Details, before the primary Paul took a trip to Harlan County, legendary for coal mining and union battles there, and tried to figure out why it was famous. He guessed it was because of the town of Hazard.
"It's famous for, like, The Dukes of Hazzard," he said.
Paul also argued for "local and state" control instead of federal regulation of mining.
"Is there a certain amount of accidents and unfortunate things that do happen, no matter what the regulations are?" Paul said in response to a question about the Massey mine explosion.
"The bottom line is I'm not an expert, so don't give me the power in Washington to be making rules. You live here, and you have to work in the mines."
But miner Tim Miller, a United Mine Workers representative in Madisonville, Ky., saw things differently.
"Rand Paul and his deregulation – all he talks about is deregulation and the local authorities having total control over any regulation," Miller told the Associated Press. "I think that takes us back at least 100 years, back to when 12-year-old kids could work in the coal mines."
Paul didn't stop there, either. He waded into the controversial mountaintop mining issue, saying that it's really a PR problem.
"I think they should name it something better," he said. "We're talking about these little knobby hills that are everywhere out here. And I've seen the reclaimed lands. One of them is 800 acres with a sports complex on it, elk roaming, covered in grass."
Eastern Kentucky resident Patty Wallace, age 80, said voters there are being "bombarded" with TV ads with "sweet voices" talking about clean coal, and men with hard hats talking about jobs and "seeing elk up here" on a destroyed mountaintop.
Coal money and politics have a long tradition, Wallace said in a phone interview from her home in Lawrence County, Ky.
"I go down to the local Wal-Mart and I see black plates on the trucks and cars that say 'I support clean coal' and stickers that say 'Friends of Coal.'"
Wallace is a long-time activist and past president of Kentuckians For The Commonwealth, an environmental group that is fighting mountaintop mining.
Although Wallace's husband worked in the coal industry, she said she sees things differently and isn't his "appendage."
Wallace and her niece were named "Housewives from Hell" by Audubon Magazine for their fight around an asbestos dump and exposing organized crime in the garbage industry. She takes that same tough and tenacious attitude to the mountaintop mining issue.
"I've seen Don Blankenship – and I've seen his eyes. They are soulless," she said about the Massey Energy CEO. "We have our children and grandchildren to think about. We need a statesman to stand up for what's right" on the issue.
Wallace said all the environmental problems related to coal are linked to many other places and issues – like the coal-ash, sludge disaster in eastern Tennessee affected her community as well.
"As my niece used to say, 'We may talk funny down here but we still use our brains.'"
Photo: UMWA Local 2300 member Mike McKinney, UMWA Local 2300 Vice President Chuck Knisell and UMWA Local 2300 member Tim Seighman with worksite leaflets on Barack Obama's record of supporting working families. (Molly Theobald/AFL-CIO/CC)